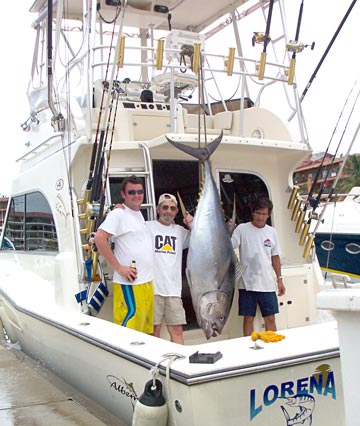 EL BANCO FATTIE--Anglers William Fallon (left) and Darryl LaRoque fished at Puerto Vallarta on PV Marlin's charter boat Lorena with Capt. Felipe (right) and landed this nice yellowfin tuna at El Banco. Fallon also released a 400-pound class black marlin. Photo courtesy Daniel Quinonez.
MIXED OFFSHORE SPECIES FOR FISHING BOAT LORENA
Nov. 4, 2005, Daniel Quinonez, PV Marlin Sportfishing, Puerto Vallarta, Mexico Fishing Report:

This week our charter boat Lorena fished 4 days out of Puerto Vallarta, 2 fishing days at Corbetena, and 1 day at El Banco and El Morro. In these 4 trips we landed 9 dorado, 1 marlin, 2 sailfish, and 2 tuna. We had nice fishing weather at Puerto Vallarta, with low seas and and 82-85 degree water temperature.
Puerto Vallarta anglers fishing with us this week on the Lorena included:

Loreal Lewis and husband fished an 8 hour trip on the Lorena, and we nailed 4 big dorado and 2 sailfish. Two bull dorado were both in the 60 pound range and the other two in the 20-30 pound range.

William Fallon on an 8 hour trip landed 2 nice dorado between 20-30 pounds and fought a marlin for over two hours.

William Fallon on a 12 hour trip released a black marlin in the 400 pound range and landed a nice big tuna about 180 pounds at El Banco on a skipjack.

Jason Grey scored another 3 dorado while fishing at Corbetena, one that was 66 inches, a tuna in the 80 pound range on a live goggle eye, and a giant tuna came off short of an hour on a skipjack.

The dorado are caught at Corbetena, between El Moro and Corbetena, as well as the ride between Punta de Mita and El Banco.

(See "Mexico Fishing News" online for current fishing reports, photos, weather, and water temperatures from Puerto Vallarta and other major Mexican sportfishing areas. Vacation travel articles, fishing maps and seasonal calendars, and fishing related information for Puerto Vallarta may be found at Mexfish.com's main Puerto Vallarta page.