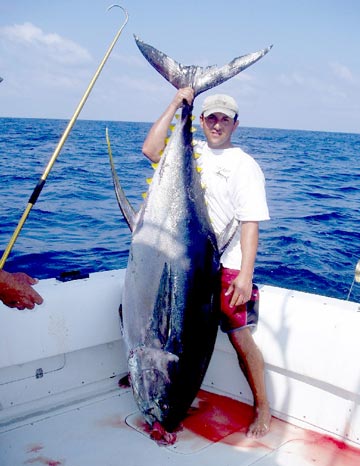 VALLARTA COW 291--Gal Hever's yellowfin tuna caught on the Puerto Vallarta charter boat Brisa, measured 77 inches long by 55 inches girth, for a taped weight of 291 pounds. Photo courtesy Gal Hever.
OFFSHORE RUNS TO EL BANCO AND ROCA CORBETENA SPORTFISHING "COW TOWN"
Nov. 7, 2005, Gal Hever, Puerto Vallarta, Mexico Fishing Trip Report:

We were finally in Cow Town, we being myself, and 10 other cow hungry fishermen. Recent Puerto Vallarta fishing reports were not all that encouraging, but we knew fishing in cowtown could change overnight.
Fishing at Puerto Vallarta on Thursday, Nov. 3, Boat 1: Marla II captained by Danny Osuna aka Chicano with myself, Matt and John onboard. Boat 2, Brisa captained by Coco & Twiggy with Augusto, Jim and Kirk. Boat 3: Prime Time with Bob, Mike, and Tim:

We headed out to the rock today, in hopes of landing some nice fish. Fish were everywhere, but feeding mostly on small stuff, squid, etc. We had the first hookup on our boat while trolling a cabby. John was up, and he wrestled a nice 150 pound tuna to the boat.

After this fish, it was pretty slow, and besides the odd sail smacking our baits here and there, we managed to land only a 20 pound dorado. The other two boats had pretty much same luck as us, with not many fish being landed today.

Fishing at Puerto Vallarta on Friday, Nov 4th: Boat 1, Prime Time with myself, Bob, and Matt. Boat 2, Brisa with Chris, Kevin, and Jim:

The day started with the captain wanting to go to the rock. We suggested El Banco, so off we went. Get there and make a ton of choras or skippies in no time. There was a ton of bait there today. Start trolling the skippies, both on the surface and on the downrigger. Lots of fish around, and I mean a ton, mostly 40-80 pounders with some bigger fish in the mix.

Josh metered some cows down, thus the use of the downrigger. We got bit on every skippy we had in the water, but most were short bites since the fish were just not big enough to inhale the bait.

About midday, we got hit on the downrigger, but it was a large wahoo that had severed the head and body of our skippy and all we had to real in was a clean transversely cut skippy head.

We continue trolling the big bait in hopes of luring a big cow and finally the downrigger was whacked. Matt fought the fish for 1.5 hrs. One and half hours after hook up, our first cow of the trip was nothing but a long distance release. The boys on the Brisa didn't have too much luck on the big fish either, but they did nail some dorado and a smaller grade tuna.

Fishing at Puerto Vallarta on Saturday, Nov 5th: Boat 1, Prime Time with Bob, Kevin, and Jim; Boat 2, Brisa with Tim, Kirk, and Mike.

The fishing really picked up today. Prime Time once again hooked up to a MEGA VACONA, with Kirk getting his first shot at a cow. Rod breaks in half, line cuts, ADIOS VACONA. Fortunately today, the fishing was much better, and both Brisa and Prime Time were able to put some tuna and dorado on the boat.

Fishing at Puerto Vallarta on Sunday, Nov 6th: Boat 1, Prime Time with Chris, Kevin, and Kirk. Boat 2, Brisa with myself, Matt, and John.

For about an hour, we had the rock all to ourselves, just 2 boats. Josh was first to get the baits out in the water, and had himself hooked up to another MEGA MEGA Vacona. But it seemed like some of the spectra was loosely wound on the real, and so they buttoned down the drag, and yup, SNAP. COWS 3, Good Guys 0. It was beginning to look like we were not meant to catch a cow this trip.

While this was going on, we hooked up to a small marlin that spit the hook immediately.

It was now slack tide, and we had been joined at the rock by many other boats.

With no wind, and slack tide, we tried slow trolling a cabby off the balloon for a while, but it was not working.

Finally, we could see the wind coming, as a body of rippling water shot straight at us almost as if the fish gods were answering our prayers for wind. All of a sudden, we were finally in TUNA weather.

We began our drifts over the high spot that was being occupied by our spearfishing buddies. On our second drift, our cabby was now flopping 10 yards in front of Al, who was about 50 yards from us and I kid you not, it was like 2 or 3 seconds later that a MASSIVE and I mean MASSIVE boil erupted underneath our cabby. The mega cow came back, jumped out of the water, and inhaled the cabby. We waited until the balloon hit the water as Josh always instructs us to do, but I think with this size fish, it is not necessary.

We are hooked up to a MEGA cow that is now peeling off line at 40 m.p.h. The fish made several really long runs on the surface, and the Tiagra was performing amazingly well. She taped out at 77 inches in length and 55 inches in girth, a fish of 291 pounds.

The balloon was working to perfection. One more half drift over the high spot. As soon as our bait drifted over the high spot... hooooooook up. We were finally able to secure the beast...estimated 160 pound fish.

It was just an epic day of fishing, and we left the fish biting. It was that good.

(See "Mexico Fishing News" online for current fishing reports, photos, weather, and water temperatures from Puerto Vallarta and other major Mexican sportfishing areas. Vacation travel articles, fishing maps and seasonal calendars, and fishing related information for Puerto Vallarta may be found at Mexfish.com's main Puerto Vallarta page.