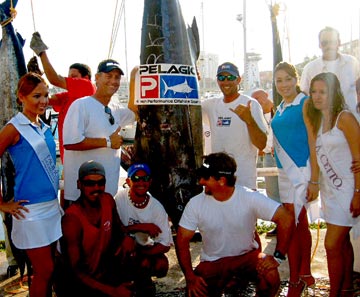 VALLARTA REPEAT WINNERS--Clarke Smith's (standing, left of fish) 382-pound blue marlin was big enough to win Puerto Vallarta's Club de Pesca Internacional Pez Vela & Marlin Tournament for the second year in a row on the charter boat Prime Time with Capt. Josh Temple (standing, right of fish).
382-POUND BLUE MARLIN WINS PUERTO VALLARTA FISHING TOURNAMENT
Nov. 21, 2005, Clarke Smith, Puerto Vallarta, Mexico, Sailfish and Marlin Fishing Tournament Report:
For the second consecutive year Team Prime Time took first place in the marlin division of the Club de Pesca Internacional Pez Vela & Marlin Tournament, held in Puerto Vallarta, Mexico, this year Nov. 17-20, 2005.

The winning blue marlin of 382 pounds was caught by Clarke Smith of Newport Beach, Calif., using an Avet EX50W-2 reel on a Rogue Rod.

The winning marlin was caught in the last minutes of the final day of fishing and the team had to race to the scales to meet the weigh-in deadline. At the scales the drama continued as the team's fish narrowly edged another blue marlin caught the same day by less than 2 pounds.

The Puerto Vallarta charter fishing boat "Prime Time" was captained by Josh Temple with a crew of Trevor Needham and Aldo Vasquez. David Connel was the other angler and captured sixth place in the tournament with a 320 pound blue marlin.

(See "Mexico Fishing News" online for current fishing reports, photos, weather, and water temperatures from Puerto Vallarta and other major Mexican sportfishing areas. Vacation travel articles, fishing maps and seasonal calendars, and fishing related information for Puerto Vallarta may be found at Mexfish.com's main Puerto Vallarta page.