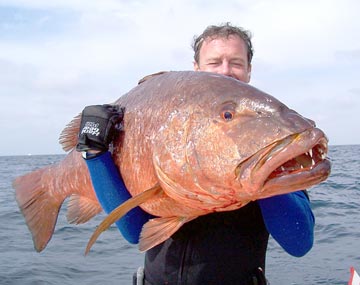 CORBETENA PARGO--Mike Marsh of Orange County, Calif., with a nice 60-pound dog snapper caught at Roca Corbeteña aboard the Puerto Vallarta charter boat Marla II. Photo courtesy Danny Osuna.
90-POUND TUNA SPEARED BY MARLA II SPORT DIVER
Jan. 14, 2006, Danny Osuna, Marla's Sportfishing, Puerto Vallarta, Mexico Diving and Sportfishing Report:
Greg Walker from Tyler, Texas, caught a 65 pound wahoo, and caught and released five striped marlin, while fishing at Roca Corbeteña out of Puerto Vallarta on the Marla III with Capt. Scott Osuna. The water condition in the fishing area was two foot swell and 4-5 knot wind from the northwest, and a good water temp of 79 to 81 degrees. This week, the fishing has been great for striped marlin, dorado, wahoo, and some yellowfin tunas.

The Marla II released 5 striped marlin and lost 7 more, and had 45 stripers come up to the lures and baits.

The Arca de Noe, with Capt. Alonso Osuna released 8 stripers and caught 3 dorados and a lot of bonitas. All the other Puerto Vallarta charter boats like Prime Time, Top Gun, and Barrabas are also doing well.

Jan. 11, 2006, Danny Osuna, Marla's Sportfishing, Puerto Vallarta, Mexico Diving Report:

John W. Cheesman from Marcola, Oregon, speared a 90 pound yellowfin tuna on the Marla II. Mike Marsh from Orange County, California, speared a 60 pound pargo, and Doug Jones from San Mateo, San Francisco, speared wahoo of 45 and 90 pounds.

The fish were speared on a trip by the Marla II with Capt. Danny Osuna, to Roca Corbeteña in Puerto Vallarta waters, 79 to 81 degrees. These free divers had a great experience diving at Roca Corbeteña. The water was nice and clean, with visibility of 40 feet. They saw saw all types of fish like tunas, pargos, amberjacks, snappers, wahoo, sharks, rainbow runners, and all types of bait fish. We were diving for 3 days and they speared a lot of fish. A 210-pound yellowfin tuna was also caught.

(See "Mexico Fishing News" online for current fishing reports, photos, weather, and water temperatures from Puerto Vallarta and other major Mexican sportfishing areas. Vacation travel articles, fishing maps and seasonal calendars, and fishing related information for Puerto Vallarta may be found at Mexfish.com's main Puerto Vallarta page.