Aug. 23, 2000, by Gene Kira:

I just got back from San Felipe last night, and, as "Baja trips" go, this was a weirdo.

Ordinarily, I never would have gone on a trip like this, but ol' Bob Castellon had lured me by uttering that magic name: Puerto Peñasco.
So... what's magic about Puerto Peñasco? Well, I'd never been there before, and for me, that's like chocolate-covered cashew nuts. Can't resist 'em. I was hooked and Bob knew it. Even though he said we probably wouldn't fish at all. And even though it meant driving all the way down to San Felipe for a measly 48 hours aboard his panga mothership, the Celia Angelina.

Don't feel bad if you're an old Baja hand, and you don't know about Puerto Peñasco, which is located at the northern tip of the Sea of Cortez in Mexico's state of Sonora (this place is also known to Americans as "Rocky Point."). Puerto Peñasco, or Rocky Point, isn't even in Baja. It's across the Sea of Cortez on the Sonora side, and it is in many ways a sister city of San Felipe: an old shrimping port that is quickly transforming itself into a modern tourist resort city.

While researching Ray Cannon's life for my book, The Unforgettable Sea of Cortez, I came across perhaps two-dozen old photographs of Puerto Peñasco, mostly associated with the birth of the panga mothership industry. Many of the photos were of the old sport fishing boat, Galeana, which was operated out of Puerto Peñasco by Andy Chersin and Dave J. Hyams in the early 1950s, and even the late 1940s, according to some old timers. And then, there was one of the rarest photos of all: fishermen boarding a Pullman train car in Mexicali for a trip to Puerto Peñasco in 1957. On these trips, the clients slept and ate in the car, and they fished on day trips aboard the Galeana. Kind of tells you something about the state of the accommodations in town during the era, no?

So, I imagined Puerto Peñasco as a typical Mexican fishing town, with a fleet of rusty shrimp trawlers in the harbor, a cluster of shanties surrounded by open desert, and a few hundred hardy souls, squeezing out a subsistence living from the boom-and-bust cycles of the sea.

Instead, I got a big surprise.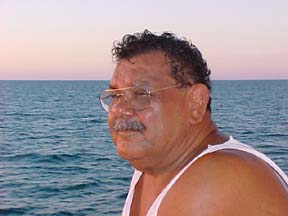 Bob Castellon and his boat, the Celia Angelina, tied up to the shrimp trawlers at Puerto Peñasco.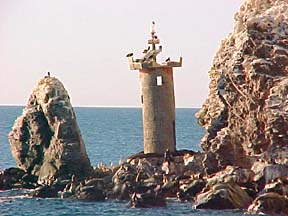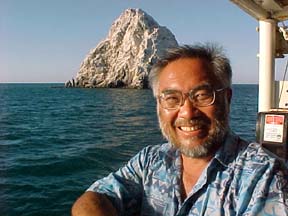 The abandoned faro on the west side of remote Consag Rock, and Gene returning after a two-decade lapse.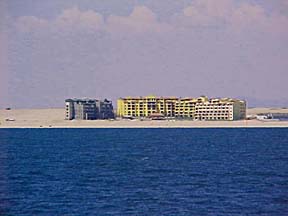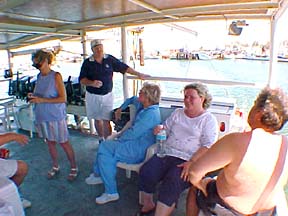 Condos, condos everywhere. Right, guests lounging aboard the Celia Angelina's upper deck.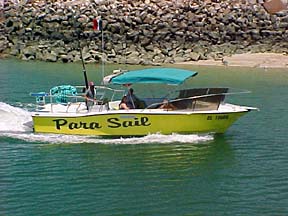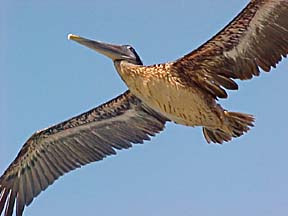 One of the many new attractions of "Los Cabos Norte," and a feathered resident of Consag Rock.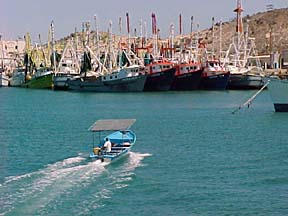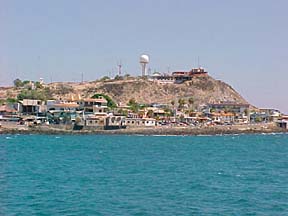 Old Puerto Peñasco, completely surrounded by new resort hotels and condos.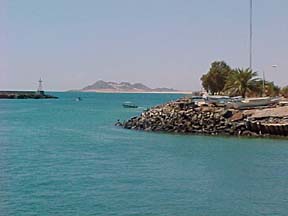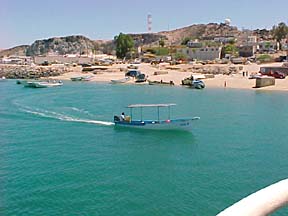 Looking out through the harbor entrance. Right, the "world's cleanest" commercial panga beach.
The Celia Angelina had left San Felipe on the Saturday morning tide, heading straight out toward glistening white Consag Rock on the horizon, the air temperature at sunrise a moist 86 degrees, exactly matching the temperature of the pea-green sea. For the eight-hour crossing, we had a motley crew of ladies and gents from as far away as Las Vegas, led by Ted Emery of San Felipe's well-known Los Arcos Bar & Restaurant. Nominally, we were celebrating Ted's birthday, but the real purpose of the trip was to explore the possibilities of running combined fishing/resort trips to Puerto Peñasco out of San Felipe, a scheme about which I had some doubts, given my vicarious impressions of the town.

As we neared Consag, two hours from port, I stood on the Celia's bridge and strained to remember the layout of its three rock clusters, which I had not seen in almost 20 years. Yes, there they were, exactly as I had left them, with the abandoned lighthouse and the ripping tidal flow over the reef where I had learned to fish by handline one day in May of 1982 (...after forgetting my rods on the beach; but, that's another story).

As we passed the rock, we tossed some feathers into the Celia's ten-knot wake, more from principle than a desire to catch anything in particular, but our offerings were constantly attacked by pelicans, frigates, boobies, seagulls and Lord knows what other species of birds that make their homes here, so we wound our lines in and settled into the remaining six-hours to Puerto Peñasco.

The first surprise came as we approached the low headland of Punta Cholla, and a big yellow "bluff" magically turned into a complex of brand new condominiums still under construction on a deserted stretch of beach.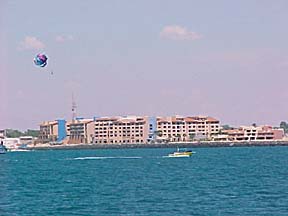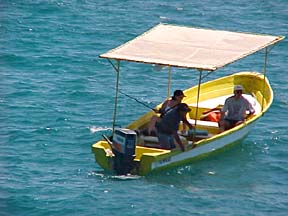 The new downtown, a combination of honky-tonk and deluxe.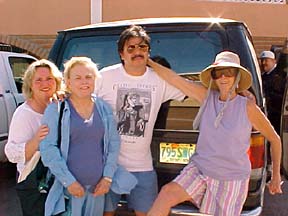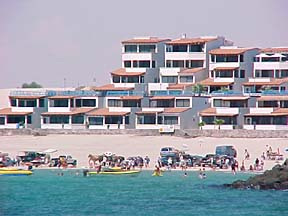 Our guide, Roberto Escalante R., was a biologist trained at UABC in Ensenada. Right, the main resort playa.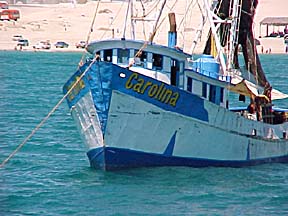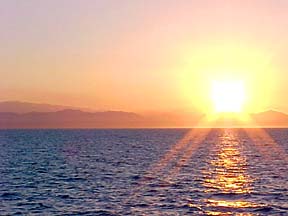 Puerto Peñasco's trawler fleet is well-maintained. Right, a royal approach to our home port of San Felipe.
Then, a "helicopter" hovering above the town itself turned out to be a parasailer towed by a big yellow ski boat, and as we entered the harbor, I saw that the main swimming playa was swarming with ATVs, horses-for-rent, hotels, condos, beach umbrellas, taco stands, jeeps, banana-style pontoon boats, jet skis, and all kinds of Los Cabos-style tourist paraphernalia.

The Galeana was nowhere to be seen, not even its ghost. Instead, we glided past the cleanest, neatest commercial panga launching beach I have ever encountered anywhere. The pure white sand was so clean you could have had a picnic on it, with nary a smashed oil can, rotten triggerfish carcass, or old car seat to be seen anywhere. What a strange sight!
Equally strange-looking was the enormous armada of shrimp boats packed into the harbor like sardines in a can, all of them spic and span, freshly painted and ready for the coming season. There were even three new boats under construction. In contrast to San Felipe, these boats are being built at a pace faster than rust can consume them; they look like they will actually be completed soon.

Puerto Peñasco itself turned out to be a town that is growing so quickly, it has developed a multiple personality. One part is old "Baja-style" shrimp port. Another is raunchy, "old Tijuana" honky-tonk. Another side is new Los Cabos-style resort. And the whole thing caters to a big Phoenix-anchored crowd that doesn't have beaches at home.

This place is jumping and it makes San Felipe look like very small potatoes indeed. It requires very little imagination to see Puerto Peñasco as a sort of proto-Los Cabos Norte, not everyone's cup of tea to be sure, but the economic salvation of many people who need jobs desperately, and a playground for thousands of people who don't have the time or money for a trip to a make-believe "pristine" beach in the South Pacific. Undeniably, Puerto Peñasco will fill a niche that demands to be filled.

After seeing what the town has to offer, Bob Castellon is planning Puerto Peñasco trips next year for us "Baja" types. The Celia Angelina's passengers will cruise across from San Felipe and enjoy a combination of panga fishing and "resorting" for a quick, three-day vacation. For the two-nights out of port, you could either stay on the boat or in a hotel, and you could either fish around the reefs out to Isla San Jorge, or enjoy the beach, town and nightlife, or do as much as you please of either. The Celia's ice hold, guided pangas, and professional crew will make sure the fishing part is "serious," and Puerto Peñasco is as capable as any resort town in Baja of supplying your wishes in that department. This trip has it all, and it's a "quickie." Sounds like a sure winner to me.

(Related Rocky Point (Puerto Penasco) articles and reports may be found at Mexfish.com's main Rocky Point (Puerto Penasco) information page. See weekly fishing news, photos, and reports from the major sportfishing vacation areas of Mexico including the Rocky Point (Puerto Penasco) area in "Mexico Fishing News.")