Having Fun On A Charter Boat Trip Out Of Puerto Peñasco
By Mark Olszewski, Rocky Point Boat Trips

Fishing Aboard the 124 Ft. INTREPID: This voyage aboard the Intrepid was to be the first trip of Rocky Point fishing for many, if not all of this group from a company named "OMYA", out of Superior, AZ. "OMYA" is a leading manufacturer of Calcium Carbonate products, for use in the pharmaceutical and food industries.

They really didn't know what to expect when they arrived in Puerto Penasco. Their chartered bus rolled in at Rocky Point's Princesa de Penasco Condos on Sandy Beach on Friday Sept. 10 at about 9:30 pm. When I said they didn't know what to expect, I don't think anyone could have expected what was about to happen. In the darkness, while the group was stepping off of the bus, one of the passengers was rudely introduced to a large open manhole of sorts. It was a Rocky Point city water access valve, that was left uncovered.
All this had happened just moments before I had arrived to welcome them to Rocky Point and lay out our itinerary for their fishing trip in the morning. So when I had showed up, I was quite surprised to see the Red Cross ambulance getting ready to rush this unfortunate first time visitor to the Clinic.

Well, to make a long story short, after a night's stay in the hospital, some running back and forth to the Condos, and a bit of confusion as to who and how the Doctor and hospital bill was to be paid, it was 5:00 am and we were ready just in time to board the Intrepid for some Rocky Point fishing.

As the Intrepid headed out of the Rocky Point port for our destination, the tired and the bruised anglers were treated to ham and cheese omelets, orange juice, fresh fruit and coffee for those of us that didn't get much sleep the night before. Everything worked out fine we had a nice calm ride out to 15 mile reef, which is just as it is called a 15 mile cruise. This reef is more or less due south of Rocky Point at a depth of 100 to 130 feet.

The Rocky Point fishing weather was cooperating, there was just a light breeze and the water was fairly calm for this time of year. But if you've been to Rocky Point in September you know it is HOT. Since we were approaching the New Moon on the 14th there was a strong tidal current, which meant that we would need to be using 8 to 10 ounce weights. For bait we were using squid and then a mixture of different cut baits.

Things started off rather slow, we were catching quite a bit of throw backs, like Largemouth Blennys, and some small Croaker. Then we started to hook some good sized Sandbass. This was perhaps the first time that I had been to this reef and did not see anyone catch any of the ever present Finescale Trigger. It was looking like the day would be a wash, when Karen had reeled in a Spotted Rose Snapper of about 18 inches in length. Imediately after that Rich had pulled in another that topped Karens by maybe inch or two. Next to come up from the 100 foot depth was a nice Pinto in the 8 to 10 pound range. I'm not really sure who had brought it in, but one thing I can be sure of, it made some delicious fish tacos for Sundays lunch.

When it was time to start back for Rocky Point, the Intrepid had actually caught quite a few fish from Sandbass, a couple Sierra, two nice Spotted Rose Snapper, and the Pinto.

On the way back to Rocky Point we were again treated to a wonderful meal, of breaded Flounder, with all the fixings. I must say, we were well taken care of when it was time to eat. After the episode with the hospital, and a long day of Rocky Point fishing I was ready for a shower and a good night's sleep, because we were going to do it all over again in the morning.
Saturday night went by without an incident and we were all at the docks bright and early Sunday morning to try our luck again. This time we had decided to stay in closer to shore, and try fishing shallower waters of about 45 feet, in an attempt to minimize the effect of the strong tidal currents.

The Intrepid headed down the coastline toward Bahia San Jorge until we could see the Mayan Palace, again the morning started with a great breakfast of fresh fruit, including bananas, apples, oranges, watermelon, and today it was eggs made to order with a fantastic chili flavored tortilla casserole, orange juice and coffee.

As the Intrepid cruised down the coast a couple of the guys gave it a go at trolling. We weren't but 3 or 4 miles from Rocky Point when you could hear that familiar whining sound of line being run off the reel, FISH ON!, it was a long run to the bridge of this 124 foot boat to tell the captain to pull back the throttles.

Rich definitely had hooked something. I guess it just wasn't meant to be, because after a several minutes of a serious tug-o-war, the fish had won and that arching carbon fiber rod had just straightened up and we could see the shiny lure skip across the top of the water.

Once again that set the tone for how things would seem to be. We must have motored for two hours back and forth. Then just like the day before, poles were bending. It started with a Pargo of about 14 inches that hit before the weight hit the sea floor. Then the Finescale Trigger that were absent on Saturday had made their presence known. For this group of anglers this was the first time that they had hooked a Trigger so the fight was a fun experience.

After a couple of hours of drifting past our marker buoy again and again, and having 15 people all pulling in Pargo, Sandbass, and Finescale Trigger Fish, it was time to call it a day. When it came time to fillet the catch, there were a few surprised looks on their faces, I guess no one was keeping count, but the day was a success, and I remember hearing someone say, "Now we can have a company picnic". If I didn't love what I'm doing here in Rocky Point, I think I would try to get a job with "OMYA", they know how to have fun. --Sept. 12, 2004.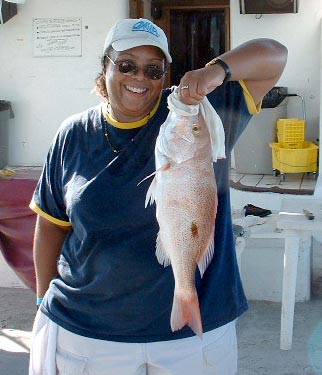 AT ROCKY POINT--A nice rosespotted snapper. Photo courtesy Mark Olszewski, Rocky Point Boat Trips.