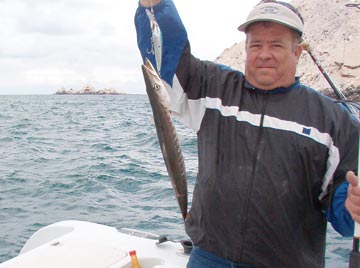 WINDY PICKIN'S--Ruben Mendez of Rocky Point fished at Bird Island, or Isla San Jorge, with Mike Auditore on Auditore's boat El Gato Blanco, but they managed only some goldspotted bass, sculpin and barracuda, before running home in 20 m.p.h. seas and 6 to 8-foot swells. Photo courtesy Mike Auditore.

FISHING BOAT EL GATO BLANCO RUNS TO BIRD ISLAND (ISLA SAN JORGE)
March 5, 2005, Mike Auditore, Rocky Point (Puerto Penasco), Mexico Fishing Trip Report:
This report is for fishing at Rocky Point (Puerto Penasco) on March 5. We had a late start launching my boat El Gato Blanco at Rocky Point, and did not get on the water until 9:30 a.m. I decided to go fishing at Bird Island. The seas were one to two feet until I was about five miles from the island, when six to eight foot swells hit. We lost our anchor on the way out and had to drift fish. We fished a reef south of the island at a depth of 40 feet.

We caught many Goldspotted Bass to three pounds and two Sculpin about 2 to 3 pounds. The wind picked up to 20 miles an hour from the northwest. The seas were really building, to 6 to 8 feet with white caps. I decided to try trolling. We caught 3 Barracuda on the west side of the island. After that we decided to head for port at Rocky Point because the seas were really getting worse by the minute. It took me an hour and a half to go 28 miles. The fishing water temperatures were 64 degrees. One charter fishing boat that left Rocky Point at 7 a.m. had some luck and landed 5 Pinto Bass to 25 pounds and one Grouper of 75 pounds. They were fishing about 33 miles southeast of Rocky Point.

(See "Mexico Fishing News" online for current fishing reports, photos, weather, and water temperatures from Rocky Point and other major Mexican sportfishing areas. Vacation travel articles, fishing maps and seasonal calendars, and fishing related information for Rocky Point may be found at Mexfish.com's main Rocky Point (Puerto Penasco) page.