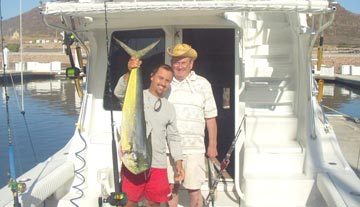 SAN CARLOS DORADO--Fernando Almada (front) and Robert McBurney fished on Steve Calvert's boat Catch-22 out of San Carlos for dorado limits plus catch-and-release, about 38 miles out. Photo courtesy Fernando Almada.
LARGE PATCHES OF RED TIDE SEEN NEAR SAN CARLOS
May 8, 2005, Fernando Almada, San Carlos, Mexico Report:
Steve Calvert, Capt. Ricardo, Robert McBurney and I went out fishing out of San Carlos on Steve Calvert's boat "Catch-22" on Saturday, May 7th. The water was rough and cold off San Carlos. We headed to Tortuga Island and about 15 miles from the island we finally found blue fishing water at 72 degrees approximately. We landed some nice dorado, got our limits, and released a few small dorado. Once again we had an amazing fishing day. On our way back to San Carlos, we ran into some big patches of red water or "red tide."

(See "Mexico Fishing News" online for current fishing reports, photos, weather, and water temperatures from San Carlos and other major Mexican sportfishing areas. Vacation travel articles, fishing maps and seasonal calendars, and fishing related information for San Carlos may be found at Mexfish.com's main San Carlos page.