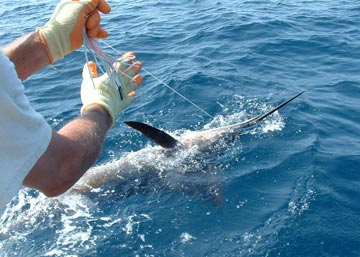 NO MARLIN SNIVELING--A striped marlin about to be released by Craig Collins' boat No Sniveling out of San Carlos last week. Collins reported he saw up to 40 billfish per day and at one point got eight sailfish hits in 90 minutes. Photo courtesy Craig Collins.
SPORTFISHING BOAT NO SNIVELING LANDS ITS FIRST TWO MARLIN
June 13-17, 2005, Craig Collins, No Sniveling, San Carlos, Mexico Fishing Report:

No Sniveling fished out of San Carlos and boated it's first two marlin and one sailfish, all released in good health.
In five days of fishing, June 13-17, the water was anywhere from calm to 2-3 foot swells that were tough to fish in the 23-foot boat.

Bright blue water was as close as 1-2 miles off Punta Double, and as many as 40-plus billfish were seen jumping or sunning in one day.

Our first day, and my first time running a boat with outriggers and trolling a spread of 5 lines, we were bit 10 times, hooked three striped marlin and a sail, but all of them were able to throw the lure in a few seconds. We were also bit through on 200-pound leader ('hooed?) on a 12-inch purple diver on the short line.

We heard of dorado and tuna at 20 plus miles out, but never made it that far with the fish in close, and the swells too big to fight with. We fished all the way from 15 miles out at 170, to the north end of San Pedro Nolasco, but the most consistent area was 2-10 miles out between 180-240.

Friday we fished 2 miles off of Punta San Antonio and were bit by sails 8 times in 90 minutes, hooking two and releasing one in midair and one at the boat. What a way to learn about billfish trolling! The only thing missing was anything that looked like a dorado.

(See "Mexico Fishing News" online for current fishing reports, photos, weather, and water temperatures from San Carlos and other major Mexican sportfishing areas. Vacation travel articles, fishing maps and seasonal calendars, and fishing related information for San Carlos may be found at Mexfish.com's main San Carlos page.