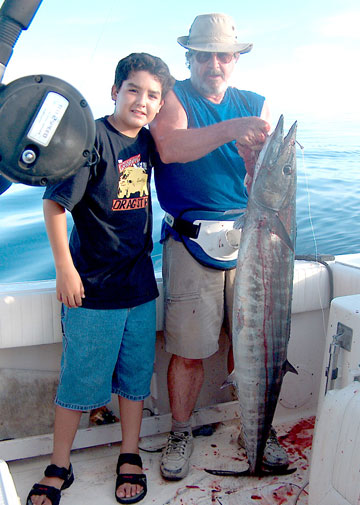 SINALOA SKINNY--Remigio Gonzales (right) and Manuel Gerhardus, fished 20 miles out of Las Glorias, Sinaloa, and the boat caught this 45-pound wahoo plus several dorado to 17 pounds. Also fishing were dad, Manuel Gerardus, Herman Gerhardus, Horacio Peñuelas and Fernando Islas. Photo courtesy Manuel Gerhardus.
45-POUND WAHOO CAUGHT 20 MILES OUT OF LAS GLORIAS, SINALOA
July 30, 2005, Manuel Gerhardus, Las Glorias, Sinaloa, Mexico Fishing Trip Report:
We went fishing out 20 miles from Las Glorias today and caught a 45 pound wahoo and several dorado up to 17 pounds. The heading was 220 degrees. The water temperature was 84, and the sea was unusually calm all day long. The wahoo was caught by Remigio Gonzalez from Navojoa, Sonora. my son Manuel Gerhardus is in the picture with him. The rest of my fishing buddies were Herman Gerhardus, Horacio Peñuelas, Fernando Islas, and my son Manuel Gerhardus. The wahoo hit a white and blue feather.

(See "Mexico Fishing News" online for current fishing reports, photos, weather, and water temperatures from San Carlos and other major Mexican sportfishing areas. Vacation travel articles, fishing maps and seasonal calendars, and fishing related information for San Carlos may be found at Mexfish.com's main San Carlos page.