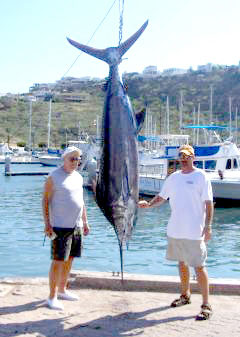 SAN CARLOS WINNER--This 279-pound blue marlin caught by Lynton Holloway aboard the Cinco Pesos won the billfish category in the recent 22nd San Carlos Labor Day Tournament at San Carlos, Sonora. Photo courtesy Bill Molden.
279-POUND BLUE MARLIN WINS SAN CARLOS LABOR DAY FISHING TOURNAMENT
Sept. 9, 2005, Bill Molden, San Carlos, Mexico Fishing Report:
The fishing here in San Carlos has slowed even more dramatically, if that's possible.

During the last weekend of fishing at San Carlos, there were 30 boats participating in the Labor Day Tournament. A total of 10 Marlin, 34 Sailfish, 3 Dorado and 1 Wahoo were either caught or in the case of billfish, released during three days of fishing on Saturday, Sunday, and Monday. A good time was had by all, but the Dorado numbers give you an idea of what its been like for fishing the last month at San Carlos.

The seas have been kindly and the water temperatures are in the high 80's. The daytime temps are running in the mid to upper 90's. Hopefully with falling temperatures the catching will pick up.

(See "Mexico Fishing News" online for current fishing reports, photos, weather, and water temperatures from San Carlos and other major Mexican sportfishing areas. Vacation travel articles, fishing maps and seasonal calendars, and fishing related information for San Carlos may be found at Mexfish.com's main San Carlos page.