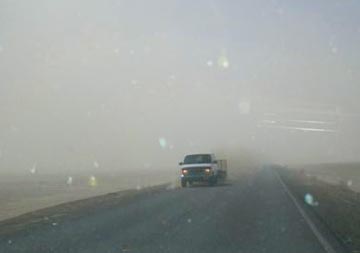 SAN FELIPE ROAD PAVING -- Photos from Wayne Pinkerton's trip down Baja Highway 5 from the U.S. border, through San Felipe, and down to about 5 miles south of Bahia Christina: Crossing Laguna Salada between Mexicali and San Felipe...
NEW BLACKTOP IS ABOUT 10 MILES SOUTH OF PUERTECITOS
SAN FELIPE, MEXICO, WAYNE PINKERTON, SEPT. 27, 2009 -- We have a place at Bahia Cristina which is 5 miles south of Puertecitos.
We were down there last Wednesday, September 23rd, checking on things, and we drove farther south to see how far the new road paving had reached. It is almost 5 miles below us now and they are moving ahead rapidly.
We all knew these mountains would be the real test but the locals say they brought an experienced mountain road construction crew in and are moving right along. They have rented out the restaurant and bar at Bahia Cristina and are using it to feed the crews. It is very clean and they serve the public when the crews are not present.
This road coming south from San Felipe is now paved to the top of the first hill, east of Black Mountain,.
Pre-paving construction has reached the top of the second hill, of the "Three Sisters," visible in the distance.
At Puertecitos, the new road forks just north of town and goes straight on past town, skirting the west side.
The east fork is paved up to the entrance of town where the pavement stops, with the road remaining in its original condition until it reconnects to the new pavement a mile or so further south.
This new section of the San Felipe-to-Gonzaga Bay road is not unlike any you would find the the U.S., very high and wide with strong railings. It is very scenic with great views of the islands and gulf.
The old road south from San Felipe is the same as before, with no culverts or bridges, and you'd better watch for the "vados." They are upon you before you know it.
We saw Tony Reyes hanging out at the San Felipe marina, and he is looking good.
The San Felipe boats were all in readying for the beginning of the Mexican commercial shrimp season. We were there for the starting celebration on the 22nd, but they delayed it to the 26th for some reason. Just as well. Very strong winds would have hampered the operation with the pangas having to stay behind.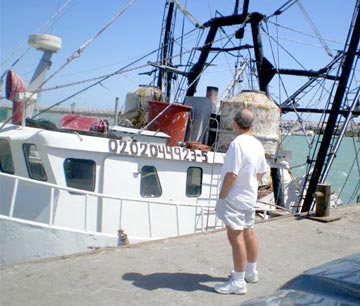 Downtown San Felipe and the commercial harbor...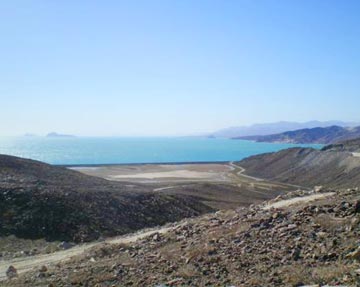 The west side of Black Mountain...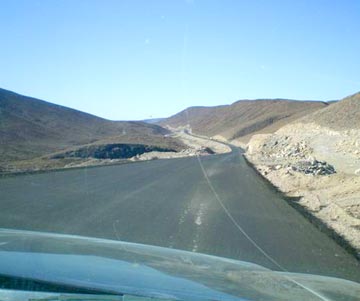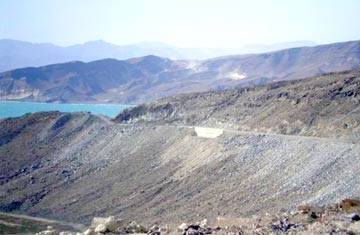 New pavement heading southwards toward Gonzaga Bay, and ultimately, to connect with Baja's Transpeninsular Highway, Mex 1, at Laguna Chapala. PHOTOS COURTESY OF WAYNE PINKERTON.