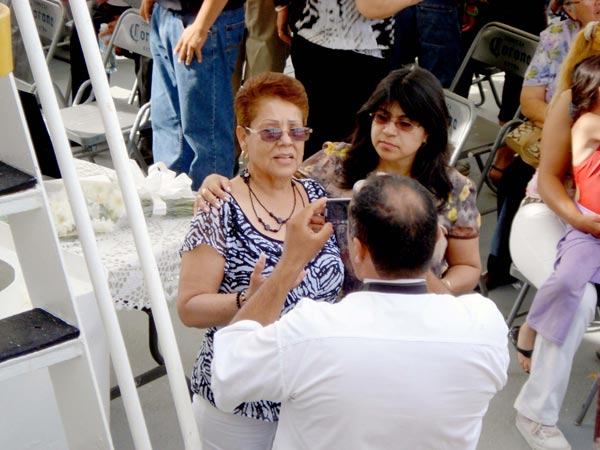 Lolita Reyes during a video interview aboard the Tony Reyes.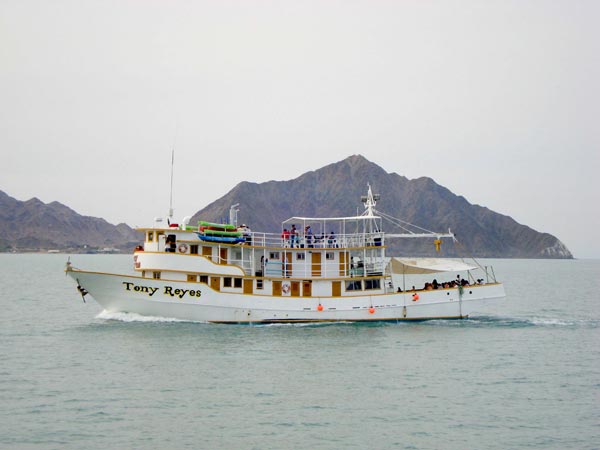 The Tony Reyes returning to the marina. Tony Reyes' ashes were scattered near Punta San Felipe, also known as Punta El Machorro, seen just above the stern of the boat. Photos by Gene Kira.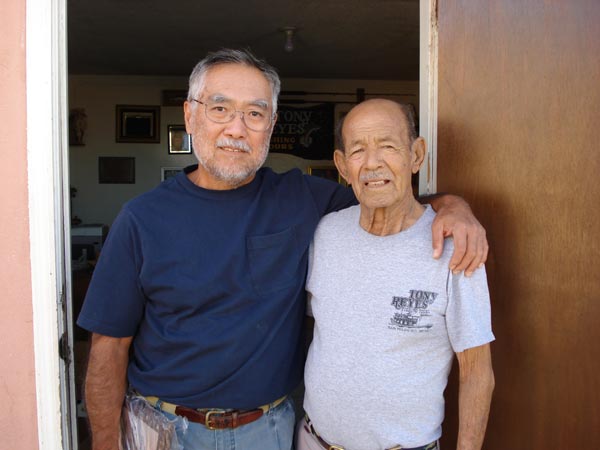 Tony Reyes, right, and friend, Gene Kira, in October 2009.
SAN FELIPE'S SPIRTUAL PATRIARCH AND CIVIC LEADER
SAN FELIPE, BAJA CALIFORNIA, MEXICO, APRIL 17, 2010 -- With both of his sportfishing panga motherships and their crews looking sharp, and with about a hundred family members and friends in attendance, the ashes of San Felipe's well-known patriarch, Tony Reyes Baca, were scattered on the Sea of Cortez this afternoon.
The ceremonies were held a quarter-mile south of Punta San Felipe, also known as Punta El Machorro, aboard the family's motherships Jose Andres and Tony Reyes. Assisted by family members, the ashes were scattered from aboard the Tony Reyes by Reyes' wife, Dolores "Lolita" Reyes Montez, following a moving tribute by his son, Antonio Reyes Montez. The elder Reyes was born in Mexico City in 1923 and passed away on December 18, 2009, after a long illness.
Earlier in the day, a memorial service was held at Rancho El Dorado just north of town. Guests were then transferred by panga to the two motherships anchored at the southwest corner of Marina San Felipe. Cruising together on a rising tide, the boats passed slowly northward along the town's long beachfront before stopping and tying up together on the water just south of Punta San Felipe.
The day was warm in the mid-eighties, with a metallic gray sky, and a very light breeze from the southeast. The mid-spring water temperature was at 69 degrees, as the ashes of "Tony Reyes," the beloved civic leader and guiding spirit of
San Felipe
, became part of the Sea of Cortez at the exact spot where he had rowed his first sportfishing clients out to sea more than half a century ago.
--Gene Kira