By Gene Kira, Dec. 10, 2001, as published in Western Outdoor News:

The ironies seemed to pile on top of each other, all over the deck of the San Felipe sport fishing panga mothership, Jose Andres, as we headed out on Mexico's Sea of Cortez on a beautiful, sunny morning last week.

The honestly-built, former shrimp boat was scrubbed shiny clean for the occasion, and it was crowded with about 40 people, dressed not for fishing, but in stylish street clothes.
About half of the group were administrators, professors, and graduate students from the Universidad Autónoma de Baja California's two campuses at Mexicali and Ensenada, and the other half were media reporters, for television stations, newspapers, and magazines.

There was only one gringo aboard--me--who had driven over the mountains in a rainstorm during the night to be part of the historic morning.

Sitting on the deck of the Jose Andres were four large plastic boxes, filled with bubbling seawater, and in them swam the reason for our journey: 1,400 baby totoaba--only about 6 inches long, but capable of growing to over 200 pounds if given a chance--which we were going to release into the wild in an effort to repopulate the northern Sea of Cortez's once immense schools of this endangered species.

Tony Reyes, the owner of the Jose Andres, is a naturally gregarious man, but on this morning, he outdid himself, stocking the ice well with cervezas and soft drinks for all, making jokes, shaking hands, and introducing his distinguished guests to each other.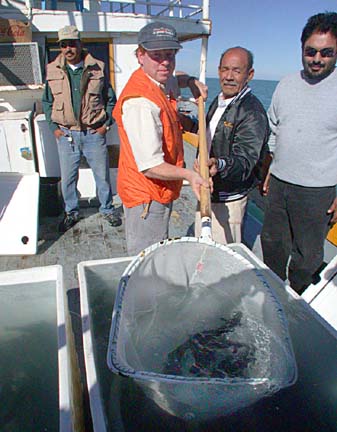 Tony Reyes and totoaba Program Director, Conal David True, in orange vest, with some of 1,400 endangered totoaba released near San Felipe last Monday.
Prof. Conal David True, director of the totoaba project, and his team of assistants, nervously checked and rechecked the fish tanks, making sure the water flow was constant and the air pumps were working correctly. In those tanks, the 1,400 dark-colored totoaba swam placidly, round and round, completely unaware of their own importance.

We turned northward from San Felipe and followed the rugged coast into the Alto Golfo de California y Delta del Rio Colorado Biosphere Reserve (Biosphere Reserve of the Northern Gulf of California and Colorado River Delta), a 2.3 million acre zone established by the Mexican government in 1993 for the protection of plants and animals. Once inside the reserve, we joined a huge armada of pangas, all netting commercially for shrimp. Slowly, the Jose Andres picked its way through this enormous fleet, and at a certain point, we stopped for the important moment that we had all come to celebrate.
With the fleet of by San Felipe commercial fishing pangas netting all around us, our dip nets were brought out, and the precious totoaba were scooped from their tanks and very gently released, in hopes of perpetuating their kind.

Tony Reyes himself helped to release some of the young totoaba, and his smile was the smile of an old fisherman, come full circle to help preserve that noble fish that he once had caught commercially.

Towards the end, I was invited to release some fish myself. I caught four of them, and as I lowered the net into the milky blue waters, I had two simultaneous, profane thoughts: What a perfect size for live bait these fish are! And, I wonder how long it will be before my four precious totoaba end up in the shrimp nets?

As my four small fish swam away, I named them "John, Paul, George, and Ringo," and I wished them luck. In only seven years or so, perhaps they will be magnificent, five-foot long spawners. I sure hope so.

On our way back to San Felipe, the television cameras were raised in a tight circle as UABC President Victor E. Beltran C. made a brief speech, and presented a certificate of appreciation to Tony Reyes, the old commercial fisherman turned conservationist and sport fishing advocate.

As the coastline slowly passed by, I found myself standing at the rail of the Jose Andres, in conversation with some officials, who were the very persons responsible for enforcing the protection of species within the Biosphere Reserve. Nobody mentioned the fleet of shrimp netting pangas that surrounded us, also slowly passing by.

(Related San Felipe articles and reports may be found at Mexfish.com's main San Felipe information page. See weekly fishing news, photos, and reports from the major sportfishing vacation areas of Mexico including the San Felipe area in "Mexico Fishing News.")