By Gene Kira, Dec. 16, 2002, as published in Western Outdoor News:

Getting up at 3 a.m. for a panga ride in December isn't exactly everyone's idea of fun, but gill netting for shrimp isn't exactly a common experience in Baja either, so I figured it was well worth it.

Actually, I wasn't going to do any personal gill netting (highly illegal in Mexico without a commercial license). Instead, I had arranged to ride along with a couple of working pangueros from the fishing town of San Felipe, Baja California, Mexico, to see how the pros do it, take some rare photos, and maybe buy some super-fresh camarones for the ride home.
So, at 4 a.m., sharp, last week, I was standing on the sidewalk in front of San Felipe's Red Lobster restaurant, encased in a full rainsuit, hooded sweat shirt, two tee-shirts, swimming trunks plus long pants, double socks, hat, and a snug-fitting Lotus lifejacket outside of everything for extra warmth.

With a water-proof camera bag already sealed up for the expected very cold and wet boat ride, I was ready to go. Our very tight fishing schedule was determined by the ebb and flow of San Felipe's powerful tides, and I was hoping my presence would not annoy my hosts or cost them any undue delays.

My ride showed up, a typical panguero pickup loaded with guys, and we drove down to the commercial marina at the south end of town.

In complete darkness, we hiked out on the rock breakwater and climbed down to an oversized (26-foot-long, 8-foot-wide) panga, with extra high gunnels and a single 115-horsepower Yamaha. Lightly loaded with two 600-yard monofilament gill nets, we cruised out under the stars, and turned south, away from the Biosphere Reserve, to drop our first net off Punta Estrella just as first light was showing on the horizon. Slowly, the blue-green mesh pulled out, and we left it on the bottom for about an hour before beginning the very laborious job of pulling it in again by hand.

On our first pull (it takes about an hour of hard work by two men to recover a net), absolutely nothing came in for the first hundred yards of our 18-foot-high net, and I was thinking dark thoughts about having no photos and no shrimp for dinner that night.
But finally, after about 20 minutes of fruitless pulling on the billowing folds of empty mono netting, I spotted a bluish-gray creature about eight inches long.

Soon, more shrimp where coming in, mixed with sardinas, very small corvinas, and other bycatch, and I began keeping a mental count of everything in order to determine if this type of fishing really is less harmful than the trawlers with their 90+ percent bycatch rate and terrible bottom damage.

Yes, on this day at least, we did much better. In all, we made three pulls in 10 hours on the water, a total of 1,800 yards of stationary gill net, hand set and pulled by two pangueros, and I can say that our bycatch was definitely less than 50 percent, mainly sardinas, an unknown small species with black bars, and very small corvina (and no totoaba).

We returned to the San Felipe marina, and sorted through our catch for the local cooperativa, only about six kilos to be sold for an average price of about $15 per kilo, a very slow day, but the shrimp were really enormous. I bought three, custom hand-picked kilos of the biggest, freshest shrimp you'd ever want. Real beauties! Definitely worth getting up at 3 a.m. for!

Incidentally, if you are ever looking for a super bargain place to stay in San Felipe, I can recommend the Posada de Don Jesus, owned and operated by Oscar Armenta and located at Mar Baltico 186, phone 011-52-686-560-9576. The Posada de Don Jesus is a cluster of incredibly neat and clean house trailers operated as a fenced, secure motel, and Oscar explained that his business model is to have very low prices, and make a profit by staying busy even during the slow seasons. How low? The regular price for two people in an air conditioned trailer with all the comforts, including a kitchen, is $20 per night. Repeat, $20 per night.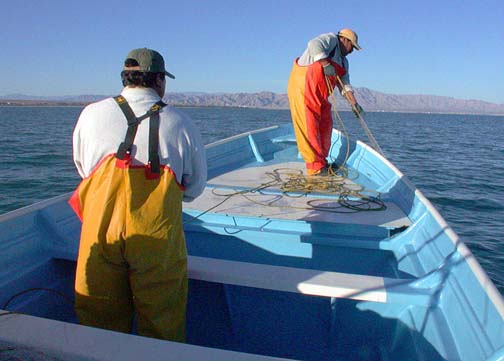 Working about 6 miles east of the Mexican fishing town of San Felipe, the panguero on the bow pulls net, while the man behind shakes loose shrimp, clears bycatch, and piles the net around his legs.
Oscar Armenta at San Felipe's neat-as-a-pin Posada de Don Jesus, $20 per night for two people.