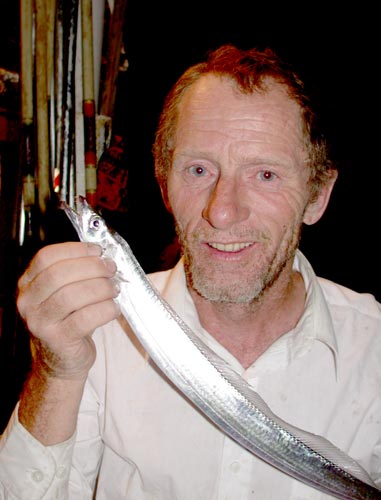 CHROME-PLATED--Jim Hardan with his rarely-caught, mirror-finish Pacific cutlassfish, which hit a Lucky Joe fly at Bahia de las Animas. Photo courtesy Gene Kira.
FISHING THE SEA OF CORTEZ ABOARD THE PANGA MOTHERSHIP JOSE ANDRES
By GENE KIRA

SAN FELIPE, B.C., MEXICO, AUG. 22, 2004 - Although overall fishing was fairly slow for 19 anglers during a six-day trip on the San Felipe panga mothership Jose Andres, of Tony Reyes Fishing Tours, a total of 45 species--including some real oddities--were nevertheless recorded, in very warm Midriff Islands water temperatures of up to 87 degrees.

During the entire trip, which returned to San Felipe on Aug. 20, 2004, only one wide-open yellowtail bite was found, as the boat's six pangas loaded up with "full Mexican limits" about two miles south of Barnaby Rock on a glass-flat Wednesday morning. Slow or nonexistent yellowtail action was encountered at the south end of Isla Angel de la Guarda, the Isla San Esteban gravel bar, La Asamblea, Punta Final, and the Enchanted Islands. Unusually small numbers were also caught of other standard Midriff species such as leopard grouper (cabrilla), snappers, whitefish, huachinango (none), white seabass (none) and even goldspotted bass and spotted bay bass.
However, the Jose Andres still caught a very wide range of fish species, including an unusual 18-pound dorado that hit a custom-tied Lucky Joe bait rig for Jim Mori of Sonora, Calif. The dorado came into the bait lights about midnight on Wednesday as the Jose Andres lay at anchor, deep inside Bahia de la Animas in 81-degree water, and it was one of a pod of about a dozen mahi's that charged the boat in the dark and destroyed an uncounted number of "sabiki" bait ganions.

Mori and panga mates Ed Wall and Jim Davis also got lucky as Davis' portable sonar spotted an enormous mass of fish about halfway down to a 60-foot bottom at the tip of Punta Final, and they quickly hauled up 10 medium-to-large totoaba, releasing all of the endangered fish. "It was a real thrill for me," Mori said. "It's been 52 years since I've caught a totoaba. What a beautiful animal!" The Jose Andres also released at least three more totoaba on the last morning of the trip, at Isla Cholluda at the south end of the Enchanted Islands.

Another unusual catch on a Lucky Joe rig was made by Jim Hardan of Temple City, who hooked a rarely-seen, spectacularly chrome-plated, eel-shaped Pacific cutlass fish at Bahia de las Animas. Hardan also landed a "mobulo" manta ray that he swore hit on bait and was hooked in the mouth.

And possibly the luckiest catch of all was a 30-pound class gulf grouper caught at Isla Cholludo by Hector Manciet of Tucson on the last morning of the trip. Manciet's vehicle broke down in Calexico on his way to San Felipe, and he only made the trip after an emergency van was dispatched at 3 a.m. to bring him to the boat just before it left San Felipe.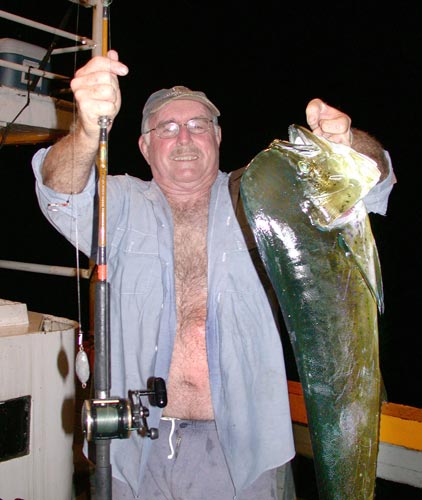 LUCKY JIM--Jim Mori and his super-lucky, Lucky Joe-caught dorado. Photo courtesy Gene Kira.
In addition to a giddy session on giant Humboldt squid that had the whole boat laughing its collective butts off, the species caught or netted during the trip included: yellowtail, bigmouth bastard, barracuda, spotted bay bass, mackerel, triggerfish, wavyline grunt, bonita, goldspotted bass, leopard grouper and golden grouper, sawtail grouper, gulf grouper, sculpin, Cortez grunt, a large halfbeak, a small halfbeak, flying fish, porgy, lizardfish, Pacific cutlassfish, unknown small herring, unknown large herring with black spot, unknown striped grunt, shark, bullseye puffer, Panama graysby, rivulated mutton hamlet, dorado, mobulo manta ray, large sea snake, small sea snake, transparent spotted eel, unknown long dorsal fin herring, unknown small paired grunt, whitefish, creolefish, totoaba, chihuil catfish, shortjawed leatherjacket, ladyfish, sierra, mullet, barred pargo, and needlefish.

The anglers departing San Felipe on the Jose Andres trip were: Curt Collier, Jim Davis, Andy Duarte, Jeff Dunkel, Jim Dunkel, Jeff Hardan, Jim Hardan, Bill Heckaman, Joe Ikari, Allen Johnson, Gene Kira, Gifford Kira, Hector Manciet, Jim Mori, Johnny Pontecorvo, John Tillander, Ed Valov, Ed Wall, and Thomas Weir.

Despite the relatively slow conditions, the official fish count for the trip was a respectable: 231 yellowtail, 15 to 32 pounds; 70 cabrilla, 8 to 13.5 pounds; 13 totoaba released; 30 giant squid, 10 to 18 pounds; one dorado, 18 pounds; one grouper, 30 pounds; two barred pargo, 14 pounds; three broomtail grouper, 12 to 14.5 pounds; 87 spotted bay bass; one shark, 16 pounds; and 34 miscellaneous fish.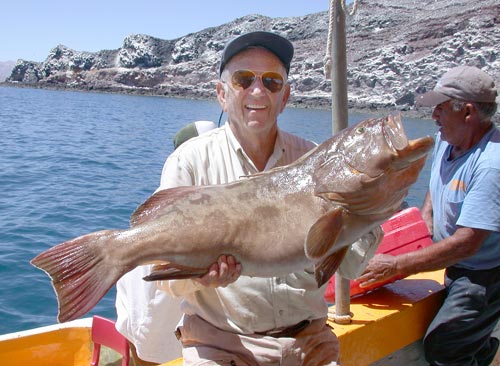 MADE THE BOAT--A last-second, 3 a.m. van ride from Calexico got Hector Manciet to San Felipe just in time to depart on the Jose Andres and catch this nice gulf grouper at Isla Cholludo. Photo courtesy Gene Kira.