SAN FELIPE, BAJA CALIFORNIA: A STUDY OF THE
EVOLUTION OF SITE UTILITY IN A
MEXICAN FISHING VILLAGE
A Thesis
Presented to
the Faculty of the Department of Geography
California State College at Los Angeles
In Partial Fulfillment
of the Requirements for the Degree
Master of Arts
By
Thomas Anthony Terich
January 1968
SUBMITTED IN PARTIAL FULFILLMENT OF REQUIREMENTS FOR DEGREE OF MASTER OF ARTS AT CALIFORNIA STATE COLLEGE AT LOS ANGELES BY:
CANDIDATE: Thomas Anthony Terich
FIELD OF CONCENTRATION: Geography
TITLE: San Felipe, Baja California: A Study of the Evolution of Site Utility in a Mexican Fishing Village
APPROVED: Harry C. Coffin, Howard E. Brunson, David R. Radell
DATE: January 29, 1968
ACKNOWLEDGEMENT
I would like to express my sincere gratitude to the people who aided and encouraged my research effort. Initial inspiration for this project was given to me by Dr. Robert C. Eidt. The manuscript profited immeasurably from the readings of Dr. Harry C. Coffin, Mr. David Radell, and Mr. Howard Brunson. To them I am greatly obliged for their numerous suggestions and patient assistance.

My greatest debt of all is to my family who have supported and encouraged me throughout my total college experience. To my sister, Mrs. Janet Magro, whose secretarial skills were inexhaustible, I am particularly grateful.

In this regard, no words could possibly describe the indebtedness to my parents who were always nearby when I needed them.
TABLE OF CONTENTS
CHAPTER I. INTRODUCTION TO SAN FELIPE

CHAPTER II. WEATHER AND CLIMATE OF SAN FELIPE
• Controls of Weather and Climate
• Climatological Data
• Temperature
• Precipitation
• Pressure and winds
• Climatic Classification
CHAPTER III. GULF OF CALIFORNIA
• Submarine Topography
• Evaporation and Salinity
• Water Temperature and Currents
• Tides and Sea Level
• Marine Life

CHAPTER IV. PHYSIOGRAPHY OF NORTHEASTERN BAJA CALIFORNIA
• Evidence of Faulting
• Fault scarps
• Water traps
• Differing Explanations of the Physiography

CHAPTER V. EARLY INDIANS OF SAN FELIPE
• Written Accounts of the Indians
• The Kiliwa
• Fishing
• Occupance of the bay site

CHAPTER VI. EXPLORATION OF NORTHERN BAJA CALIFORNIA AND THE UPPER GULF
• Francisco de Ulloa
• Missionaries on the Peninsula
• Voyage of Ugarte
• Fr. Consag's Exploration of the Gulf
• The last explorer-Padre
• An Englishman in the Gulf

CHAPTER VII. COLONIZATION OF THE NORTHERN PART OF THE PENINSULA
• The Port of San Felipe de Jesus
• Paradise Lost
• Lesse concession
• Final speculation

CHAPTER VIII. SEASONAL OCCUPATION OF SAN FELIPE
• The Nelson and Hogg Reports
• Analysis of the Reports
• Summary Based on the Evidence

CHAPTER IX. EL DESIERTO DE LOS CHINOS

CHAPTER X. PERMANENT SETTLEMENT
• Beginnings of the Totuava Industry
• Settlement at San Felipe
• Fishing at the Settlement
• American Buyers
• Stabilization of the village
• The Village 1940 to 1950
• Fishing Becomes Big Business
• Modern Fishing Methods
• Out of Isolation

CHAPTER XI. SAN FELIPE TODAY
• Population
• Commercial Activity
• House Types
• Schools
• Religion
• Fishing Economy
• Tourism
• Problems of the Village

CHAPTER XII. CONCLUSION

EPILOGUE

BIBLIOGRAPHY

APPENDIX A. AVERAGE TEMPERATURE RECORDED AT SAN FELIPE 1949-1966

APPENDIX B. YEARLY PRECIPITATION TOTALS RECORDED AT SAN FELIPE 1949-1966

APPENDIX C. YEARLY TOTUAVA SHIPMENTS FROM THE GULF OF CALIFORNIA

APPENDIX D. SAN FELIPE SHRIMP CATCH SHIPMENTS ACROSS THE BORDER

APPENDIX E. MONTHLY SHRIMP SHIPMENTS AT CALEXICO, 1966

APPENDIX F. SAN FELIPE'S CONTRIBUTION TO THE TOTAL TOTUAVA IMPORTS INTO THE U.S.

APPENDIX G. TOTUAVA AND SHRIMP LANDINGS AT SAN FELIPE 1960-1966

APPENDIX H. ALL SPECIES OF COMMERCIAL MARINE LIFE LANDED AT SAN FELIPE IN 1966

LIST OF FIGURES
• Figure 1. Northern Baja California
• Figure 2. Temperature Data for San Felipe 1949-1967
• Figure 3. Precipitation Data for San Felipe 1949-1967
• Figure 4. Positioning of the Low Pressure System in March and July,and Resultant Winds.
• Figure 5. Trewartha Climatic Classification of the San Felipe Area
• Figure 6. Physiography of Northeastern Baja California
• Figure 7. Gulf and Peninsula Profile
• Figure 8. Native Groups in Northern Lower California
• Figure 9. Consag's Map of Baja California
• Figure 10. Hardy's Route of Exploration in the Gulf
• Figure 11. Village Pattern and Land Subdivisions
• Figure 12. Commercial Street Map of San Felipe

LIST OF PLATES
• Plate 1. Tourist-appealing Road Sign
• Plate 2. Blooming Ocotillo in the Desert
• Plate 3. The Weather Station at San Felipe
• Plate 4. A Little-used Evaporation Pan with Stagnant Water
• Plate 5. Fishing Boats in for Repairs at San Felipe's Natural Dry Dock
• Plate 6. Point San Felipe Extends into the Gulf Just North of the Village
• Plate 7. A Beach Ridge Parallels the Shore at San Felipe
• Plate 8. Sedimentary Layers Exposed in the Beach Ridge
• Plate 9. Site of Campo Uno at the Base of San Felipe Point
• Plate 10. An Old Spanish-built Wall at Campo Uno
• Plate 11. Rubble at the Site from Adobe Walls that once stood at the first Camp
• Plate 12. Further Evidence of Dwellings at Campo Uno
• Plate 13. Ruins on the Beach
• Plate 14. An Original Log-hewn Fishing Vessel
• Plate 15. Aerial Views of San Felipe
• Plate 16. Aerial Views of San Felipe
• Plate 17. Aerial Views of San Felipe
• Plate 18. San Felipe's Main Commercial Street
• Plate 19. Parked with Pride are San Felipe's Ambulance, Fire, and Water Trucks
• Plate 20. The Flooded Tidal Lagoon at High Tide
• Plate 21. An Old Dwelling at the Village Constructed from Ocotillo Limbs
• Plate 22. Abandoned Adobe Shells give way to Newer Stucco Housing
• Plate 23. Empty Block Forms Stand for months Before Completion
• Plate 24. Cement Block is Now Popular Building Material
• Plate 25. Many Houses have a Surprisingly Tidy Appearance in such a Sandy Environment
• Plate 26. Near Surface Ground Water is Readily Available and Backyard Wells are common. Note Proximity of Outhouse.
• Plate 27. A New Basketball Court Fronts the Old Frame Schoolhouse
• Plate 28. Today There is a Newer and much Larger Addition to the Village School
• Plate 29. A Small Hill-top Shrine is Dedicated to the Fishermen of the Village
• Plate 30. Tidy Interior of San Felipe's Catholic Church
• Plate 31. Off-shore Anchored Fishing Fleet. Note the Shrine on the Hill-top
• Plate 32. Fishing Boats Must Refuel and Take on Ice at High Tide. Water Recedes Beyond the Fueling Station at Low Tide
• Plate 33. Trailer Parks and Cabanas on the Beach Attract Tourists
• Plate 34. The Long Desolate Road to San Felipe
• Plate 35. Wrecked Boats on the Beach
• Plate 36. Arroyos Washed Away Portions of the Highway to San Felipe
• Plate 37. Sand was Deposited many Feet Deep in Parts of the Village
• Plate 38. Aerial View of the Storm Damage
CHAPTER I: INTRODUCTION TO SAN FELIPE
At the end of a two hundred mile drive through the Colorado Desert of Alta and Baja California, the traveler's weary eyes encounter the desert's arid horizon framed by the strikingly blue, tranquil waters of the Gulf of California. A road-level view of crimson, paint-brush-tipped ocotillo, accompanied by various cacti and skeleton-like vegetation, presents an artistic touch when viewed against the water's azure background. To the west, the orange-red volcanic peaks of the Sierra Pinta and Sierra San Felipe provide spectacular color changes with the sun's positioning. Arroyos emerging from the mountains braid the sandy surface of alluvium that slopes to the shore. The blacktop highway climbs a swell on the desert's landscape, giving the traveler his first view of the wide, restful expanse of San Felipe Bay. The smooth pavement ends abruptly at San Felipe's pocked, dusty, unpaved main street. The village's loud speaker blares with brassy Mexican music startling the foreigner as his vehicle thumps down the main street, dodging jovial Mexican pedestrians.

The fishing village of San Felipe has over two hundred years of historical utility. The usefulness of San Felipe Bay was first discovered by exploring missionaries who found not only boat protection, but also precious drinking water at the site. Since then, San Felipe Bay has seen many types of inhabitants and various activities. These activities have been studied by means of field work carried out at San Felipe, interviews with Mexican officials in Mexicali and Tijuana, and library research.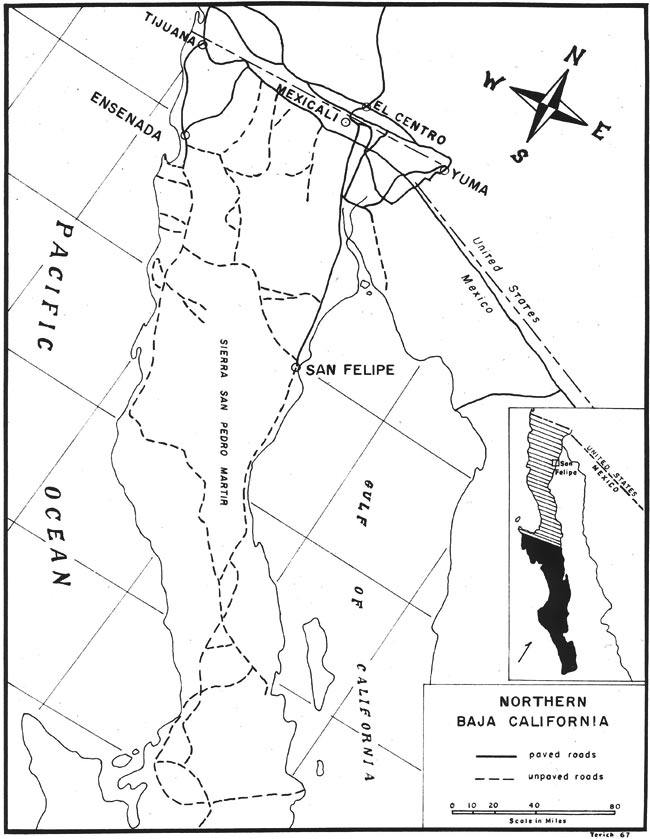 Figure 1. Northern Baja California.