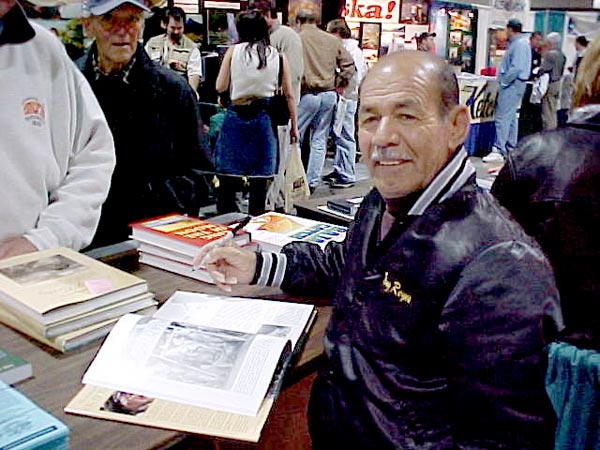 Tony Reyes Baca of San Felipe, B.C., Mexico, autographs a full-page photo of himself in the book, The Unforgettable Sea of Cortez, during his annual visit to the Fred Hall Fishing and Boat Show in Long Beach, Calif. The book tells the story of Tony's early career as a commercial fisherman, before he began his successful sportfishing company in the 1950s.
THE AGELESS FISHERMAN IS AN AMBASSADOR FOR HIS
TOWN ON MEXICO'S SEA OF CORTEZ
By GENE KIRA

From the early beginnings of San Felipe's sportfishing tradition, Tony Reyes Fishing Tours has risen in a long, slow, steady arc to become the town's leading panga mothership operation.

But getting there took some doing, as the company's founder, Tony Reyes Baca, has cheerfully overcome one difficulty after another during his long career.

In 1923, Don Tony was born one of 13 children in Mexico City.
At the age of three or four he suffered a mysterious, half-year long bout of blindness that has never been explained. But then his vision returned, just as mysteriously, and the small boy went to work to help support his family. All Tony remembers of his early childhood is a series of seven-day-per-week jobs not marked by any awareness of passing time: as a grocery hauler for shoppers, in a toilet seat factory, making bricks, candles, sweaters, furniture, ironwork--anything that would help get his family through to the next day.

During the hard Depression and World War II years, young Tony sometimes slept in the mean streets of Mexico City, but somehow, he became an example of "the resilient child," an individual of undefeatably positive outlook who persists in succeeding, despite all obstacles. He found jobs in Veracruz, Cuernavaca, Michoacan, and Aguascalientes, and sometime during the war, he crossed over to "el otro lado" to work on farms in Minnesota, North Dakota, Wyoming, and California--learning English, sometimes living in freezing cold caves and under bridges, but always sending money home if he had any.

After receiving several "free rides" back to the border--courtesy of the U.S. Border Patrol--Tony decided about 1950 to return to Mexico, where he worked in a Tijuana hotel in exchange for food, on a San Felipe shrimp boat, again just for food, and then about 1951, as a deckhand on the early Ensenada sportfishing boat Gaviota I where he finally did receive a salary.

For the 28-year-old Tony Reyes, that first paying job on the sea was the beginning of a sportfishing career that he is still pursuing today, 53 years later.

For the next couple of years, Tony fished commercially for San Felipe shrimp in the winter, and on Ensenada sportfishing boats in the summer, saving his money to buy a small rowboat with which he started his career as a "boat owner."

There were plenty of totoaba and corvina at Punta Machorro, just north of San Felipe, and Tony rowed customers out for $5 per day. However, he could only keep $2.50 of it, because he had to split the money with the other half of his "motor," a friend named Pepe Garucha.

The work was very hard, and to make ends meet, Tony also fished for totoaba commercially with handlines, developing a tremendous muscular physique, but also beginning a process that would gnarl and twist his fingers with arthritis in later life.

About 1955, Tony's very first rowboat client, a man named Ralph Sweet, offered to back him in the purchase of a 5-h.p. Firestone outboard motor, and after that, the little fleet began to grow.

For totoaba fishing, the price was $12 per person, and the motor boats would take a big tub for live corvina bait as they fished up to about 15 miles from town.

More and more customers came, in groups organized by such people as Tom Payne of Gardena, Bill Stark from Tustin, and David Fink of Davy's Locker in Newport Beach, who was the first person to teach Tony how to operate multi-day trips. Early boats at that time included shrimp trawlers such as the Felipe Angeles, Saragosa, and Rosalinda, all owned by the local shrimp cooperativa. The Alfredo and Poseidon were also operated by Charlie Rucker. These early long-range trips to the Midriff islands cost $75 per person. (See: Midriff Islands Fishing Map.)

By about 1960, Tony was sending out as many as 70 anglers on a good Saturday, and he had also opened an ultra-remote fish camp at Okie Landing, 70 miles down the blistering hot desert coast. In those days, Okie Landing was a punishing eight-hour drive from Puertecitos, but the skiff fishing was worth it for nearby totoaba, black sea bass, and other species. Tony poured the six concrete slabs that are still visible there today, built some cabanas and a ramada, and stored ice in a hole that he dug into the mountain.

By 1962, Tony's life was finally settled enough so that he married his wife of the last 42 years, the former Lolita Montez, of Bahia de los Angeles.

But there were still difficulties ahead. Okie Landing closed about 1973, as the very rough road deteriorated into truly impossible ruts, and the fishing within range of Tony's small skiffs thinned out. Tony kept going by partnering briefly with Gustavo Velez in a long range boat business, and then chartering his own larger shrimp trawlers for trips into the Midriff.
Finally, in 1986, Tony got the big break he needed through a partnership organized by Tom Ward of the present day Longfin Tackle Store in Orange, Calif., and together they bought the 87-foot Jose Andres, a wooden-hulled boat capable of carrying six full-sized pangas and 18 anglers throughout the Midriff islands. (See: San Felipe's Panga Motherships, Fishing the Midriff Islands.)

Ward became the exclusive booking agent for Tony Reyes Fishing Tours, and again the client list grew apace. In 1990, Tony Reyes Jr.--already a veteran with 15 years of fishing experience with his dad--took over as captain of the boat.

Under its two Captain Tonys, the Jose Andres quietly built the most solid reputation of any boat in Baja for friendly, honest service, and consistently productive fishing trips. By 1995, it was obvious that the company needed a second, more modern boat to accommodate its ever-increasing client load and to provide a higher standard of service for ecotourism and sightseeing, as well as straight fishing.

After a search lasting almost ten years, in February 2004, Tony Reyes Fishing Tours bought out a competing boat, the steel-hulled, 107-foot former Capitan Villegas. This fast, comfortable ship--rechristened the Tony Reyes--carries nine pangas and 27 passengers, all in air-conditioned staterooms, and it has the bait capacity, speed, and range to fish or cruise anywhere in the Sea of Cortez, or up and down the Pacific Coast of Mexico.

Fishing together, the venerable Jose Andres and the new Tony Reyes are living symbols of success built on very hard work and scrupulous honesty over the very, very long haul.

Today, yes, life is good and even a little easy for the old fisherman, Tony Reyes Baca. As the beloved, universally respected patriarch and guiding spirit of San Felipe, he still runs the office, monitors the radio, and coordinates the hectic logistical operations each week during the season as the boats are turned around and head out to sea again. Fifty-three years after that first paying job in Ensenada, nothing much has really changed for Don Tony--the hard-working, resilient child--and it probably never will.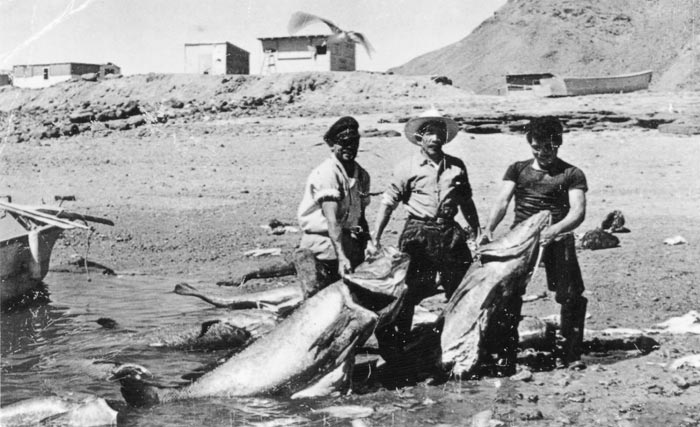 Tony Reyes Baca of San Felipe, B.C., Mexico, left, with Gorgonio "Papa" Fernandez, and his son Chi Chi Fernandez, with a catch of enormous totoaba, ca. 1954, at Bahia Willard, Gonzaga Bay, B.C., Mexico. Photo reprinted with permission from The Unforgettable Sea of Cortez, by Gene Kira.
(Related San Felipe articles and reports may be found at Mexfish.com's main San Felipe information page. See weekly fishing news, photos, and reports from the major sportfishing vacation areas of Mexico including the San Felipe area in "Mexico Fishing News.")