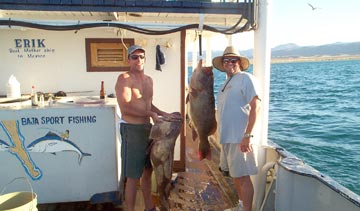 MOTHERSHIP GROUPIES—Rob Dal Farra (left) and Warren Shelton, with Farra's two grouper of 49 and 37 pounds, caught while fishing the Midriff Islands with the San Felipe panga mothership Erik. Photo courtesy Mike Biedebach.
QUALILTY CABRILLA CAUGHT DURING
MOTHERSHIP ERIK'S MIDRIFF TRIP
une 17, Mike Biedebach, Midriff Islands fishing trip on the Erik out of , San Felipe, Baja California, Mexico:

Biedebach Charter, MV ERIK, June 12 to June 17, 2004, 19 guys, 9 pangas.

OVERALL SAN FELIPE MOTHERSHIP TRIP REPORT

This was possibly the best trip I've ever been on in my 12 San Felipe mothership trips. I have never seen cabrilla of this quality and size before. We have caught more cabrilla then we did on this trip, but never ever as consistent large in "grande" size class.
Bait was available for several of the fishing shifts and as always, it was deadly when available. When not available, many of the guys used jigs or trolled MirrOlures which are very effective for both cabrilla over shallow reefs or for yellowtail (YT) in the open ocean.

We had a daily jackpot for both the AM and PM fishing shifts ($40/shift). In addition to that, we had a giveaway reel for the biggest YT and cabrilla. The YT winner would get a new Shimano Torium 30 and the cabrilla winner would be a new Shimano Calcutta 400.

The chef, Poncho, outdid himself again by making daily meals that were unbelievably delicious. He is truly the best chef on any of the motherships. Thanks Poncho, I needed a few more pounds.

The ERIK now has a bar on board where you can get cocktails for $2/each—that was a nice treat to have available.

Special thanks to the owner of the ERIK, Gustavo Velez, for attending the trip with us. We all enjoyed his company and I'm sure we had a better trip with him on board. Thanks Gustavo.

DAILY TRIP SUMMARY

Sun AM—Punta Diablo (La Guardia). Reef fishing with lures (drop and retrieve). Many huge cabrilla were caught, the biggest being a 17 lb one. Decent count of YT to 31 lbs. Jackpot was the 31 lb YT hooked by a guide, but reeled in by Bob Grossman of Ventura, CA.

Sun PM—Isla Estanque (La Guardia). Decent catch of cabrilla and for some guys, a lot of yellowtail. Quality sized YT up to 29 lbs—many caught above 20lb. Jackpot was a 29 YT caught by Ken Ogden of Ontario, CA.

Monday AM—Sound end of La Guardia. Decent catch of cabrilla and YT. Jackpot was a 27 lb YT caught by Mike Biedebach of Ventura, CA. Note: Exploratory trip by one panga to La Raza (very long boat ride) turned up a nice YT count down there. Based upon that, we planned to head south Monday night to fish La Raza. A Tony Reyes mothership was also at La Raza, but they were leaving Monday afternoon.

Monday PM—Bahia de Las Animas (on the coast). Marginal catch of cabrilla and YT. Jackpot fish was a 33 lb grouper caught by Brian Mastin of Fontana, CA.

Tuesday AM—La Raza. Mostly fished the gap north of La Raza and south of Partida. If you have been to this area before, you know La Raza is a bird sanctuary. The water around this area was completely going off with surface action—bait, birds, yellowtail throughout the area (some large areas of Humboldt squid as well) for most of the morning. Awesome display of wildlife. Filled up the pangas with YT and for those that worked for them, a few decent cabrilla were caught on some reefs. Biggest YT catch for the morning went to the team of Brian Mastin of Fontana, CA and Pete Fallini of Santa Paula, CA with 24 YT caught for the morning. Jackpot fish was a 33 white sea bass caught by Mike Biedebach of Ventura, CA on a blue/white Salas 6x with a little cut squid.

Tuesday PM—La Raza. After the mornings awesome catch, it was decided that we should stay in the area. The old adage of "never leave fish to try and catch fish" being cited as a good reason to stay. The afternoon shift found a tide catch and little to no surface action which resulted in a much lower catch of YT and cabrilla. We decided to head north up towards Punta Final/Gonzaga Bay area. Jackpot was a 24 lb YT caught by Pete Fallini of Santa Paula, CA.

Wednesday AM—Punta Final/Gonzaga Bay. Everybody got a very late start fishing due to high winds blowing overnight on the trip north. I didn't have much expectation for anything on this day based upon the winds that were blowing—it was ugly. A little change in topography and we got out of the wind the morning laid day and expectation rose for me.

I traded partners and to fish with Warren Shelton of Santa Paula, CA. Warren and I had an interesting morning. While in transit just north of Punta Final (a little bit of a rough ride) our board screw mount decides to suddenly break off and we hear the noise of outboard drowning and sinking—not a good start. If not for the rope attached to the outboard, it would be on the bottom right now. The outboard gets hoisted back on the transom, and has no chance of starting after being submerged. Thanks to the radio in the panga, we call over the ERIK to change out the outboards. Warren and I pop a beer or so and can only laugh. With a new outboard and an official blessing from one of the crew members (they all laughed at Warren and I), we are back in the water having only lost about one hour.

As we approach our other pangas now fishing off the south end of Isla Willard, in visual proximity to gringos camping on the beach around Alfansina's, we don't see much action happening. On the promising side, there is bait to be caught. It is now about 11am or so. In about 20-30 minutes, we get a nice pile of live bait and head back out to the reef and start fishing on a shallow and very small reef that was maybe 40 to 70 feet in depth. A nice little breeze provides the perfect drift. Down to the bottom with my live bait and drooper loop rig (10oz of weight) and BAAAAA BOOMMMMMMMM a grande cabrilla comes to gaff. Warren and I proceed to catch fish for the next two hours, tit for tat, on live bait. I was an automatic bite almost as soon as you hit the bottom—it was either a fish on, a rock job, or no bait on the hook. It was so classic—when we ran out of bait, we used any piece of dead bait. I extracted a couple dead/crushed bait out of the pile of cabrilla now mounting in our panga to catch even more fish, thanking the previously caught cabrilla for holding onto the bait for me. When provided the chance for a break, our guide would hook up on a jig. Our guide worked his fanny off between baiting the hooks, gaffing the fish, catching his own fish and resetting the boat on the reef. These were not normal cabrilla, but SUPER CABRILLA that weighed on order of 10/12 lb each.

To add to the catch, we also caught 3 barred pargo from 18 to 22 lbs—really, really tough fighter.

In my twelve Mothership trips I've caught a lot of cabrilla and had some real banner days, but none of them come even remotely close to the fishing we had this day. I've seen big cabrilla, but none as consistent large as these.

A number of nice grouper were also landed here, the biggest being the jackpot fish of a 49 lb caught by Rob Dal Farra of Ventura, CA. He also caught a 37 lb grouper—his first two ever.

Due to the close proximity of all our pangas, we all had a laugh as Rob fought both of his grouper to the boat. It was a classic day, a day of yelling and celebrating each individual fish that was caught and in many, many, many cases, a day of laughing at the guy who just got broken off in the rocks to the cheer of RANCHERO!!!. It was a day that will never be forgotten. Wednesday AM Jackpot was a 33 grouper caught Dave Johnson of Santa Paula, CA.

By the way, we all ate a quick lunch and took a short siesta and went out again for the afternoon—the bite continued to be pretty much wide open for the entire day and for the entire nine pangas. My partner and I quick fishing at roughly 6pm—enough was enough.

Thursday AM—We normally fish the Golden Reef on the last day. Due to high winds and a bunch of tired fisherman and a full boat of fish, we headed for San Felipe.

As tears flow down face as a I finish up this report, I want to thank my dad, Doug Biedebach (deceased), for taking me down to Baja to fish on these San Felipe trips. He ran the trip for many years, now the ball is in my court. Dad—I miss you and the trips lives on in your honor!

Fish Counts for the Trip

YELLOWTAIL—298 CABRILLA—497 (average of 10 lbs) PARGO—13 (biggest 22 lbs) GROUPER—7 (26 to 49 lb.) WHITE SEABASS—12 (one 33 lb.) MISCELLANEOUS SMALLER FISH—who cares.

(See "Mexico Fishing News" online for current fishing reports, photos, weather, and water temperatures from San Felipe and other major Mexican sportfishing areas. Vacation travel articles, fishing maps and seasonal calendars, and fishing related information for San Felipe may be found at Mexfish.com's main San Felipe page.