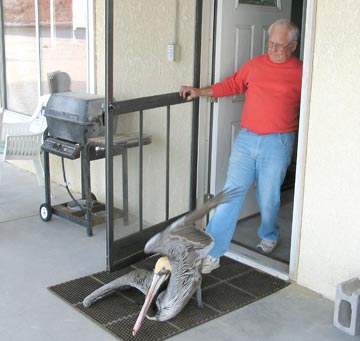 WIND STARVED PELICANS--John Tillander of Punta Bufeo said the local brown pelicans found it hard to feed in the strong winds that blew recently, and they were so hungry this one came into his house in search of food. Here, it is escorted back outside by Tillander's neighbor Bob Paddock. Photo courtesy John Tillander.
PELICANS DESPERATE FOR FOOD AT PUNTA BUFEO
Jan. 10, 2005, John Tillander, Punta Bufeo, San Felipe, Baja California, Mexico Fishing and Starving Brown Pelican Report:

Recent extended periods of strong winds have been tough on the local pelican population to the extent that one starving bird actually entered a house in search of food.
This pelican actually followed us into the house where we were cleaning fish and we chased it out and then fed it the heads and tails. When the wind blows the water gets so rough that the birds can't see to dive, and if they can, they have the problem of a hitting a moving target while in a crosswind. After two weeks of high winds the weak birds die off and we cleaned up a number of dead pelicans on our beach while we were there. It didn't seem to affect the seagulls though, probably because they live off of what washes up on the beach".

The wind blew for two weeks before Christmas and it created some real survival problems for the local pelicans. The weather after Christmas was perfect, and we caught the the typical inshore fish: Spotted Bay Bass, Barracuda, and Trigger Fish. No Pompano. All of the fish were larger than usual. No schools of bait fish anywhere.

One of our neighbors at Punta Bufeo went out to the "Golden Reef" while we were there and caught and released over 30 yellowtail in the 20-30 pound range. The Golden Reef is approximately 18 miles southeast of Punta Bufeo, and the depth at the reef is about 130 feet. I'm not going there in my 14 footer. The local won't go there unless they have two pangas.

(See "Mexico Fishing News" online for current fishing reports, photos, weather, and water temperatures from San Felipe and other major Mexican sportfishing areas. Vacation travel articles, fishing maps and seasonal calendars, and fishing related information for San Felipe may be found at Mexfish.com's main San Felipe page.