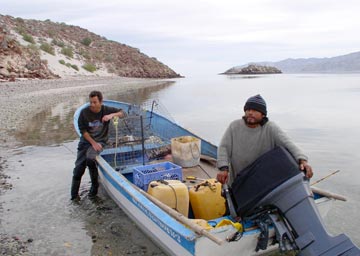 BAHIA DE LAS ANIMAS--Scenes from Randy Morishita's remote camping trip to the north shore of Bahia de las Animas. Photos courtesy Randy Morishita.
BAHIA DE LOS ANIMAS BAJA FISHING AND CAMPING TRIP
March 24, 2005, Randy Morishita, Bahia de las Animas, Baja California, Mexico Fishing Trip Report:

Our annual winter camping trip in Baja took us to Bahia de las Animas this time, traveling south from San Felipe on four-wheelers and off-road vehicles about 500 miles round-trip. I so appreciate just being in Baja with family & friends, that any fishing or fish we may catch along the way is a major bonus on a trip as this one, and to have twelve people aged 11 to 70 all get along so well, made for an even more memorable time.
I & son Matt originated from Rancho Percebu; others came from Campo Cadena including the Monaghan clan (Steve, Cindy, Mitchel, & the twins Sommer and Sierra), Gene & Judy Haney, Brian "Byrell" Ross, George Atkins and his life-partner, Jackie Smith. Dogs, Pooch, Sport, Cowboy, Fred, & Waldo all accompanied us as well. Rain delayed us for a day, but we headed out after breakfast to our first night's destination, Bahia de Los Angeles. Plenty of hotels and restaurants there to accommodate us after a long, first day's journey, and with a good night's sleep, it's leisurely off to Bahia de Las Animas the next morning (after breakfast, of course). Matthew and Mitchel rode quads for the entire trip; a Blazer, Ford 1-ton 4 x 4, and International Scout were the other conventional vehicles and I drove our "go anywhere", VW powered, Barney Car. Sierra was brave enough to be my first co-driver.

Some of us were going to split up and continue on part of the Baja 1000 race course, but good ole Coco at Coco's corner, south of Gonzaga Bay, knew the road through Calamajue canyon was washed out and too muddy for safe travel. He also told us the rest of the road to the Laguna Chapala junction was muddy, but passable and to be careful.

The gas station at Gonzaga Bay was opened and we were able to top-off heading south, but coming back was another story as they were out and only received deliveries on Monday's. Being a Friday afternoon, it didn't seem like it would be a fun weekend for anyone expecting gasoline at Gonzaga. (the guy at store still has some). There was ample supply of gasoline and diesel in L.A. Bay, so we topped-off again before we headed to our destination. Usually the rule traveling in Baja is to put fuel whenever one can and even though stations may open up all over the place in future, I will still always get fuel whenever it's available.

Bahia de Las Animas is appropriately named. Other than a few fishermen, coyotes, and of course the pristine setting, there really are only spirits. There were no signs of any other visitors and as usual we believe as the old motto says "...to take only pictures and leave only footprints..." so that no one would know we were there. Travel by the inhabitants is with panga to L.A. Bay as the access road is very rough and time consuming. The northern point of the bay is inhabited by a group of fishermen, occupying 5-6 shanties or huts. One lone fish camp is on the beach further south and we were able to camp on a high spot between the two fish camps, against some hills to protect us from the north winds. The pangueros must have been very busy because no one came over to talk until the last night when I thought someone was coming over to offer some lobster with a panga full of traps. It turned out the traps on the panga were for fish, not bugs, and that was their method of fishing at this time of the year—bottom-fishing. The panguero we met, Gallegos, said he had been there for ten years. I can't imagine living and trying to survive there year-round. We gave him the remainder of our supplies, a shade structure, and some clothing when we departed. As we explored the rest of the bay, we found the access to most areas to be very difficult. Other camp sites were limited over the harsh terrain and rocky beaches. Winds can rip through Bahia de Las Animas as in L.A. Bay and thanks to The Baja Catch, we were fortunate to have found a protected area to camp on that north end. Coyotes were plentiful and hungry. With each night they got a little braver and on our last night tried to draw the dogs out of camp for a meal and I don't mean for a social event. This is just an indication of how hungry these wild animals are and how cunning they can be to survive.

Very remote and desolate, we went fully prepared for long-term, self-contained camping--of course that meant one night of standing-rib roast for twelve prepared on the three-burner Weber grill by Brian. But places so remote as Las Animas always bring into focus on how safe and smart we have to be to fully enjoy the privilege of traveling to these places and returning safely to complete a good trip. In addition to ample food, water, and fuel, etc., we car-topped three boats with small motors to fish the recommended south side of the bay, "Baja Catch" style. And that we did, exploring the finger reefs that jutted out from the shear cliffs with jointed Rebel, and Yo-zuri Magnum lures catching barracuda, spotted bay bass, leopard grouper (released), spotted cabrilla (released), and one yellowtail by Sommer Monaghan (her first). Drifting with different jigs and casting Ratt'l Traps to the boilers produced cabrilla, larger spotted by bass, triggers, and what we thought were cabezon. Lots of fun with light tackle as we caught and released over 100 fish in a few days. The ones we kept to eat were quite tasty, even the barracuda! Yeah, I know...but...As we were cleaning fish, Gene Haney said he wanted to eat some of the barracuda and I told him we didn't even want to clean that fish, let alone use our cookware to eat a chum slick. Anyway, as we filleted the "skinny" I noticed the meat to be different than the ones from the Pacific (much lighter) and cooked with the blood meat removed, it was tolerable, if not o.k., if not bad if you were hungry. Gene took some fillets home. In all we caught eleven different kinds of fish from our little boats and hope to return at a better time of year for fishing.

These days I get so much more satisfaction helping others catch fish, especially the youngsters and this trip was no exception. The look on everyone's faces—young & old and the stories that are told about fishing are priceless and brings me more joy than catching sometimes. Heck, whenever someone else hooks one on a lure you gave them or on an outfit you rigged for them, it's like catching one as well. Understanding the Sea of Cortez is important as well to our enjoyment and appreciation. In our little boats, we were in close proximity to whales in the bay, porpoise playing, and many birds & other wildlife. We also saw our flat-calm day turn to serious white caps one morning and I thanked my Mexican friends for telling me to always watch the horizon in Baja as we got off the water just in time. Just so much more to enjoy when we can gain a little more knowledge along the way.

We drove straight home to our northern camps after four wonderful days, encountering at least twice the vegetation and flowers as when we drove past earlier in the week—totally awesome, especially the lavender and velvet-covered ocotillo. Caught a little rain in the Sisters just as it was getting dark, but not before we came upon a huge boulder blocking one half of the road on a curve in the mountains. A flat tire on Matt's quad, no gas at Gonzaga, and a couple of hot dogs at Cow Patty's outside of Puertecitos summed up the rest of the trip--a real good one at that. No one hurt, no one broken down, everyone back safely. We're going to try it again real soon.

(See "Mexico Fishing News" online for current fishing reports, photos, weather, and water temperatures from San Felipe and other major Mexican sportfishing areas. Vacation travel articles, fishing maps and seasonal calendars, and fishing related information for San Felipe may be found at Mexfish.com's main San Felipe page.