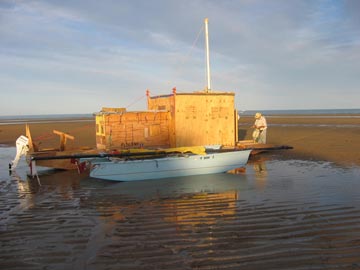 CORTEZ ADVENTURE--At last report, the seagoing raft of "Poppa Neutrino," David Pearlman, was undergoing some refitting in preparation for its cruise down the Sea of Cortez from San Felipe. Photo courtesy Catalina Meders.
LOTS OF TOURISTS AT PLAY IN THE WATER
April 16, 2005, Catalina Meders, Title Company Bookstore, San Felipe, Baja California, Mexico Report:
Hola everybody from humid San Felipe. It's been pretty muggy for two days now. Today the high at San Felipe was 91 degrees with a humidity of 69%, at least down here by the water, and has been that way for the last couple of days. According to the forecast it's supposed to be much the same for the next two or three days. The temperature at San Felipe should remain at about 90 degrees and go down to the mid-70's at night. But it has been gloriously sunny and the sea has been calm.

There are lots of people in the water at San Felipe today, wading and frolicking around in high spirits, always a great sight.

I took a very early walk along the San Felipe beach the other morning and saw some guys out there with wheel barrows and scoopers gathering up debris out of the water and off the beach. Very nice to know that the sand is getting a little vacuum and that the beach in town is getting clearer and cleaner.

The San Felipe Malecon gets the brunt of the tourist traffic of course, and is the toughest to keep pristine at all, but it is happening. On my walk I was amazed to see how many people are out there jogging and fast-walking on the soft sand. There is a whole little San Felipe subculture of "health addicts" manfully, or women-fully, making some serious sneaker tracks along the shore. I couldn't decide whether to concentrate on my heart rate or just stop and admire the wonderful sight of the sun coming up over the edge of San Felipe bay. The sun won. Hasta luego y vaya con Dios, from the bookstore by the bay.

(See "Mexico Fishing News" online for current fishing reports, photos, weather, and water temperatures from San Felipe and other major Mexican sportfishing areas. Vacation travel articles, fishing maps and seasonal calendars, and fishing related information for San Felipe may be found at Mexfish.com's main San Felipe page.