By Gene Kira, Sept. 2, 2001, as published in Western Outdoors Magazine:

If you ever decide you want to tangle with a really, really big fish from an open skiff, Eric Brictson of the San Jose del Cabo, Baja California Sur, Mexico, sportfishing mecca at the tip of Baja California understands your fever and he's ready to give you a fighting chance with the right panga, the right guide, and especially, the right water.

Brictson's company, Gordo Banks Pangas, is uniquely located in Baja to create an explosive mix of small boats and big fish, and every year his clients flirt with the magic 1,000-pound mark that has been approached many times but so far never topped.
Brictson has been building his sportfishing reputation since the early 1980s when he started taking clients out of La Paz in a small aluminum boat, but it was only after he moved to the small village of La Playita on the beach at San Jose del Cabo that things got really busy.

Today, he and his wife, the former Ermilina "Mely" Beltran Gonzales of San Jose del Cabo (Los Cabos), own four pangas of their own, plus two more under contract, and other regular boats that they call in when the fishing gets real hot and the phone starts ringing into the night. Gordo Banks Pangas is a very tight ship of a company; their only other employee is Eric's mom, Virginia, who runs their reservations office in San Diego. Although success has been a long time coming, it could almost have been predicted from the start, because this is one of the most efficiently-operated panga operations in Baja California, issuing weekly fishing reports, rain or shine, and answering email and phone calls with confidence-inspiring promptness.

It also hasn't hurt a bit that Gordo Banks Pangas is only a few minutes from the Los Cabos international airport at San Jose del Cabo, and only 10.1 miles by water from one of the greatest year-round fishing holes in the world--the eponymous twin high spots known as the Inner and Outer Gordo Banks.

The everyday catch for Brictson's anglers is yellowfin tuna, dorado, wahoo, and billfish of normal sizes, but for those "locos" who seek the ultimate small boat experience, the quarry are giant blue and black marlin that come to feed in the fertile upwellings around the banks in the blood-warm waters of late summer and early fall. Brictson's sport fishing captains are the veterans of many epic battles with these monsters, frequently ending with a broken line, or one that has been intentionally cut because the fish was simply too big to land.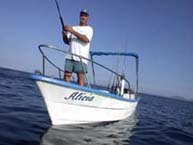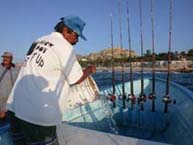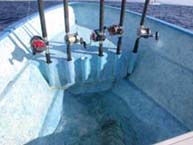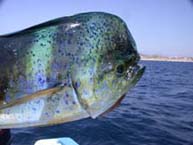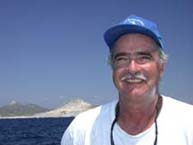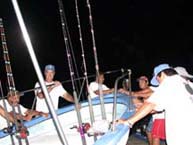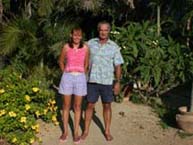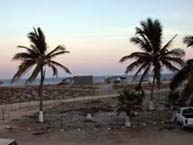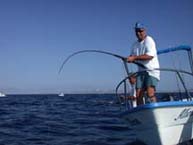 How big are these leviathans? Last year's top marlin at the launching beach of La Playita was weighed at 717 pounds, caught on July 17th by police officer Ron Hutchins of Lompoc, California. The year before that, an 812-pound marlin was caught by a local guide, Marcelo Gonzales, who is also considered to have the local panga record, a 993-pound fish that Brictson says is the largest he's ever heard of caught from a panga. That fish was not weighed until almost 10 hours after it had been caught, he said. Had it been weighed sooner, it would certainly have topped the 1,000-pound mark.

(For those wondering about the accuracy of Brictson's figures, Gordo Banks Pangas maintains two scales certified each year in San Diego. One is a Scale Master weighing up to 1,500 pounds, and the other is an I-Q Plus digital scale weighing up to 2,000 pounds in one-half-pound increments.)

Monster fish nearing 1,000 pounds are of course exceptional, but blues and blacks in the 500-pound class are landed by Brictson's pangas regularly enough so that it is realistic to target them when conditions warrant it. If you dream of being Santiago in The Old Man And The Sea, this is your best shot.

"There was a stretch last season in September that one of my pangas, the Tina Lee , had three black marlin over 500 pounds in one week," said Brictson. "We had another monster black on for over eight hours. It towed our panga 40 miles offshore before we had to break the line when two aggressive killer whales moved in on us as we were landing it."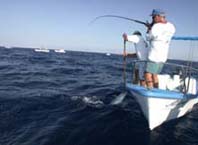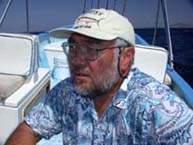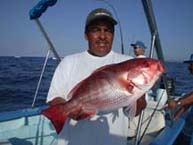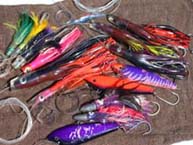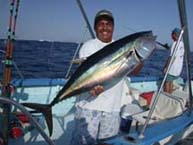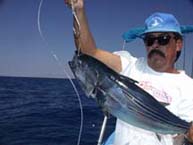 Other San Jose del Cabo fishing stories tell of epic battles lasting 12 hours and even one of 25 hours that had to be abandoned when a hurricane threatened a panga that had run itself out of food, water, batteries, and gasoline. So far, the biggest marlin Brictson knows about that has been brought to shore in a panga, not lashed to its side Hemingway-style, was an 848-pounder brought in by skipper, Modesto, on the Fourth of July a few years ago, with water actually lapping over the gunwales.

But fishing of this kind is a specialized sport, pursued by the very few who have the strength and desire to challenge such strong adversaries from a panga. These basic skiffs have no fighting chairs and no rails, and at only about 22 feet long, their awkward seating and unstable footing gives all the advantages to the fish. "This isn't a sport for the faint-hearted," said Brictson, "A 300 or 400 pound fish may take a couple of hours to bring in, but when they go over 500 pounds, they test even the fittest and most experienced angler to the limit. These fish can pull the panga all day long, and then you have to subdue it and bring it alongside the boat."

For a decent shot at these fish, the angler should be in excellent physical condition, and be equipped with a reel holding at least 500 yards of 80-pound test line. A standard leader is 12 feet to over 20 feet of 200-400 pound mono, ending with a 8/0 to 12/0 hook, and a rigged, live yellowfin tuna or black skipjack weighing 5 to 10 pounds. This set-up is trolled slowly over and around the banks, until lightning strikes and you enter a dream world visited by few before you.

For the rest of us, Gordo Banks Pangas' regular offshore fare includes yellowfin tuna, dorado, sailfish, striped marlin, and wahoo, plus inshore species such as roosterfish, jack crevalle and other jacks, sierra, African pompano, and one of Baja's best bites on true red snapper, or huachinango, when the pelagic red crabs are thick as a mattress during May. From the beach itself, the shoreline around the San Jose River estuary is one of Baja's best areas for catching snook, or robalo, ranging in size to over 30 pounds.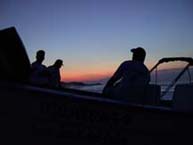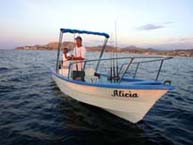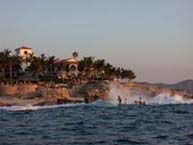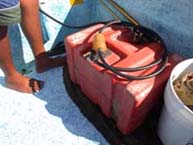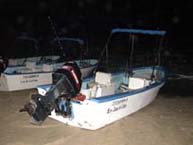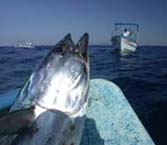 For this type of panga fishing, you should bring medium action bait rods and several reels ranging from something comparable to a Penn 500 or Daiwa SL50 loaded with 30-pound (average) line, to something comparable to a Penn 30W loaded with 50-pound. If you've got the urge to tangle with bigger billfish or tuna, a 50W loaded with 80-pound line would be a good starting point. Leader material is needed in the 50-200 pound range (or 400-pound for the real biggies), with the most common set-up being 50-pound leader on 30-pound line for inshore work, and 80-100 pound leader on 50-pound line for offshore. Be prepared to switch to lighter leader if the water is especially clear and the fish are line shy. To avoid spooking fish, snap-swivels should not be oversized, with 75-125 pound sizes being best for anything but monster fishing. For surf fishing, you will want the largest spinning reel you've got, plus a rod 10-13 feet long to get you past the surf line.
Bait hooks are needed in sizes 1, 2, 1/0 and 2/0 for the various sizes of "sardinas" (flatiron herring) that you will be most often using, and 4/0 to 7/0 for larger baits such as mullet, mackerel, caballito (bigeye scad), bolito (bullet mackerel), or chihuil (jack mackerel). For the giants, you'll need 9/0 to 11/0 hooks to rig with skipjack or small tuna. Bring along a handful of rubbercore sinkers for sinking baits a bit below the surface when necessary, and some 4-6 ounce sinkers for surf fishing or those occasional times when you may want to bottom fish on the banks, which top out at a little over 100 feet deep.

Although live bait is normally the order of the day at the Gordo Banks, there are times when you will troll or cast artificials. No secrets here. For trolling plugs, the Rapala Magnum series is a standard, from CD18 upwards, and the Marauders are a standard for wahoo, in any color you wish, as long as it's purple and orange. Trolling feathers range from hoochies to big vinyl-skirted heads up to about 14 inches long, with some favorite colors being petrolero (brown/red), dorado, squid, and blue/purple combinations. For beach casting, some favorites include the Ranger 4-ounce lures, the Klassen Klassic Poppers up to 2.5 ounces, or that all-time ol' reliable, the Luhr Jensen Krocodile in chrome/green hologram.

One of the best parts about fishing at San Jose del Cabo with Gordo Banks Pangas is the "old Baja" feel of the surrounding village of La Playita, the open beach launch at first light, and the simplicity and engagement of fishing in a small boat with your Mexican guide. It's a pleasure that reaches back maybe all the way to that first trip of 30 years ago, the one that has remained in your memory, sharp in every detail, ever since. The fishing, also, is reminiscent of years gone by, with plenty of fish to catch, in larger sizes than you might be used to nowadays. On one recent morning with guide, Marcelino Castillo Aripes, it took exactly 12 minutes for our sardina to find a 38-pound tuna halfway to the bottom, and it was followed at regular intervals by huachinango, skipjack, dorado, and more tuna. That's fishing almost like grandpa used to have.

Gordo Banks Pangas is located a few minutes from Los Cabos International Airport, San Jose del Cabo, in the beach village of La Playita, about a mile from downtown on the east side of the estuary. Most guests fly into Los Cabos and stay either in town or at the La Playita Hotel only a few yards from the launching beach (see box). Call for further information.

The La Playita Hotel: A Bit Of Old Baja: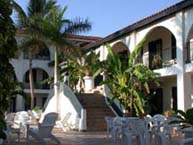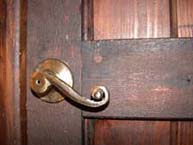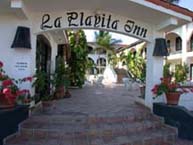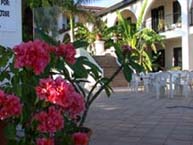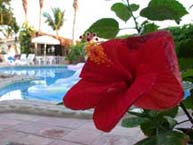 Here's a great place right on the beach at San Jose del Cabo that feels just like old Baja. The tranquil ambience and beautifully landscaped courtyard of the little La Playita Hotel in San Jose del Cabo takes you back to an earlier time, and one can easily imagine that East Cape's original Rancho Buena Vista and Loreto's Flying Sportsmen Lodge felt just like this when they first opened their doors in the 1950s.

The La Playita is within shouting distance of the panga launching beach used by the local fishermen and sport fishing services, and you can surf fish right in front of the hotel with a good chance of scoring on needlefish, roosterfish, jacks, and even snook. In the evenings, you can walk down a seemingly endless stretch of white sand, often without another person in sight, and listen as the village roosters welcome the moonrise.

Here, your check-in is a friendly wave and a "hello" from proprietor, Joanne Ostrum, who owns the hotel with her partner, George Armstrong. Your keys may already be in your open room. The air conditioner is on. The large tiled shower is ready. The pool is waiting.

There are only 27 rooms at the La Playita Hotel, all newly appointed with queen-sized beds. Its never crowded, never too busy. Life slows down. You come and go as you please, past the little office beside the pool that opens before first light with coffee and pastries. Past the little cage of parakeets that sing quietly in the afternoons.

Just out of sight, all around you, are multistory hotels, traffic, an international airport, golf courses, and all the interesting attractions of the historic city of San Jose del Cabo. But here, in the midst of all that, there is just you and the beach in a quiet Mexican village. You're back in the Golden Age of Baja California.