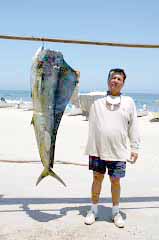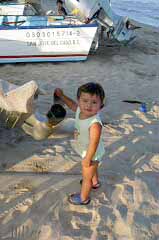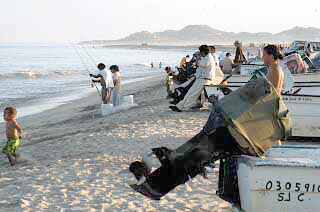 SAN JOSE DEL CABO, MEXICO--Daniel Fisher's 43-pound dorado, and scenes of San Jose del Cabo. Photos courtesy Jim Tolbert.
LOCAL LA PLAYITA FISHING TOURNAMENT HELD
May 30, 2004, Jim Tolbert, Los Cabos, San Jose del Cabo, Baja California Sur, Mexico Fishing Report:
Local resident Daniel Fisher caught a 43-pound dorado, the largest caught lately, plus a marlin on Saturday. The purse for Sunday's local dorado tournament had reached $4,000. Our team is the La Choya Chummers on the panga Suzy with Miguel Banaga as our captain. Looks like it may be a long day, shotgun start at seven, boats in by two, and then all the fiesta and of course we were at the fiesta last night sampling the Pacifico!

(See "Mexico Fishing News" online for current fishing reports, photos, weather, and water temperatures from San Jose del Cabo and other major Mexican sportfishing areas. Vacation travel articles, fishing maps and seasonal calendars, and fishing related information for San Jose del Cabo may be found at Mexfish.com's main San Jose del Cabo page.