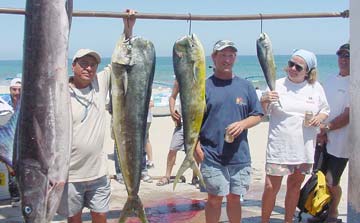 SAN JOSE DEL CABO TOURNAMENT--Scenes of San Jose del Cabo during last week's dorado tournament and fiesta. Photos courtesy Jim and Judy Tolbert.
DIA DE MARINAS CELEBRATION AT LOS CABOS
June 6, 2004, Jim Tolbert, San Jose del Cabo, Baja California Sur, Mexico update and fishing tournament report:

Que tal in La Playa?

PUERTO LOS CABOS UPDATE....And the port goes on! Construction continues at a brisk pace on the Puerto Los Cabos marina project, but not without a monkey wrench here and there. Local opposition reached a head earlier in the week when La Playa residents reopened the East Cape beach road between La Playa and Laguna Hills by breaching the berm blocking passage from Ranchito to Laguna Hills. There is some question as to the legality of the closing of this state road by the marina construction crew. So far, the road remains open! Could it be that the marina honchos figured it was best not to interfere during the village fiesta?
DIA DE MARINAS....It has been a busy week with the Dia de Marinas festivities finally wrapping up on Tuesday. The horse races drew a large crowd, as did the carnival rides and cockfights. Other events included nightly dances, a beauty pageant, the blessing of the panga fleet, and various activities for the local kids.

Last week we left you wondering how the Ricardo Carney Dorado Torneo at La Playita would turn out and if any dorado were left in this stretch of the Sea of Cortez.

Sunday dawned awfully early with anxious anglers crowding the beach early in the morning. At 7 am the starting gun resounded across the waters and pangas that had been circling the bait boats leapt out of the water and under a brilliant sunrise headed east up the cape.

After traveling over an hour and half our panga, the Suzy, slowed as Miguel yelled to ready our lines with live bait. Trolling in circles for half an hour produced no bites so in came the lines and out came the lures.

I had brought my lucky rod and Penn reel ready with new line and quickly secured a bright pink lure and let the line spool out into the by now blue waters.

My wife Judy and I were fishing with Rick Carney's son-in-law Ty who had accompanied the Carney sons down to Cabo to pay tribute to their dad. Having instructed Ty earlier that we were fishing as a team and that the closest rod was fair game once the zing of line peeling off the reel was heard, we all settled down to enjoy a snack. That of course is the surest way to insure that you will get a bite. Well, it works most of the time.

We passed the time getting acquainted and singing to the fish. Judy usually shares her first sip of beer with Mother Ocean, a sure fire way to entice fish to bite. As she sings "here fishy, fishy", Miguel, our captain crosses himself and mutters to the heavens. Miguel is not surprised by anything we do as we have been fishing together for years and have pulled all kinds of stunts. Ty remarked that we were sure to have a good day on the water and catch plenty of fish as we had "both Lady Luck and Beginner's Luck" on our side.

All the time we are bouncing around trolling in circles, I could not help but notice that the panga "Judith" owned by the lucky local Daniel Fisher, who you might remember from last week, caught the 43 lb dorado the day before the tournament is within sight of us. Accompanying him as his teammates are local commercial fishermen Hugo and Luis, so much for luck! Well, maybe they know where the fish are and we are right here with them with no other boats in sight. This also is a panga that I once considered buying due to the name (close enough to Judy). By the way, least I forget, Fisher has won this tournament before!

As all these thoughts are running around my head, I hear the sudden sound of line peeling off my reel, Judy grabs the road as we collectively yell, "fish on." I grab a belt and secure it around her waist as she sidesteps the cooler and tries to find a comfortable spot to battle this monster.

As she rapidly reels the fish in, my eyes scan the waters looking for a sign of what has struck the lure. A flash of yellow and gold tells me it is a dorado! At about this time, Judy shouts, "I lost him", "no way" I say, and shout "reel, reel" and she does and she hasn't. I grab the gaff; pass it to Miguel as he expertly boats the fish.

To insure that any fish caught stay as fresh as possible, we have brought along with a case of beer and assorted snacks, plenty of extra ice. I grab the fish, open the cooler and in seconds he is on his own deathbed of ice, flailing away. Whoops, had better give him another whack!

Exchanging high fives all around, we quickly get the lines back in the water looking for signs of the other dorado belonging to this gang of wayward and elusive fish.

Miguel fingers his handheld as we all listen to hear if any other boats have had similar luck. All we decipher over the chatter is that the Judith is lamenting the loss of a large marlin. Remember, this tournament is set up with first prize going to the largest dorado. The second largest pot goes to the largest fish, which means a lot of boats are skipping right to targeting marlin as dorado have been scarce lately. This is of course unfortunate news for any marlin in the area. There are also prizes and trophies are the second and third largest dorado.

Cutting to the chase, we trolled in circles for hours more, sighting only rays, a few marlin, and even more rare than dorado, an endangered sea turtle.

As the tourney requires all boats in by 2 pm sharp, we head in with our lone dorado wondering how others have fared. As we hit the beach at full throttle and slid up the sand, we see that there are still a number of boats out with only fifteen minutes left.

Reaching the fishing palapa, we see only one other dorado has been caught although several large marlin lie stiffening on the table. By 2 pm, there are still a few boats out but the competition is closed. A large crowd has assembled in front of the fishing palapa and the scales are out.

Daniel Fisher prevails again, capturing 2 pots with the largest dorado (38.8 lbs) and largest fish, a 170 striped marlin. Second place goes to local gringo sportfishing captain, John Dominic with a 20.6 lb dorado. Third prize, you guessed it, to Judy Tolbert with her hefty 3.2 dorado. With a combined purse of $4400, all the winners walked away with a little cash in their pockets. I have to add that normally there is no way we would boat a dorado that small but in this competition any dorado can win and sadly enough smaller fish have won in the past.

Otherwise this week…fishing was slow for the local panga fleets with a few marlin caught but most catches consisting of bottom fish. Still waiting for some warm blue water!

(See "Mexico Fishing News" online for current fishing reports, photos, weather, and water temperatures from San Jose del Cabo and other major Mexican sportfishing areas. Vacation travel articles, fishing maps and seasonal calendars, and fishing related information for San Jose del Cabo may be found at Mexfish.com's main San Jose del Cabo page.