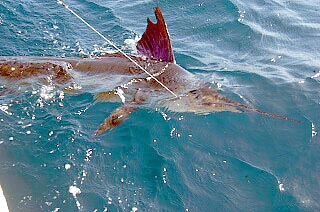 DAY AT CABO--Jim Tolbert of San Jose del Cabo, author of the forthcoming book, Adventure Guide to Baja Sur & Los Cabos, took a day off for marlin fishing with Cabo San Lucas' Solmar Fleet. Photos courtesy Jim Tolbert.
MARLIN FISHING TRIP AT CABO SAN LUCAS WITH THE SOLMAR FLEET
June 13, 2004, Jim Tolbert, San Jose del Cabo fishing, Baja California Sur, Mexico:

¿Que tal in La Playa?

The water seems to be warming up but fishing remains slow for the La Playita panga fleet at San Jose del Cabo. So, we have decided to pack up our gear and make the short drive down the corridor highway to Cabo San Lucas where we have been invited to the grand opening of the Villa la Estancia resort, the latest property from the Villa Group of San Diego. Included in the invitation is a complimentary fishing trip aboard a cruiser from the Solmar fleet. What better reason to head to the party capital of Baja than a day on the water targeting marlin.
En route from the hotel to the marina, we have a chance to get acquainted with what will be the other members of our fishing party. Peter Fong, a former Florida Keys fishing guide and freelance writer has made the journey all the way from Montana. This is Peter's third trip to Baja and as it turns out certainly not his first time out fishing for marlin. Also accompanying us is John Kropf and Marlo Morrison from South Coast Magazine out of San Clemente. John is a photographer and yacht broker, Marlo is a writer and graphic artist. Judy and I make up the rest of the crew along with first mate Francisco Castillo and Captain Frederico Marron.

We hop aboard the 33' Crystaliner, the Solmar, and head out of the harbor amidst clear skys and what promises to be a warm day on blue waters. We make a brief stop to load up on live bait (mackerel) and as we hit the open water, Francisco busies himself rigging the lines. Dragging a teaser and with lures trailing in the wake, we settle down to wait and see if the marlin will make an appearance.

Deciding it might be a good idea to have a little food in our stomachs before doing battle with a big marlin; box lunches prepared by the hotel kitchen staff are opened. John gasps as he pulls out a banana. Knowing what this means aboard a fishing boat, I rapidly grab bananas and begin tossing them over the side.

Just about the time the bananas are gone and our captain has finished eating one, we hear the unmistakable sound of line as it flies off the reel. John has not caught a marlin before so he is first up. He settles in the fighting chair and in forty minutes, we have a 140 lb striped marlin alongside the boat. Francisco expertly releases the fish and the fishing has begun. Over the next hour, we spot many marlin in the water.

Marlo has a brief encounter with the next fish but no luck keeping him on the line. Peter fights a 120 lb marlin for a short twenty minutes getting soaked in the process. Two nice marlin caught and released, Francisco hoist the marlin pennants as we head in, another good day on the water.

The tropical storm outlook for the Eastern Pacific is out. Looks like we are looking at the possibility of 15 storms reaching name status this hurricane season. Three of these possible storms would reach category 1 or 2 strength with another possible three in category 3, 4, or 5. Nine tropical storms (tormentas) are predicted. This could be one heck of hurricane season so get ready to batten down the hatches!

(See "Mexico Fishing News" online for current fishing reports, photos, weather, and water temperatures from San Jose del Cabo and other major Mexican sportfishing areas. Vacation travel articles, fishing maps and seasonal calendars, and fishing related information for San Jose del Cabo may be found at Mexfish.com's main San Jose del Cabo page.