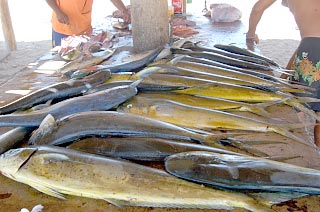 Last week's dorado at a La Playita beach front fillet table. Photo courtesy Jim Tolbert.
LOTS OF DORADO CAUGHT BY LA PLAYITA SPORT FISHING BOATS
July 4, 2004, Jim Tolbert, San Jose del Cabo, Baja, Mexico Hot Dorado Fishing:
This is the best San Jose del Cabo fishing for dorado I have seen in over two years, unfortunately, more were boated than released.

Dorado are still red hot this week off the Gorda Banks with record numbers being caught. Gary Weis of Santa Monica fished all week out of La Playita, San Jose del Cabo, with each of the three panga fleets and on Thursday caught and released over twenty dorado. He remarked that "there seemed to be over a hundred circling just under the boat." This is the best week for dorado in recent memory with many large bulls weighing in the 30 to 50 lb range.

In his week of fishing spread between Eric's Gordo Banks Fleet, Antonio's Punta Gorda Sportfishing, and Tomas Kantor's fleet of pangas, angler Weis caught a full complement of fish including dorado, striped marlin, yellowfin tuna, wahoo, and roosterfish. When I last saw him just a few hours before his flight out Sunday, Gary was testing the roosterfish action from the beach.

Other action in La Playita were róbalo/snook being taken from the shore in front of the San Jose del Cabo estuary. Locals lined the beach Thursday, the night before the full moon, hoping to hook one of these delectable fish. Cashing in on the mingling of the fresh and salt water, a local San Jose del Cabo resident landed a snook estimated to be over 50 lbs.

(See "Mexico Fishing News" online for current fishing reports, photos, weather, and water temperatures from San Jose del Cabo and other major Mexican sportfishing areas. Vacation travel articles, fishing maps and seasonal calendars, and fishing related information for San Jose del Cabo may be found at Mexfish.com's main San Jose del Cabo page.