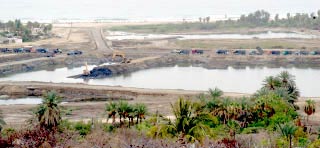 PROGRESS AT BAJA SUR--Work proceeds on the big new marina at San Jose del Cabo. Photos courtesy Jim Tolbert.
PUERTO LOS CABOS MARINA CONSTRUCTION CONTINUES
July 25, 2004, Tim Tolbert, La Playita, San Jose del Cabo fishing, Baja California Sur, Mexico Fishing Report and News:
¿Que Tal en La Playa?--Isolated thunderstorms and cloudy weather dominated the week at San Jose del Cabo, with the water being less than an inviting blue. San Jose del Cabo fishing action with the La Playita panga fleet was above Punta Gorda with most boats reporting action hook ups of dorado, yellowfin, and wahoo. The tuna are definitely here and we were lucky enough to enjoy a Saturday night dinner of sashimi and fried dorado courtesy of Tomas Cantor.

Construction continues on Puerto Los Cabos.

Off the beach of La Playita there were several more hefty snook caught by local anglers, the most impressive specimen by a 13-year-old boy that weighed in at 45 pounds and was landed on 20-pound tackle after a one-hour battle. This fish would qualify for a new IGFA line class record but was not submitted.

(See "Mexico Fishing News" online for current fishing reports, photos, weather, and water temperatures from San Jose del Cabo and other major Mexican sportfishing areas. Vacation travel articles, fishing maps and seasonal calendars, and fishing related information for San Jose del Cabo may be found at Mexfish.com's main San Jose del Cabo page.