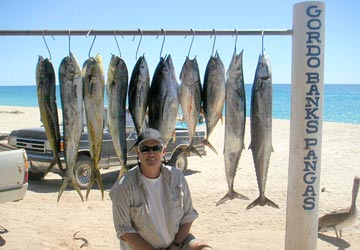 SAN JOSE MIXED CATCH--Gary Black fished with Gordo Banks Pangas out of La Playita, San Jose del Cabo, for a nice bag of mixed dorado, tuna, and wahoo. Photo courtesy Gary Black.
IMAN BANK PRODUCES 2 WAHOO WITH GORDO BANKS PANGAS
Oct. 18, 2004, Gary Black, Los Cabos, San Jose del Cabo, Baja California Sur, Mexico Panga Fishing Trip Report:

Just completed a one-day Panga trip to the Los Cabos area of Baja. My fiancee Alice Benge and I were supposed to go on a cruise out of Ft. Lauderdale but it got canceled due to Hurricane Jean. So...we went to Cabo and while Alice enjoyed a Spa treatment at Pueblo Bonito, I fished alone with one of the Pangueros working for Eric Brictson of San Jose del Cabo's Gordo Banks Pangas during the first week of October 2004.
The trip began with a wahoo at the Iman Bank and ended with a Wahoo at the same location. I was able to fill out the limit with some nice dorado and yellowfin tuna to 35 lbs. The ocean was like a lake, the fishing was sensational and the catching was GREAT! First time fishing a Panga from the beach but definitely not the last.

I fished earlier on a Panga booked through Montana de Baja who has a charter office in the Costa Real Cabo building (formerly Plaza Las Glorias) in Cabo. I don't recall the name of the Panga or the Panguero however Montana plugged me in with a good Panguero who really fished as opposed to doing the time share trip so many of the boats are into now days.

The trip with Eric Brictson's Gordo Banks Pangas was October 1, 2004, the Panga was named Tina Lee and the Panguero was Clarin.

The Panguero kept me hopping. He must be used to taking non-fishermen out because every time I baited a fish and boated it he would hand off another fish he had hooked while I was on the previous fish. It was fish after fish with no breaks in between. I hate that when it happens.

I returned at least a half dozen Dorado, a couple small tuna and one large needlefish to the water. Several of the fish were caught on an old blue and white salas with a rusty worn treble hook that I tossed around to surfacing tuna or I would yo-yo up some Dorado while the Panguero was reviving the Sardinas we picked up earlier.

(See "Mexico Fishing News" online for current fishing reports, photos, weather, and water temperatures from San Jose del Cabo and other major Mexican sportfishing areas. Vacation travel articles, fishing maps and seasonal calendars, and fishing related information for San Jose del Cabo may be found at Mexfish.com's main San Jose del Cabo page.