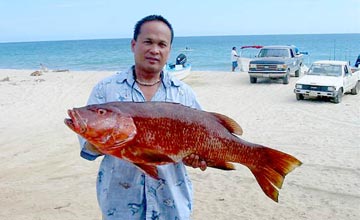 SAN JOSE DOGGIE--Jo Barcimo of Corona fished with Cass Tours and Gordo Banks Pangas last week and caught this nice 26-pound dog snapper with chunk bait at the Gordo Banks, on the third day of Cass Tours' annual Wahoo Hunt trip. Photo courtesy Richard Castaneda.
25 ANGLERS JOIN CASS TOURS WAHOO HUNT TRIP
Nov. 12, 2004, Richard Castaneda, Cass Tours, Wahoo Hunt, San Jose del Cabo sportfishing, Baja California Sur, Mexico:

I just returned on Wednesday from our annual Cass Tours Wahoo Hunt to San Jose del Cabo. We had 25 anglers fishing three days with Gordo Banks Pangas.
The first day, our San Jose del Cabo fishing group split up, with some going up inside the Sea of Cortez to the Iman Bank and the Vinorama area, and the others to Cabeza de Ballena, which is about 3 miles north of the Cabo harbor. Both areas produced limits of football size tuna, a few small wahoo, and school-size dorado.

The second day, results were about the same, with the exception of one boat that ventured to the inner Gordo Bank, resulting in a couple of 68.5-pound and 62-pound yellowfin tuna. These fish were caught on chunk bonita.

Needless to say, when these fish showed up at the beach nearly everyone in the group decided to head for the Gordo Banks the next day.

The big tuna were scarce at San Jose del Cabo, but two anglers on one boat scored an 80-pound and a 64-pound yellowfin tuna, trolling small live bonita. My son-in-law managed a 38-pound yellowfin on chunk bonita.

A couple of nice dogtooth snapper in the mid 20-pound range were also caught on chunk bonita.

Jackpot winners were as follows: Joel Peck of Anaheim won with an 80-pound tuna; Brian Yamane of Cypress who also works for Diawa won with a 27-pound wahoo; and Richard Stone of Las Vegas won with a 24-pound dorado.

(See "Mexico Fishing News" online for current fishing reports, photos, weather, and water temperatures from San Jose del Cabo and other major Mexican sportfishing areas. Vacation travel articles, fishing maps and seasonal calendars, and fishing related information for San Jose del Cabo may be found at Mexfish.com's main San Jose del Cabo page.