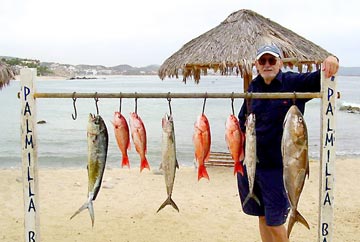 AT PUNTA PALMILLA--Ed Raphael fished with Capt. Domingo at San Jose del Cabo for a mixed bag of medium fish including up to 23 sierra in a day. Photo courtesy Ed Raphael.

FISHING WITH CAPT. DOMINGO OUT OF PUNTA PALMILLA
March 8, 2005, Ed Raphael, San Jose del Cabo, Baja California Sur, Mexico:

I just returned from six days at the Posada Real. I fished with Captain Julian's Pangas from Palmilla. Last year it was called Victor's Pangas. My Panguero was Domingo on the panga Rancho.
I have used Domingo in past years and found him to be a wonderful fisherman. Big fish were scarce on inshore fishing. We went 20 miles north before we found small Dorado and large schools of Sierra Mackerel. I caught a couple of large Amberjack using a deep diving Pink Yozuri. We ran across millions of small red crabs. We scooped some up for bait and we were able to catch some small Pargo.

I fished March 4th and 6th. On the 6th I caught 23 sierra. Most of the Sierra were caught on green and blue Scampi's. I brought the Sierra back to the hotel where they made great ceviche for me. The second day we fished we only caught Sierra and Dorado. We did better than most of the Pongas. The weather was cool but the water was flat.

(See "Mexico Fishing News" online for current fishing reports, photos, weather, and water temperatures from San Jose del Cabo and other major Mexican sportfishing areas. Vacation travel articles, fishing maps and seasonal calendars, and fishing related information for San Jose del Cabo may be found at Mexfish.com's main San Jose del Cabo page.