By Gene Kira, August 25, 2003, as published in Western Outdoor News:

The jolt of albacore that pulsed through the San Quintin, Baja California, Mexico, sportfishing area early in August was gone, so I figured it was safe to head down for a little personal fishing last week.

Not that I have anything against albacore, mind you, but what I was really after was a scrambled-fish bag of: one nice Pacific-side dorado, a couple of tasty barred surf perch, and half-a-fillet of bluefin tuna for sashimi purposes.

With the coast clear, I made reservations at Jim and Nancy Harer's Old Mill Hotel, and called Julio Meza, a San Quintin rancher with a master's degree whose family farms a couple of thousand acres of cucumbers, onions, and strawberries per year. Julio also happens to be an expert surf and offshore fisherman, and he'd graciously made an earlier invitation to go out on his nicely electronified, 21-foot cuddy cabin, the Santa Monica.
(Western Outdoor News readers may also recall that Julio was the winner of the Yamaha outboard motor drawing in our recent Ensenada tournament.)

I arrived at the Old Mill Hotel on the bay at San Quintin and was glad to see the water was flat as a mill pond, and the palm fronds showed nary a tickle of wind.

Not only that, but Jim and Nancy's place was so packed to the rafters, I was "forced" to take the last room available, Suite II on the second floor. I'd always wanted to stay in Suite II, with its sweeping view of the water and hills, quiet terrace and fireplace, and an ambiance that Ernest Hemingway would have appreciated. Things were looking good.

Julio showed up to take us perch fishing, but I sensed he was a little preoccupied. With typical Mexican hospitality, it wasn't until the next afternoon that he finally revealed what was going on; he was taking delivery--that day--on an enormous reverse osmosis unit shipped from Israel!

This massive, 100-foot-long machine was to provide water for Julio's new Rancho Santa Monica strawberry fields, and as it arrived in trucks from Long Beach, he spent the day with one hand on his fishing rod and the other on his cell phone and radio, as his people called him with messages like, "Julio! We need you to sign these papers!"
Nevertheless, with incredible self-composure, Julio piled us into his 4x4, and we went on a giddy Mexican sleigh ride over the dunes to Playa San Ramon for barred surf perch. Using Julio's small chartreuse grubs, I managed only one fish before it got dark (my spinning rod, loaded with 20-pound for dorado, wouldn't reach out through the flat surf), but he got three quick perch at twice my distance.

The next morning, we made mackerel at the mouth of the bay, and headed out to the 240 Spot on the Santa Monica. But it was slow going for most boats, with the exception of Gene Allshouse, Kelly Catian, and maybe one or two others who shotgunned pods of yellowtail and yellowfin tuna amidst literally miles of leaping porpoise.

All day, we enthusiastically trolled six lines in 67-degree water, changed lures a hundred times, and baited some paddies, but like half the fleet, we were luckless, except for the biggest Pacific bonita I've seen in about ten years and a black skipjack that picked a humble Baja Catch-style double hoochie out of our elegant spread of "real" lures.

Finally, Julio spotted a nice paddy, and we trolled up a single 20-pound dorado about a hundred yards south of it. But alas, my bluefin tuna was not to be. We finished with a rapid tattoo of lingcod at the 240, and headed for the barn. I was actually pretty pleased. Having gone two-for-three on perch and dorado, my targeted mixed bag of fish was missing only the bluefin tuna.

At the mouth of the bay, we stopped a moment to snap a picture of Kelly Catian (El Capitan Sportfishing), whose boat, the Marinero II, had caught a rare San Quintin striped marlin on 50-pound, and we returned to the Old Mill for a hot shower, a spell o' sittin' on Suite II's private terrace overlooking the bay, and a blow-out seafood dinner at Jardines de Baja (highly recommended).

The fishing had not been spectacular, but once again, San Quintin had lived up to its reputation of "always something to catch." We're lucky to have such a versatile fishing hole only 200 miles south of the border. Thanks, Julio, for another great day in Baja. I sure hope your machine got installed okay!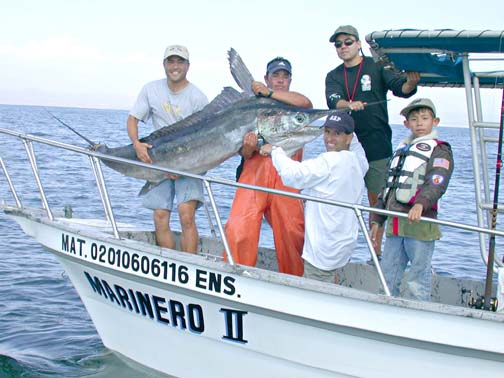 EL CAPITAN MARLIN--Top local guide, Capt. Kelly Catian of El Capitan Sportfishing, second from left, at the mouth of the bay with a San Quintin striped marlin caught by clients on his boat, the Marinero II. Photo by Gene Kira.