San Quintin, Mexico:
Campo Lorenzo Anglers Score White Seabass Sportfishing Limits

Oct. 23, 2005, Julie Atkinson, Don Eddie's Landing, San Quintin sportfishing, Baja California, Mexico:
Here at Don Eddie's Landing in San Quintin the fishing weather has been a little on the unusual side for this time of year. It has gone from the lower 80's one day to the lower 70's the next day, then rain and then back to the lower 80's. Nonetheless, the weather is calm and the fishing is great,
On Sunday the 16th, we had a group of Anglers from San Diego that went out with Captain Gordo on the Fany III and caught 12 yellowtails ranging from 12 to 20 lbs. They fished the San Quintin 240 spot using blue and white and scrambled egg color jigs, and all were caught yo-yo drops.
Also, a group of Baja Bush Pilots out of the Campo de Lorenzo Sky Park reported limits of white seabass from 20 to 40 lbs. using chrome and white jigs, and some nice Calico Bass to boot.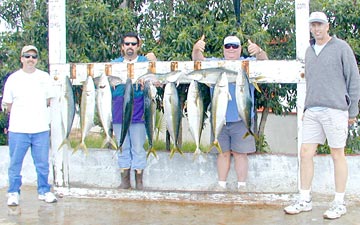 Mexico Fishing Home Page < San Quintin Contents < Report