By Gene Kira, March 1, 2004, as orginally published in Western Outdoor News:
Made you look.
Actually, this is only an itty-bitty yellowtail tournament, with a measly $25 per person entry fee, but it's for a good cause, and it's a super interesting Baja fishing event for any number of reasons.
This tournament--called the "Isla San Marcos Yellowtail Shootout"--is scheduled on Saturday and Sunday, May 22-23, 2004.
It takes place on Isla San Marcos, which is the island you see just off San Lucas Cove, between Santa Rosalia and Mulege, Baja California Sur, Mexico.
The bajos off the north end of this island are one of Baja's very, very best yellowtail holes, and this is the home stomping grounds of an interesting dude with two nicknames, "Kid Jurel" or "San Marcos Mike," a.k.a. Mike Kanzler. Originally from San Francisco, Mike has been living on the isla for over ten years and fishing for yellowtail four to six days per week.
Mike grew up fishing around San Francisco, and did five world tours as a rock band production manager before getting burned out. In April of 1992, he bought a copy of The Baja Catch (authored by the great Neil Kelly and his worshipful sidekick, Gene Kira), and decided to make his first Baja trip, to San Lucas Cove, which was Neil's all-time favorite tin boat fishing spot.
Mike got bitten by the Baja bug, real baaaad, and to make a long story short, he just never came home. He ended up marrying the former Erica Guadalupe Fernandez Villalobos, moving out to live on the isla, having three children, and becoming one of Baja's top yellowtail experts--gringo or Mexican alike (Kid Jurel, jurel = "yellowtail" in Spanish speaking).
Lest you think that Mike and Erica have been raising their kids out on the isla all by themselves, like some kind of "Mexican Family Robinson," you should know that Isla San Marcos supports a population of about 800 people. To look at the island from a distance, you wouldn't think it could support half that many jack rabbits, but the human population does quite well, thanks to the operation of COMSA, Compañia Occidental Mexicana, S.A. De C.V, which has been mining gypsum there since 1926.
In fact, the village on the island is so well established, it has its own school and--as opposed to nearby Santa Rosalia's famous, French iron iglesia--it even has a small church that the people made in 1950 out of baked blocks of gypsum powder (take that, M. Eiffel!).
Which brings us to the yellowtail tournament. Last fall, both the school and the church suffered structural damage from Hurricane Marty, and according to Mike, the village people have done just about all they can with cake sales and passing the hat around. The local pocketbooks are pretty much tapped out, and there's still a fair amount of work to be done.
So here's your chance to help the Isla San Marcos village (does it even have a name?).
This 100 percent benefit tournament is sponsored by Mike and COMSA, and for 25 bucks a head, you get to visit the isla, have dinner out there, win a whole bunch of neat donated prizes (like Shimano reels, for instance), meet Kanzler, get into some great yellowtail fishing, and maybe pick up some true yellowtail knowledge from El Kid Jurel himself.
You can trailer in and launch up to about 25 feet of boat at San Lucas Cove, and stay there, or at any number of local hotels and motels. Kanzler's Boston Whaler and several local pangas are also available for charter. For pilots, COMSA will permit planes to land on their airstrip on the isla, and a limited number of rooms are available in their VIP quarters out there.
Quite a few boats are expected. COMSA has been sponsoring a local cabrilla tournament for 14 years, and last year there were over 240 entrants (!!!).
One-hundred percent of entry fees will benefit the school and church. Full details are available from Kanzler at 011-52-615-155-0513, kidjurel@mac.com, or if you're local, from Alan Lewis at San Lucas Cove.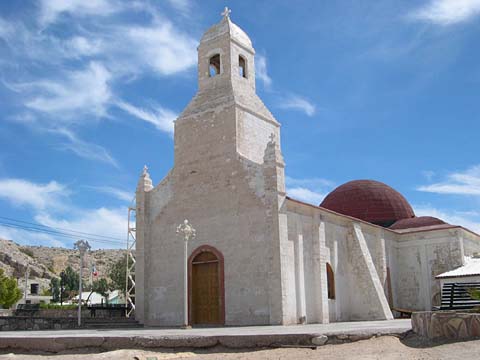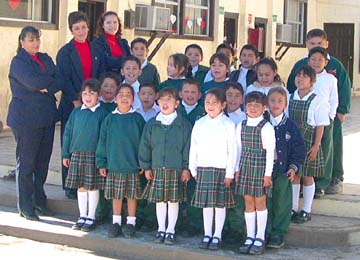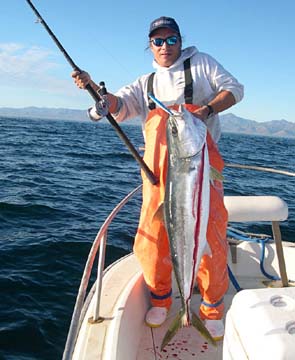 Mexico Fishing Home Page < Santa Rosalia Contents < Report