Santa Rosalia, Mexico:
A Good Fishing Week For Boats At The Nearby The Islands

June 26, 2004, Mike Kanzler, Isla San Marcos, Baja California Sur, Mexico Fishing:
Santa Rosalia weather, surprisingly, is still not that hot, and the humidity relativity low, strange, because in May it seemed like an early tropical season was in the cards.
Mornings are nice, still in the high 60s to low 70s with day dry and mildly hot 85-88 degrees.
Water temps are almost 80 degrees all around, but there are still some patches of 78-79 degree water around the Isla and inshore. Offshore waters are 80-85 degrees overall.
Visibility is is about 25-60 feet, depending on where you're at and how fast the current is moving.
The fishing is good to great around the Islands, and fair to good offshore.
I had Al Johnson and his son Dean, both down from Newport beach. The first day Al wanted to fish plastic at Tortuga for Cabrilla, because of a visit earlier in the year. However at this time of the year I tell people that due to warm and clear water the fish move out deeper where the water temps are cooler. But I guess if you're set on something you got to do it. So we ran out to Tortuga and like I try to warn, it was dead.
Caught only 4 cabrilla in 2 hours and over 150 casts each and guess who caught them? Now it's 8:30 a.m. and I say look I'll take you out to this little spot I know that when the water's hot like it is, cabrilla and yellowtail will hold up there. Once on the spot, waters about 160-200 feet deep, sort of a steep drop-off, went down with full size Salas 6x heavy in the blue and white mackerel pattern Iron and yup the fish where there! Nice Leopard grouper (8-12 pound avg.). Took 12, one small sawtail grouper and Yellowtail (18-20# avg.) caught 6, and one barred pargo.
The next two day we fished Isla San Marcos' north end reefs and did good with 4 yellowtail (23-26# avg.) and lots of Dorado out in front of Santa Rosalia (12-18# avg.). Caught and released many fish, only keeping a few of the larger Bulls each day, less than the limit by far.
On another note, I would like all who knew and fished along side my good friend Robert "Big Bob" Setron of Oceanside, whom I've known for 13 summer seasons, that he'll be truly missed but not forgotten. May he rest in peace. He passed away this week.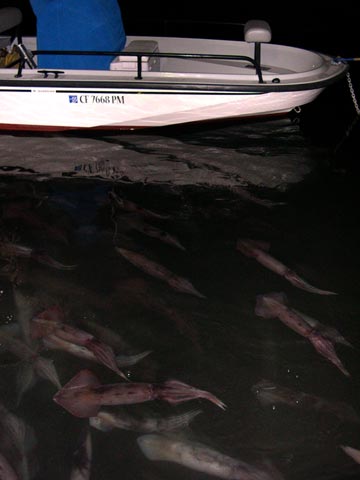 Mexico Fishing Home Page < Santa Rosalia Contents < Report