It's the start of tropical storm season and we had one, the second named of the '04 season TS Blas. Even through it was far off the coast and south of us it's overall size did effect wind and water conditions.
We had winds of 20-35 knots from Monday to Wednesday with rain and high cloud cover, air temps 80-85 degrees. Water conditions: waves of 3-5 feet, temps 80-85 degrees, vis. 35-60 feet. The rest of the week, just hot 85-92 degrees with none to light breeze from the south in the late afternoon.
The Isla San Marcos fishing? Well had some good friends (three people) that make three trips annually a year down here. At the start of TS Blas, Monday, picked them up in the morning, water was calm and I thought this storm wasn't even going to be a factor. Wrong.
With the present bait grounds being at the Santa Rosalia marina entrance, for the first day of fishing we decided to try our luck on Yellowtail up north at Punta Prieta since the Dorado where around that area too. That way we wouldn't have to double back from San Marcos.
So once there, I saw two boats, some panguero buddies of mine from town. However started getting windy kind of quick. Tried drifting some baits on the bottom, but found with the wind and 260 feet of water made it nearly impossible to stay on the spot. We kept at it after seeing a couple nice 25# class yellows caught by the other boats which where anchored and using cut squid slabs for bait.
After a while with no fish in the boat and the wind steadily increasing, I said time to try our luck at Dorado while we still can. Started by trolling, seeing one jumper and one tailing Sailfish after 6 miles of dragging jigs, but no Dorado.
Getting about even with Santa Rosalia, maybe 6 miles offshore wind and all I saw what I was looking for, big sargasso paddies, fish hotels. Told those guys to roll up the trolling gear and put some baits on the edge of the weeds. They did and instantly got bit. We took limits of Bulls on flylined bait and surface iron.
Second day made the same run for bait, but headed for north end of Isla San Marcos to try and catch some of those home guard Yellowtail.
The winds were calm, but the waves where already 3-4 feet making for slow going. Arriving at the spot, I noted a little breeze starting to come from the south with dark skies on the horizon. Things weren't looking good. Lucky for us waters not as deep as the day before, allowed us to get the baits down and on the very first drift bagged a 25# Yellow! The guys' first ever.
The next pass we took a 22# and a true summertime home guard yellowtail of 35 pounds. With wind approaching 20 knots and waves coming in the boat, we moved into the channel between the island and San Lucas for protection and a shot at some of the smaller dorado dorad
which we found on a broken weed line, catching and releasing a few of 8-10#.
The next day when I got up at 0400 in the morning, wind was out of the south at 20 knots with gusts to 30+ so I went back to bed. Later that day after talking about the plans for the fourth and final day of fishing on the phone, one of the guys said I'm glad you didn't come in to pick us up, because I was ready to pay you not to take us out.
Last day saw beautiful weather! No wind or waves to speak of, but hot. Fishing was good too. Started with bait then San Marcos for 2 yellowtail of 22-23# and backtracked to Caleta de Santa Maria where we found what was left of the weeds, still fish were there. Got some nice bulls of 15-22# and hook a Sailfish that jumped the hook after a nice tail walk around the boat, not a bad four day run storm and all.
Inshore report if inshore of the Island counts. My brother-in-law and members of my family have been fishing a bit north of town here, catching good amounts of Barred Pargo and yellow snapper along with some triggerfish using cut squid and sardines, the Islote (better known as Lobos rock) also producing nice counts of the same fish.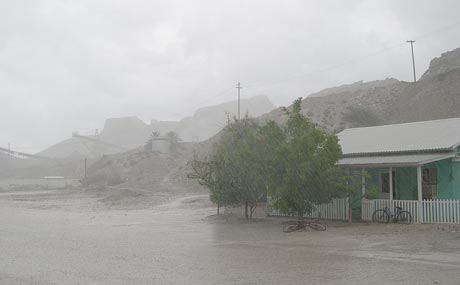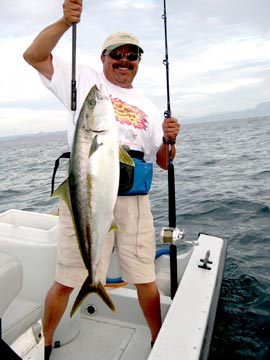 Mexico Fishing Home Page < Santa Rosalia Contents < Report