Santa Rosalia weather this week's end made for interesting fishing to say the least. Most of the week saw nice calm, but still hot summer conditions, humidity up and 80-95 degree temps, but the last couple days, mornings started off calm, but that kind of eerie calm like the one before the storm, and sure enough by 12:00 big cumulus clouds formed up all along both the baja and open sea, from TS Howard, making for strong surface winds and sustained rains till the middle of the night on Friday and scattered rains with variable winds today. Santa Rosalia water Temps bit cooler than last week, 79-82 degrees with less vis than usual 15-25 feet.
Santa Rosalia fishing this week has two parts, first part was at the beginning of the week I finally got to fish with my deckhand Daniel Piojo Loco Chiquete, who's been working day shift here on the island for too long and finally got night shift and was able to fish with me this week!
With the Moon full in the dark morning sky we headed out for some reef action, yes full moon, for some reason there are people that say you can't catch fish at that time. Don't tell the fish that.
After bait was caught we rolled up on the Yellowtail Bajo off the north end of the island, and pinned live mackerel on our dropper loops, sending them to the bottom in 200 feet of water.
A minute later, double hook up yellows. The bite lasted about two hours with us taking 5 yellowtail of 22-29 pounds, 2 dorado 12-15 pounds, 3 Bonita, 1 Cabrilla, and a few gold spotted bass. Best yellowtail bite had all last month.
The next day was almost a blueprint of the first: 5 Yellowtail, same on all the rest, but with one triggerfish.
I wanted to kick back, but Daniel said, "No! Ceviche!"
Second part: Met some real nice Western Outdoor News readers David Armenta and his son Kevin, along with their friend Rudy Rojas, who wanted to fish Friday and Saturday.
Fine with me, but I'll warn you now, it can be slow, although we did good earlier this week. The morning was eerie calm and skies dark afar with some flashes from lighting, somewhat normal for September.
Made the bait. Ran to the reef. Fished about 2 hours with only 3 bonita to show. Not too good. Ran a little north out in front of los frailes (cliffs north of the haystack) to try for some Dorado, taking only three small ones. Moved to craig channel, saw pairs of fish cruising on the surface, but every time we tried to bait 'em they'd just swim by uninterested, what the...? Dorado not hungry! Must been the temp drop, dirty water, or something.
Frustrated, we still kept at it, slow trolling and casting baits at fish.
Just about to give in, I see a fin, but sort of squarish at the top. Didn't look like a fish. Got along side it with the boat: "It's a porpoise. No, it's a shark. No, it's a fish."
Anyway Kevin, using a 25-pound outfit, long story short, we started in 450 feet of water 5 miles from San Bruno and 2 miles off the Island, sky getting real dark, but still calm water. The fish jumped low and straight three times and went deep, never seeing what the hell it was till 2-1/2 hours later, in 19 feet of water, 300 yards off the shore at San Bruno, in a torrential downpour with 30 knot winds! Tail-hooked well over 100-pound sailfish. Took some photos and one long video and let that damn fish go. I had panga taxis going by us to the island wondering what the hell I was doing. Told one to tell my wife I was going to be a little late coming home.
The next day was a struggle on the reef and dorado fishing too. They ended their trip with 1 small yellowtail, 4 dorado, few goldspotted bass, 6 bonita and one good sea story I'd say. Told me we'll definitely be back.
Inshore, nothing doing. Still waiting for the Sierra to show. Won't be long in coming.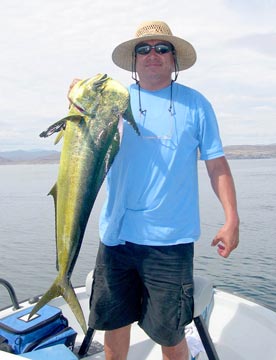 Mexico Fishing Home Page < Santa Rosalia Contents < Report