Santa Rosalia, Mexico:
Good Winter Weather And Fishing For Medium-Sized Yellowtail

Jan. 1 2005, Mike Kanzler, Isla San Marcos, Santa Rosalia, Baja California Sur, Mexico:
What a week it's been for the last of 2004, great weather and fishing too at Santa Rosalia.
Generally it's been the same all week. I know you've been getting hammered by rains and winds up north, but down here at Santa Rosalia, no wind other than light afternoon southerly breezes with thick overcast skies for the most part. Santa Rosalia Air temperatures are a bit chilly with a record low of 38 degrees at San Lucas cove trailer park. However an average of 50 degrees for mornings and evenings with 70s for the days. Water temperatures are down too, just where I like it 62.5 degrees, and with clean green 35-50 foot visibility.
Santa Rosalia fishing was kind of a mixed week, but still good.
I was able to fish 5 of the 7 days with Monday being gas day and today being rest day.
The first part of the week was a bit on the slow side. Yes, we had a full moon, but it's not the age old wives tale of "fish were feeding at night so they don't during the day," but more like the tide and current were not moving until later that afternoon, well after everyone was off the water. Fish where still caught. Some boats did 3 to 4, and some did 1 to 2. Others got skunked, and it all depended if you got the bites or not. We're all fishing the same area. The fish where still nice 25 to 30-pound class, just not wide open like last week that's all.
I had some new folks fishing Santa Rosalia with me for the first time this week, Dave and Andy Peabody of San Diego, Calif. I pre-warned them about the slow state of yellowtail action, but they opted to go anyway. Once on the boat, and with the bait caught, they told me their yellowtail fishing skills weren't the best. I replied not a problem, for you're the kind of fishermen that usually do better than the ones which have done it a few times due to the fact that you'll listen to instruction more. By no means was the bite any better than the other days. Call it luck or paying more attention, but they did just fine with four for five hookups on nice high 20-pound class yellowtail, as most other boats got the skunk that day. On days when it's run and gun, I have the fastest boat and use longer rods than everyone. That might count for higher fish numbers.
Back to the late tide and current. There was a local panga fisherman there out of San Lucas cove. We'd seen him fishing live bait with rod and reel, doing about the same as everyone, but not leaving at the same time as everyone. Ah-ha! Alan Lewis did happen to see him roll in about 4 p.m. and walked over just to investigate or should I say, spy. The guy had a few extra fish in the boat and also told Alan, yah they come on the surface around 2 p.m. I got the call later that night.
Near the end of the week, on an afternoon run with just surface iron, I took my son and my other good luck charm Danny "Piojo Loco" Chiquete. We ran the short 4 miles up to the bajos and birds where diving. The first cast got stuck on a yellow, but the fish didn't seem to be a strong as the morning fish. Well no wonder, it was one of those 12-pound class fish. Hay fishing is fishing right? and this will be good for my son too. We fished from 2:30 until about 5:00 and loaded up on the fast action, all of us beat. You couldn't not catch fish! Nearly every cast you got bit!
I'd like to wish all the Mexfish and WON readers a Happy New Years and maybe see you guys fishing down at Santa Rosalia in 2005.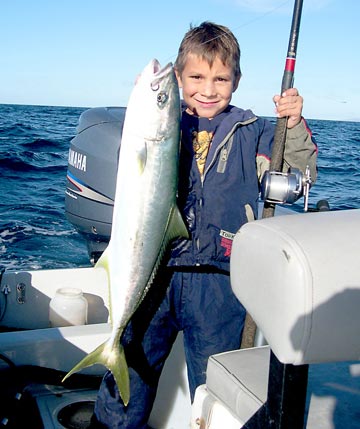 Mexico Fishing Home Page < Santa Rosalia Contents < Report