Santa Rosalia, Mexico:
Yellowtail Fishing Action Explodes At Isla San Marcos

Jan. 8, 2005, Mike Kanzler, Isla San Marcos, Santa Rosalia sportfishing, Baja California Sur, Mexico:
This week of fishing at Santa Rosalia started off slow side, then windy, and now they're eating the paint off the boat!
Santa Rosalia fishing weather was nice for the most part. We had wind for a few days, but just great conditions the last two. Air temperatures were in the cool 50s for morning and nights, with mid-70s for the days. It rained two days during the first part of the week, but Santa Rosalia sea water temperatures are up a tad from last week. I think it has to do with the tide pulling water up from the south. The water temperature is 64 degrees, with clean green 35-50 feet of visibility.
The fishing around Isla San Marcos and Santa Rosalia during the first part of the week was on the slow side, due to no current flow. I did fish on one of these days, before it blew again, with Alan Lewis and Kevin Ward for five 10-pound yellowtail, one nice cabrilla, and one sawtail grouper.
Yesterday, after two days of wind, I rolled out to see if anything changed. I found no bait in the shallow waters, so made my way north, off the cliffs before Santa Rosalia, and got bait over deep water, nice big mackerel along with jack mackerel also known by many as Platanos.
Once on the reef north of Isla San Marcos, there were no boats in sight. I really sometimes love these types of days, kind of the old man and the sea, in my case younger man.
I noted a change, current eddies rippling the water's surface, a good sign, so I pinned a big jack mackerel on a rig with no weight and put it in. This is a strange bait to fish with. At first they just sit there, not like frogs (green mackerel) that bolt off as soon as they hit the water, but just kind of slowly start swimming down and keep going down. It wasn't long before the speed of the bait picked up. I'm bit! I set the hook and got smoked. The bait must have gotten close to the bottom or something. I never had a chance to turn the fish. The rest of the morning, I got my butt handed to me on a plater. However I did pick up a Mexican limit on real nice yellowtail, two over 30 pounds easy and the rest in the 20s. I'll take it.
Today I got Alan Lewis and Kevin Ward to meet me at my dock and from there run in my boat for a morning of fishing with good friends. We got bait, headed out and of coarse boats were there and more on the way. The word was out once again, I guess, when you're talking on the radio.
I took the first drift, and had a double, and a single hit the deck. Then another drift, and three more. Now at about 9 a.m. we had nine fish on board.
I saw Rick Barber. They had no bait, so we flipped them a few, which they did use to catch a nice 30-pound fish. We ended our day with 12 yellowtail from 25 to 30 pounds, caught mainly on fly lined and 2-ounce slider live bait. We were back at the dock by 11 a.m. Some fish were starting to do the surface thing and most likely they will do it more in the next few days in our Santa Rosalia fishing area, with tides getting bigger in the upcoming days ahead.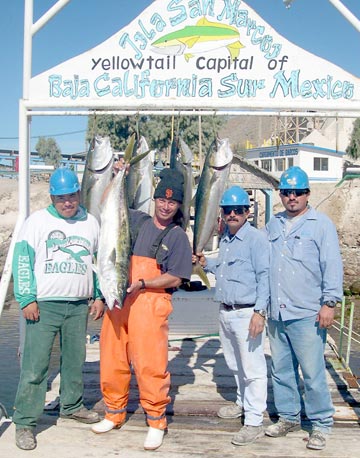 Mexico Fishing Home Page < Santa Rosalia Contents < Report