Santa Rosalia, Mexico:
Flat Sea Conditions And Lots Of Whales Seen By Anglers This Week

Jan. 29, 2005, Mike Kanzler, Isla San Marcos, Santa Rosalia, Baja fishing report, Mexico:
No wind for a whole week!. And Santa Rosalia fishing's still great!
The fishing weather has just been beautiful at Santa Rosalia! No wind to speak of, not even afternoon breezes.
We had perfectly flat sea conditions, making runs doable for all sizes boats. Air temperatures were in the low 50s for mornings and evenings, to about the mid 70s during the days. Santa Rosalia did have a little rain during the middle of the week, which is always nice when you live in such an arid region.
Santa Rosalia fishing water temperatures are pretty much the same 64-65 degrees, with a little better visibility of 20 feet or so. However, the water is still full of plankton. It's "whale soup" out there, and there are whales everywhere feeding on it. We have seen lots of finbacks, some sperm whales, and my buddy Alan Lewis told me he saw a pair of Orcas just off Isla San Marcos a mile or so!
Fishing at Santa Rosalia this week has been good, a little on the up-and-down side with the numbers, but still kicking out fish for most boats every day.
I fished most of the week with Alan Lewis and we had the single boat high count nearly every day. I also fished one day by myself, and on this particular day had the fish come up and hit the surface iron.
On the other days, live jack mackerel is still the best bet when fished on a flyline or with a small egg sinker.
The fish are running in the usual mid 20s with some to the mid 30s. Note that when I do the fish count, it's always for the whole boat, regardless of how many people I'm fishing with. So this month, Alan did the same thing, just to see how many fish he'd have at the end of the month. I'm happy to report that he has hit the triple digit mark! Very nice job! It's not easy to do. I've done it about nine times in 13 years. This month my boat count is 93 yellowtail for 11 days fished. Not too bad, huh?
I'm sorry to say there are not many people fishing inshore around Santa Rosalia, even with the nice water. It's been so nice, I even saw a 9-foot inflatable out there fishing yellowtail. The San Lucas Cove trailer park is pretty full, with the whole front row full, and others scattered about throughout the park.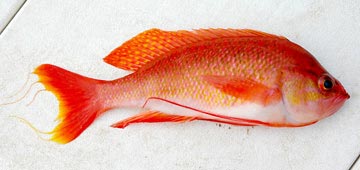 Mexico Fishing Home Page < Santa Rosalia Contents < Report