Santa Rosalia, Mexico:
Rainy Weather Fishing For Humboldt Giant Squid

Feb. 12, 2005, Mike Kanzler, Isla San Marcos, Santa Rosalia fishing report, Baja California Sur, Mexico:
Santa Rosalia had a nearly perfect week of fishable water. However, the last few days saw marginal fishing conditions due to the big system of rain squaws that hit the entire Pacific coast. Air temperatures had highs in the 60s for most of the week, and water visibility was pretty good with at 25-35 feet, and the water temperature was 64 degrees and holding.
Between cooking for different groups of visiting business people here on the isla, and the rain storm, I did get to fish two days this week, but we're in a lull of poor action for fin fish.
Both fishing days were not so good. One day was slow due to bad weather and missed opportunities on the few bites we had, and the other day was on our large supply ship, on which we were allotted a short time to fish, so we changed plans to fish for squid. It was kind of fun, to say the least.
Last week I took a photo of a rare white seabass caught on a boat out of San Lucas Cove which Alan Lewis was fishing on. I wasn't given much information on the catch. I only know the name of the boat owner, Brent Taylor, of Middleton Idaho.
During the squid fishing run, we didn't get on the big Humboldt squid until after we dropped stopped at Santa Rosalia. On the way back, we saw the squiders closer to the center of the channel, and the ship's crew and I stopped to have some fun with the monsters of the deep.
Next week should be better. I kind of needed a break anyway.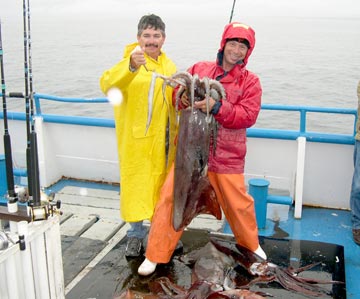 Mexico Fishing Home Page < Santa Rosalia Contents < Report