Santa Rosalia, Mexico:
Lots Of Leopard Grouper Caught By Boats Fishing At Isla Tortuga

Feb. 19, 2005, Mike Kanzler, Isla San Marcos, Santa Rosalia, Baja fishing report, Mexico:
It was a much better fishing week at Santa Rosalia, starting with great weather and flat seas, combined good fishing at both Isla San Marcos and Isla Tortuga.
The fishing weather we've been having as of late has been great on wind, none to be precise. However heavy overcast skies have prevailed throughout the week with the sun only breaking out once in a while.
Air temperatures are in the low 50s for the mornings and evenings with 60s to low 70s for daylight hours. Water temperatures at San Marcos Island are 63-64 degrees, and Tortuga Island at 65-66 degrees, with visibility at 30-40 feet for both islands.
Fishing at both islands has it's differences.
I took with a pair of people that split a charter for fishing at Isla San Marcos, picking up Ms. Terry Kauffman of Reno, Nev., and Zane Abbott of Salmon, Idaho, at the usual O-dark-thirty, and making for the bait grounds where we loaded up on jack mackerel.
With this done, we were off to see what's up on the bajos. We saw a few breezing yellowtail, but every time I got close they go down and once there soaking bait didn't produce any bites. It was frustrating to say the least. I did see what they where chasing, small squid, so we changed over to the fancy colored red, yellow, brown and white jig to get ready. Never did get going.
Around 11 a.m., as we were about to toss in the towel, Zane asked if he could try my long rod with surface iron for a cast. He gave it somewhat of a tentative lob cast not too far, so as not to backlash the reel, started to reel the jig in, and right at the boat a big swirl of water! Hook up. While battling his fish, Terry, who was soaking a live mackerel, got picked up and now we had a double going. We ended the next hour with 3 more yellowtail for a total of 5 to 30 pounds, and only 2 fish lost.
The next few days of fishing where spent at Tortuga with my good buddy and deck hand Daniel "Piojo Loco" Chiquete. We ran two days out there and one at our home island. The two runs at Tortuga were without bait, and we fished for cabrilla with plastic, and with iron for yellowtail, for a total of 73 leopard grouper and 10 yellowtail, only keeping the largest.
The other fishing day at Isla San Marcos was very slow for 2 yellowtail and one cabrilla.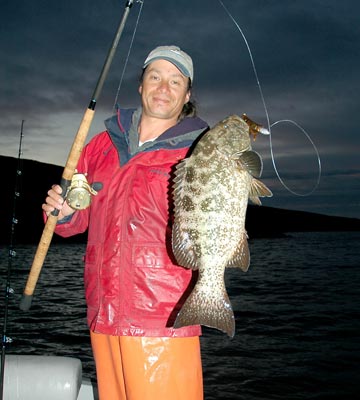 Mexico Fishing Home Page < Santa Rosalia Contents < Report