Santa Rosalia had a week of high seas adventures and good fishing, even with the rough conditions.
The weather for this past week in the Santa Rosalia sportfishing area has been off-and-on, with calm beautiful days and horrendous windy ones as well. Air temperatures are still somewhat winterish, with cool mornings and nights of mid 50s to 60, and the days are up to the mid 70s. Santa Rosalia fishing water temperatures are still the same as last week, holding at 66 degrees, with about 20 feet visibility.
The first day I fished this week was Monday, with get this child actor of the 50's, Richard Eyer of Bishop, Calif., who was the Genie Baronni in the movie The 7th Voyage of Sinbad, and was in and lots of other movies and TV shows as well. One never knows who one might meet while fishing in Baja! I took Richard out fishing at Tortuga Island, after fishing San Marcos without a bite for two hours. We arrived at Tortuga around 9 a.m. fished for two hours and caught 10 yellowtail to 24 pounds on live bigeyes .
The very next day, I had my deckhand Danny and his dad Manual on the boat, but sea and winds around the Santa Rosalia fishing area where already whipped up in a furry. We crawled out to Tortuga Island for 14 yellowtail and 6 leopard grouper using the same live bait slider sinker method as the was used the day before when I was fishing with Richard.
The next day saw the arrival at Santa Rosalia of my good friend Richard Marsell and his son-in-law Steve both from Fallbrook, Calif. With winds up again to 25 knots, we once again made the long rough fishing journey out to Tortuga Island, in the dark, mind you, so as to be there for the best part of the Cabrilla bite. We fished plastic Mondo baits and scored on 54 Leopard grouper most of which were put back, and we kept some larger ones for eating.
The next two days saw unfishable conditions at Santa Rosalia. Can't win them all.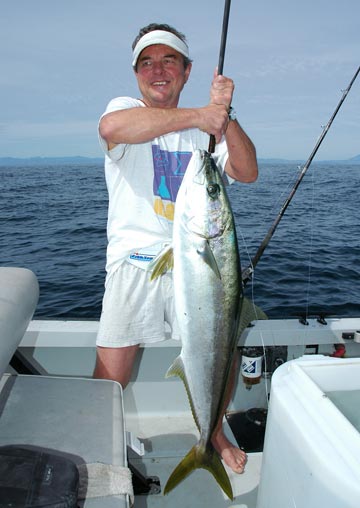 Mexico Fishing Home Page < Santa Rosalia Contents < Report