Santa Rosalia had great weather and fishing to boot this week.
I'll start with the great fishing weather we've been having down here. No wind and flat seas sums it up for this week. Santa Rosalia air temperatures are steadily climbing to the mid-80s during the afternoons, but with cool mornings of 60 degrees that keep it comfortable for the most part. Santa Rosalia fishing area water temperatures are up as well, with 68 to nearly 70 degrees at the moment, with still cloudy visibility of only 20 feet or so for both islands, San Marcos and Tortuga.
This week was light on charter fishing at Santa Rosalia, with absolutely not a soul to fish with, so I opted for a few solo runs and one with Alan Lewis of the San Lucas Cove Voodoo Lounge today.
The bite at San Marcos Island has still been producing 2-3 yellowtail plus the occasional stray cabrilla, keeping most boats close to camp, but if one wishes to make the longer run out to Tortuga Island for the wide open version, now's the time to do it, due to flat clam sea conditions.
That's been my main run most of this week, and the fishing action is nothing short of awesome! The first two runs I made solo produced full fish boxes to the point I had to stop fishing, because of lack of cooler space. Nice yellowtail and good size grouper of the leopard and sawtail variety are hitting both iron and live mackerel fished on the slider sinker rig.
Today, with my good buddy Alan Lewis, we did the usual bait making thing and then took a, get this, 35-minute run out to Tortuga island without a single bump in the road! That's as good as it gets. Once there, we fished the same methods as the days before. The final catch-and-release count: 11 yellowtail to 22 pounds, 20 leopard grouper to 12 pounds, and 2 sawtail to 15 pounds.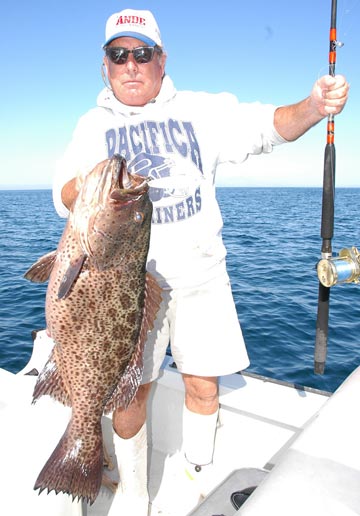 Mexico Fishing Home Page < Santa Rosalia Contents < Report