Santa Rosalia, Mexico: Isla San Marcos Yellowtail Bite Picking Up In Cool June Weather

June 11, 2005, Mike Kanzler, Isla San Marcos, Santa Rosalia, Baja fishing report, Mexico:
This week's fishing at Santa Rosalia had continued cool weather and a slow start on Isla San Marcos yellowtail, but the bite is now coming on strong. The Isla Tortuga sawtail grouper bite is still on, but dorado and offshore fishing are not good.
The fishing weather continues to be strange. Highs are not at what they should be, just breaking 80 degrees. Mornings and nights are around 70 degrees or so, and we even had a few northwest blows in the last couple of days making for still fishable conditions, but with a little bump.
Water temperatures in the Santa Rosalia area are up to 76 degrees at the islands and inshore, and a few degrees warmer offshore, with 40 feet of visibility all around.
My fishing week started with a pair of runs to Tortuga Island for the "freezer special."
The first fishing run was with Arron Hill and Dan Anello of San Diego, California. Well, drop a live bait pinned to a dropper loop rig, hit the bottom and hold on! Sawtail grouper and a few yellowtaill are on you before you even tighten your line. Because of the water depth and current, lots of fish are missed or don't get hooked well and come unbuttoned. We did manage six large sawtails in the 25-30+ pound size, four smaller cabrilla, and 2 yellowtail of 20 pounds.
The next day, I had Alan Lewis on board for his last fishing run before he will be going back to the States and likely return in October, and we had just about the same results.
I did fish one slow day at Isla San Marcos, only catching one yellowtail in over 3 hours of trying, and then deciding to make an offshore run for dorado. I should have just gone home. I found good water but no kelp paddies, no bait fish in the water, no birds working, no nothing, and no dorado. Where are the fish? Some people are catching one or two, but that's trolling all day long, too much gas for this fisherman. I'll just have to wait.
Fishing today with Camilo Torres of La Paz, B.C.S., and Carlos Garces of COMSA, the plan was for a Tortuga Island run, but water and wind conditions kept us here, and it worked out just fine. It took nearly 30 seconds to find out that the yellowtail are here and biting good. We fished only until 9 a.m. and put 6 nice yellowtail in the box and lost a few as well! I always say you've GOT TO HAVE CURRENT! and there was a strong one at that. Most boats out did well with live bait.
I hope those dorado show up a little stronger. I'm not sure how much yellowtail fishing is left for this season.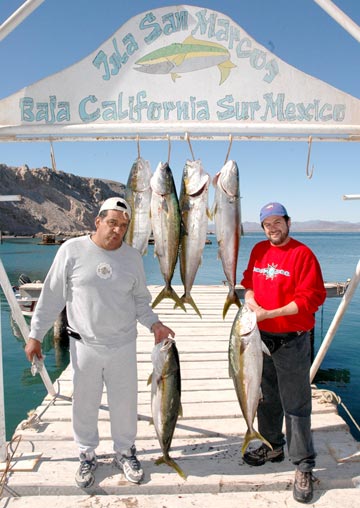 Mexico Fishing Home Page < Santa Rosalia Contents < Report