Santa Rosalia, Mexico:
Results Of The 2005 Santa Rosalia Dorado Fishing Tournament

July 23, 2005, Mike Kanzler, Isla San Marcos, Santa Rosalia, Baja Calfornia Sur, Mexico:
It was week of rest, with windy days and rainy nights. Most of the week saw windy fishing conditions from out of the southeast, making for high seas and unfavorable fishing in the Santa Rosalia area.
Air temperatures are in the low 80s during the morning hours, to 90 degrees during the days. Humidity was about 60-70 percent. Friday and Saturday morning had the first summer rains for the Santa Rosalia fishing area, dumping a good amount. Water temperatures are steady at 80-82 degrees, with 30-40 feet visibility.
At the end of last week, I was still fishing in the Santa Rosalia Dorado tournament, getting the crap pounded out of me and my boat with three days of choppy seas for the event. The bottom line on the event was generally the same as most years, with little to no promotion outside of the area, and inherently few fishing teams, although this event was run better with a basic IGFA-type rule format.
My team consisted of myself and the owner-operator of the Santa Rosalia Las Casitas Hotel, Brenda Goodson.
We fished hard in bad seas, with very spotty fishing overall. Out of the total 7-8 teams, we managed 2nd place with a fish of 12 kilos. The dorado (also mahi-mahi or dolphinfish) fish was 14 kilos. I don't know who or what the angler's name was, I didn't attend the closing ceremony for the event. Just too far to go back and forth and after nearly 100 miles a day for 3 days straight. The last thing I wanted to do was take another boat ride in that sloppy sea.
After a few days off, and just as well due to the storm passing to the south, I did make it out this Thursday for a little test run. At least the water was nice.
I made my bait with ease just outside San Lucas Cove and took the short pleasant run out to the bajos.
The dorado was the last thing on my mind. Once on "jurel bajo," I decided to try dropper loop rigged live mackerel. Just got the line tight after hitting the bottom and, ouch, got slammed! Damn fish caught me off balance and while nearly getting pulled out of the boat, I felt a little pop in my lower back.
The bite was on and after 4 more bruiser yellowtail, my back was just too tight and painful to continue fishing. Guess those yellowtail got some pay back on me. Then again, the fish that tweaked my back was laying on my sushi plate later that night.
I tried to take my son fishing today, but there was just too much rain and a huge mud flow out in front. Yes, my back is better.
Things are really slowed down as far as tourists go and will remain so until October. I will be making some up coming trips to the Pacific side.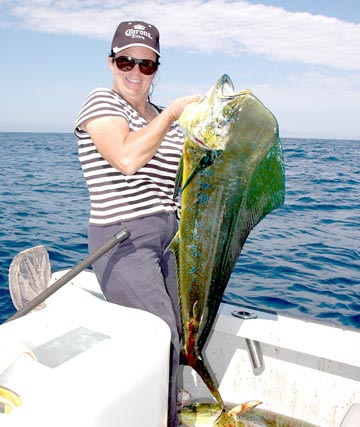 Mexico Fishing Home Page < Santa Rosalia Contents < Report