I only fished one day this week, Saturday. We made bait at San Lucas at 5:30 a.m., no problem plenty of bait.
Hit the bajo at 6:30 and had three yellowtail on board by 8 a.m., slow bite in combination with seal problems. We only scored three yellows. At 8:30 we headed north to a pocket of warm water that I saw on the SST Terrafin site, but had problems with long lines of buoys. Could not tell if they were long lines or gill nets but they were everywhere. As soon as you got around one buoy set you would hit another one. I believe this is illegal fishing. Going to check more on that.
We headed back toward San Bruno to call it a day and spotted many solo dorado up on the surface. We didn't find any sargasso kelp for concentrations on dorado, but there seems to be a lot of fish out there. Due to the lack of concentration of fish we are going to try trolling for them next week.
The three yellowtails we got were nice ones, 28, 32, and 35 pounds caught on the north end of the island in 200 feet of water, slider sinker and live mackerel. The pangueros were using squid for bait and weren't doing as well on the yellowtail bite as the live mackerel, but did get some, and the seals didn't bother them as much because they didn't like the squid bait as well as the live mackerel.
We only lost one yellowtail to the seals but many baits.
The water temperature on the north end of Isla San Marcos was 80 degrees and on outside the island and north up to 84 degrees.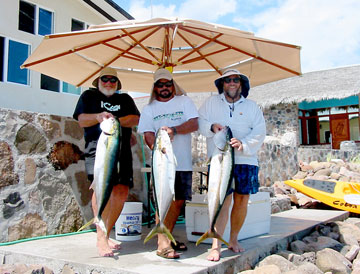 Mexico Fishing Home Page < Santa Rosalia Contents < Report