Santa Rosalia, Mexico:
No Fishing This Week Out Of San Bruno

Aug. 28, 2005, Ed Hogan, San Bruno, Santa Rosalia, Baja California Sur, Mexico:
Not much to report this week in San Bruno fishing. Between the new construction at our house, Little League World Series, and the weather, I didn't get out fishing this week.
I had a fishing day planned with Mike Kanzler from Isla San Marcos for Friday but ended up pulling the boat out at 4 a.m. Friday morning due to a local storm that passed through.
It looked like the Pacific in front of our place with 3 foot breakers. Pulling the boat out was the right decision. The VHF radio has been pretty quiet but I did check the Terrafin SST satellite image and it looks like the water temperature is about 85 degrees off Santa Rosalia, at the north end of Isla San Marcos. I'm going to try and get out fishing tomorrow, depending on weather.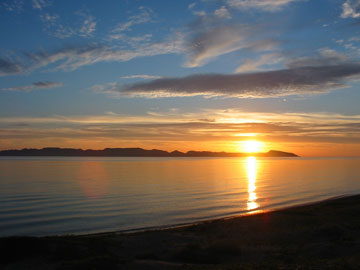 Mexico Fishing Home Page < Santa Rosalia Contents < Report