Santa Rosalia, Mexico:
Best Billfish Season On Record At Santa Rosalia In 20 Years

Oct. 29, 2005, Mike Kanzler, Isla San Marcos, Santa Rosalia, Baja Calfornia Sur, Mexico Fishing Report:
Santa Rosalia's last fishing week of October went out with a bang, topped off with great weather and the best billfishing anyone has seen in the area for the past 20 years.
Santa Rosalia weather was just beautiful, with no wind, cool mornings, and warm afternoons. Air temperatures were in the mid 60s in the early hours to mid 80s for the day. There was little to no wind, other than a westerly morning breeze which lays down by 9 a.m. Water temperatures are starting to cool, 78-80 degrees with fair visibility of 25-40 feet.
At the beginning of the week, I took a fishing run on "Deep" Dave Hughs' boat, and along for the fishing day was my good friend "Voodoo Lounge's" Alan Lewis, both out of the San Lucas Cove trailer park.
This was a jig trolling-only run to take advantage of the insane billfish bite that's been going on as of the past few weeks. It is being called the best Santa Rosalia fall billfish season on record in the past 20 years, and possibly ever.
We put the lines in the water a mere 2 miles off the north point of Isla San Marcos and within 20 minutes had multiple fish come into the spread! It looked like at least three marlin, that's right, not sailfish but marlin, mostly stripers and even blues that are here, also along with some sailfish as well.
On this stop, we hooked two marlin, one jumping off and the other fish released by Dave at boat side, a nice 125 pound class striper.
Most of the morning we never had just one single. Usually it was two or more rods going off.
Alan Lewis took a nice striper, in the 150 pound class, and I managed to jump mine off, but on the wind back in had another one grab it, but the fish did not stay stuck. Then with the boat almost at dead stop another marlin picked the jig up dead in the water! It's that good out there.
A total of maybe 9 boats out of San Lucas Cove and Punta Chivato were fishing this day and every one was in good numbers on hookups and releases.
The Moosea Boat of Jim and Marika Anderson got an unheard of billfish grand slam, a striped marlin and blue marlin and a sailfish, as far as I know a first in this area. Unbelievable for this area.
The good billfishing continued throughout week, but like most kinds of bites in this nature, will come to an end and with the water cooling, and this great fall season will fade into our memories.
I made a fishing run on Friday with my son who had the day off from school. We did the bait thing up at the cliffs south of Santa Rosalia, and then made for the bajos of San Marcos.
I started the morning by soaking baits while my son fished iron. However after the kid had me down 4 fish to my none, I decided to change over too. We caught 8 Mexican bonito, 1 sawtail grouper, 2 leopard grouper, 1 goldspotted bass, and two nice yellowtail one in the sub-20 pound class, and the other in the mid 20s. My son that got the numbers on the old man. Kids, they learn so quick, he just keeps getting better every time I take him fishing.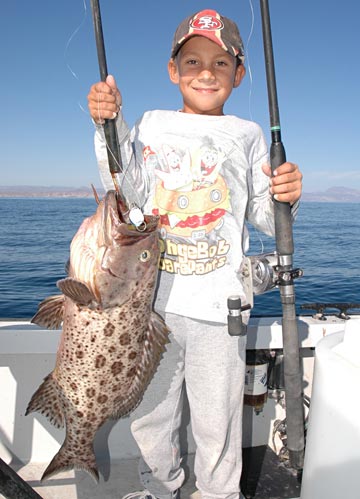 Mexico Fishing Home Page < Santa Rosalia Contents < Report