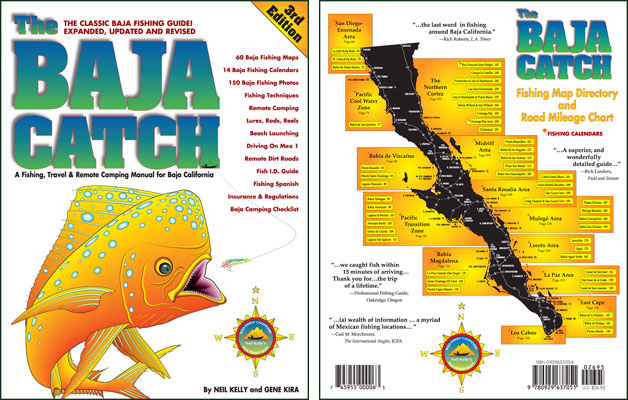 The front and back covers of The Baja Catch. Click to see full size cover detail: front cover, back cover.
This is it! The classic, how-to fishing guidebook you'll find on almost every beach in Baja!

The Baja Catch is a super-detailed "instruction manual" for anglers who want to take a small boat to Baja California, Mexico, and camp and launch over the beach for some of the world's best inshore sport fishing. This book covers all the best Baja California fishing locations where you can launch a small boat and fish. Here's what others have said about The Baja Catch:
"A superior, and wonderfully detailed guide." --Field and Stream Magazine

"The last word in fishing around Baja California... " --Los Angeles Times

"(A) wealth of information, a myriad of Mexican fishing locations." --IGFA

"Honestly fits into the 'must' category for any Baja enthusiast." --Sport Fishing Magazine

"Thank you for...the trip of a lifetime." --Professional fishing guide, Oakridge, Oregon

"The finest single-interest travel book about Baja..." --Travel Books Worldwide

"A must-have book for the Baja angler." --Western Outdoor News
Step-by-step, The Baja Catch guides you and shows you exactly what to do. On most days, you will catch fish almost from the instant your lure hits the water. There is absolutely no "bull" in this book, no vague generalities. The Baja Catch is jam-packed with explicit, specific tips and essential techniques that really catch fish all over Baja California's 2,000-mile coastline on both the Pacific Ocean coast and Sea of Cortez.

The Baja Catch is based on decades of personal travel and fishing in Baja by the legendary Neil Kelly, and by Gene Kira, former Mexico Reports Editor for Western Outdoor News, and editor of Mexfish.com's Mexico Fishing News.

This super-detailed book tells you exactly how to:

• Pick a Baja beach launchable fishing boat and the right fishing tackle.

• Prepare yourself and your equipment for paved and unpaved Baja roads.

• Fish in the best fishing seasons and specific Baja locations.

• Find the best camping and fishing spots.

• Where and how to launch your boat over the beach.

• Select and rig your tackle.

• And most importantly, how to catch a hell of a lot of fish!

TABLE OF CONTENTS OF THE BAJA CATCH
Chapter 1: Baja, The World's Best Fishin' Hole: Looking to the Future.

Chapter 2: Baja Primitive Fish Camping: Your Front Row Seat in an Angler's Paradise.

Chapter 3: Expert Fishing Techniques for Baja: How to Catch Thousands of Fish of More Than 50 Species.

Chapter 4: Proof of the Pudding: A Remarkable Record of 27,000+ Game Fish Caught-and-Released.

Chapter 5: Survival on Mex 1: Tips for Driving the Transpeninsular Highway.

Chapter 6: Survival in the Boonies: Driving and Camping in Rocks, Mud, Sand, Bugs, etc., etc.

Chapter 7: Neil's Baja Fishin' Calendars & Thermometer: Where and When to Fish and Why.

Chapter 8: Fishing the San Diego Ensenada Area: Marinas, Party Boats and Kelp Beds. The La Jolla Kelp Beds, the Point Loma Kelp Beds, and Bahia de Todos Santos.

Chapter 9: Fishing the Pacific Cool Water Zone: Perch, Bottom Fish, and Clams. Santo Tomás, Castro's Camp, San Quintin, and Isla San Martin.

Chapter 10: Fishing Bahia de Vizcaino: "Real Baja Fishing" Starts Here, Hot Action Close to Home. Punta Rosarito, Morro Santo Domingo, and Laguna Manuela.

Chapter 11: Fishing The Pacific Transition Zone: First Taste Of The Tropics, Exotic Migrators, and Lurking Grouper. Bahia Tortugas, Bahia Asunción, Laguna la Bocana, the Abreojos Reefs, Estero de Coyote, and Laguna San Ignacio.

Chapter 12: Fishing Bahia Magdalena: Year-Round Action in a Thousand Mangrove-Lined Lagoons. La Poza Grande (San Jorge), Santo Domingo (El Faro), and Puerto Lopez Mateos.

Chapter 13: Fishing the Los Cabos Area: Downtown Action for Marlin, Marlin, and More Marlin.

Chapter 14: Fishing the East Cape Area: A Cartopper's Wonderland, Where the Blue Water Comes Ashore. The Pulmo Shoals, Bahia de Palmas, Punta Arena de La Ventana, and La Ventana the Village.

Chapter 15: Fishing the Bahia de La Paz Area: Baja's Nicest City, and Hot Action Just Outside The Bay. Canal de San Lorenzo, San Juan de la Costa, and Canal de San Jose.

Chapter 16: Fishing the Loreto Area: Two Seasons: Yellowtail in Winter and Dorado in July. Bahia Agua Verde, Ligui, and Juncalito.

Chapter 17: Fishing the Mulege Area: Spectacular Camping Beauty, Lots of Fish, and Mild Weather. Bahia San Nicolás, Bahia Concepción, the Mulege Beaches, and Punta Chivato.

Chapter 18: Fishing the Santa Rosalia Area: Easy Access, and Baja's Most Reliable Year-Round Fishin' Hole. San Lucas Cove, the Santa Rosalia Beaches, Caleta Santa Maria.

Chapter 19: Fishing the Midriff Area: Pounded Hard for Decades, It Still Has Some Gold Nuggets Left. Bahia San Francisquito, Playa San Rafael, Bahia de las Animas, Bahia de las Angeles, and Punta Remedios.

Chapter 20: Fishing the Northern Cortez: A Magnificent Invitation to the Gulf: Where Ray Cannon Got Started. Calamajue, the Gonzaga Bay Area, Gonzaga Bay, Bahia Willard and Isla Willard, Punta Bufeo, Las Islas Encantadas, Puertecitos, Isla El Huerfanito, Campo La Costilla, and Rio Colorado (San Felipe).

Chapter 21: Gold, Silver & Bronze: An Honest Grading of Baja's Fishing Waters.

Chapter 22: A Rogues' Gallery, Fish I.D.: Meet the Fish You'll Really Catch in Baja.

Chapter 23: Papers, Permits & Premiums: Things You'll Need to Keep Mexican Officialdom Happy.

Chapter 24: Spanish for the Baja Angler: A Short, Short Course.

Chapter 25: Hey, I Thought You Brought The Toilet Paper!: An All-Purpose Baja Checklist.

Resources for Baja Anglers.

The Authors.

Index.

Baja Mileage & Map Chart (Back Cover).


SAN LUCAS COVE: SAMPLE FISHING CHAPTER FROM THE BAJA CATCH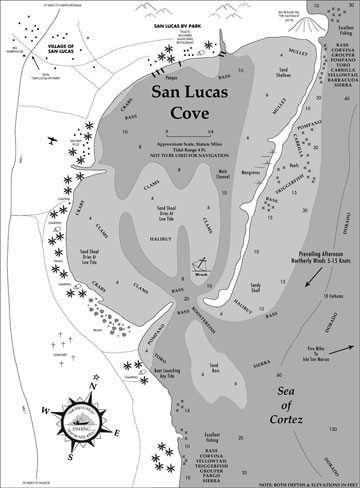 This following description of fishing at San Lucas Cove is reprinted from Chapter 18 of The Baja Catch: Fishing the Santa Rosalia Area. This one of 60 fishing maps in The Baja Catch , each fully explained with detailed and fishing local fishing calendars. Click here to see a fully-detailed image of this San Lucas Cove fishing map.
FISHING SAN LUCAS COVE & CRAIG CHANNEL
It is hard to imagine Baja without San Lucas Cove.

This little lagoon is only a mile or so wide and maybe two miles long, but to the Baja angler its importance is much greater than its physical size.

Located just south of Santa Rosalia, about 590 miles from the border, San Lucas Cove is ideal as an overnight stop when you're headed for points deeper into Baja.

More importantly, this place has such good year-round fishing, it is always thought of as our ace-in-the-hole backup spot in case we run into bad luck somewhere else.

As you head down Mex 1, and you pass by the familiar access road that leads to the San Lucas RV Park, you always take comfort in knowing that this place will be waiting for you on the way home. If you return from a slow trip with sunburn and empty ice chests, you know that a day or two at San Lucas Cove will turn things around.

Here, in late April of 1990, we also ran into the weirdest fishing action we've ever had. We hit an amazing lizardfish spawning run, catching over 100 of these writhing, incredibly ugly pest fish, to five pounds in size. And that's UGLY! To top things off, we also ran into a huge bite on mackerel, which we had never seen on the surface here before.


A view looking northeast of famous San Lucas Cove. On the right is Isla San Marcos, known for its amazingly reliable year-round yellowtail fishing, and just visible on the center horizon is distant Isla Tortuga, one of the more remote and difficult to reach fishing locations in the Sea of Cortez.
The great fishing waters of San Lucas Cove extend five miles north and seven miles south from the entrance, and out five miles to the shores of four-mile-long Isla San Marcos. Almost every part of this area produces fish of one kind or more. It's one of the very best year-round fishing grounds of the entire Sea of Cortez.

The cove itself is very shallow, with a sand bottom. The narrow opening to the Sea of Cortez is at the south end. The east side of the cove is formed by a two-mile-long gravel bank with a few mangroves growing along its bayward side. These mangroves have small oysters on their roots.

The north end of the cove is brush covered, with shade trees and date palms. The RV park, the commercial pangas, and many village homes are up here.

The west side of the cove has a military garrison and an airstrip. In this area, the shoreline is covered by a dense grove of date palms half a mile long by 50 feet wide and only 25 feet from the beach. A large half-mile-diameter shoal only three feet deep covers the water near this palm area, making it impossible to launch and land your boat at anything but high tide.

The southern limit of the cove is formed by a long -sandbar. This sandbar reaches out to within 150 feet of the tip of the east shore gravel bank, forming the entrance to the cove. Hundreds of seabirds roost on this bar at night, sometimes making a noisy racket of screeching and honking that wakes up nearby campers.

Year after year, even as the fishing pressure in Baja has increased, San Lucas Cove has never failed to give us -excellent fishing for at least a dozen species. Every fishing trip to Baja is different, but San Lucas Cove will not let you down as long as you're satisfied to catch whatever species are around. Dorado in the summertime and yellowtail in winter are the choice catch of anglers fishing on the open-water in this portion of the Cortez. However, if you don't find those fish, the along-shore waters of San Lucas Cove can reliably produce plenty of other species for you.

Fishing South From San Lucas Cove

Start fishing as soon as you reach the entrance channel.

We usually throw in a Fastrac Jointed Rebel minnow here, and we always, always, catch something. Bass, maybe corvina, maybe roosterfish, maybe barracuda, maybe pompano or halibut, or at least six other species.

This channel will give you a feel for what the fishing will be like in the area.

As you head south from the mouth of the cove, you will be in water only 10 to 15 feet deep. The bottom here is cobblestone with random sand patches.

Sierra and dorado are commonly chasing bait fish right here near the entrance, and they will hit your Fastrac. We have caught dorado here in as little as five feet of water, and they have had conch shells in their stomachs!

During spring, a peculiar weed bed pops up to the surface from the stones south of the cove. It makes a solid mass from shore out to about ten feet deep. From late April through early June the large seabass types leave their deep water haunts and come here to spawn. Big grouper mix with barred pargo, snapper, cabrilla, and leopard grouper, with each pair guarding its nest. These fish become aggressive when anything comes near their nests, and they attack lures with savage strikes. Crimp down the barbs and use "catch and release" on these spawners. In June, these weeds rot off and form big "kelp paddies" that float around the area, and the incoming dorado hide under them.

The next five miles all the way to the fishing village of San Bruno are loaded with bass and leopards, while the -boulder jumbles just a short way out house big powerful barred pargo. These guys will sure wake you up. Their strike almost pulls you out of the boat.

This stretch has stone-covered shoals extending from shore out to several hundred yards in places. Sometimes the fish are way out feeding on bait fish, and at other times they are almost on the shore chomping on tiny minnows. Drift and cast, or troll in zigzags until you find the fish. Then have a ball. Spotted bass, leopard grouper, ribera cabrilla, -spotted cabrilla, barred pargo and gulf grouper are the main catch along here.

The point with the lighthouse at the north edge of San Bruno has a bass-covered ridge running way out. Take care to give it ample clearance or you can chew up the prop. The beautiful little turquoise bay in front of San Bruno always has gill nets strung out in it, so don't get tangled. This bay has action on bass, barracuda, and for some reason small yellowtail. Barred pargo also hide in several deep little -pockets about 100 yards from shore.

The five miles of sandy shoreline beyond San Bruno is where the jacks and snapper hang out—if you can get through the leopard grouper. The shoreline is a series of white sand beaches separated by shallow stony "finger reefs" sticking way out onto a shallow sand and rock shelf. The fish along here will attack a black-and-gold Jointed Rebel minnow lure in a frenzy. You'll nail the big jacks here, such as amberjack, roosterfish and jack crevalle. These babies grow big and can bust your spinning tackle. They give some of the finest fights you'll ever get from a fish.



Fishing North From San Lucas Cove
Fishing north from San Lucas Cove toward "Haystack Hill" is quite different from heading south.

This whole shoreline is a gravel ridge. A shallow coastal sand shelf extends way out from shore before dropping off into blue water.

As a matter of principle, whenever we are fishing north, we troll diligently from the mouth of the cove along this gravel "breakwater," early in the morning, when the water is like glass and there are big swirls from fish feeding over the shelf.

But this area isn't red-hot. For the first mile or so, you'll get maybe a few lizardfish.

When you reach the tall lone cactus standing on the gravel ridge, it's time to get serious with the fishing. From here north, the shelf is sprinkled with dark patches of stone over which cruise spotted bay bass, corvina, leopard -grouper, barracuda, and triggers. This shoreline sometimes also has pompano over the sandy areas.

Where the shoreline jogs out and a stone underwater reef begins, a few yellowtail are usually around.

Solitary "Haystack Hill" is now approached, and all of the waters within half a mile north, south, or out from it are "prime" waters for whatever is around—grouper, yellowtail, bass, corvina, leopard grouper, triggerfish, barracuda, or skipjack. If you're not catching 'em here, your line's not in the water. Beyond "Haystack," the shoreline changes to sandstone cliffs that don't have much action tucked in close, but do have grouper, leopards, and yellowtail 100 to 300 yards offshore, especially up off the first point.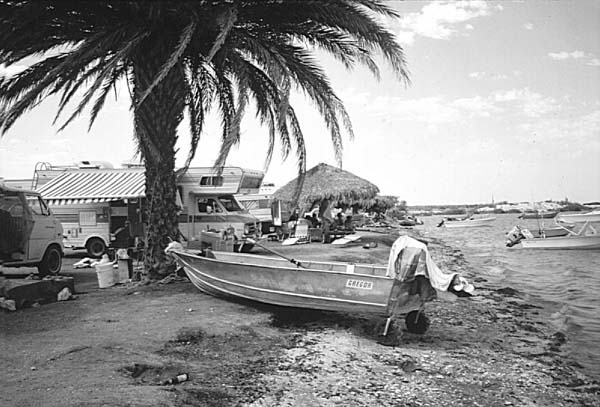 Launching at San Lucas Cove, one of the best small boat fishing spots in Baja California.
Fishing Craig Channel & Isla San Marcos

When the weather is calm, fishing at both the south and north ends of nearby Isla San Marcos is excellent.

Craig Channel, the five-mile-wide waterway between San Lucas Cove and Isla San Marcos, usually has lots of birds working over big schools of bait fish.

This channel is a fish feeding trough. It's five miles wide and 500 to 1,000 feet deep at its north end, but only two miles wide and 20 to 30 feet deep at its south end. Warm fertile waters and bait fish are pumped out of San Lucas Cove into this channel by tidal action. Dorado, skipjack, bonito, and sierra harass this bait from below. After fishing the island, don't just thunder your way back to camp from the isla at full throttle. Fast troll a feather or a lure, and you may catch a trophy that you'll want to have mounted.

When we're directly south of Isla San Marcos, we leave the shoreline and fast troll out two miles to Lobos Rock, which stands on an extensive shallow reef potholed with grottos filled with fish. The reef extends from Lobos Rock all the way to Isla San Marcos, one mile north.

Close to Lobos Rock, the reef teems with bass. Farther out, it's big four- to five-pound triggerfish, and usually there's a mix of predators such as snapper, barracuda, ladyfish and yellowtail. The area around Lobos Rock is a dependable fishing hole.

The inside and outside shorelines of Isla San Marcos don't amount to much. You'll find a few bass, triggers, sometimes barracuda and corvina.

The north end of Isla San Marcos has rocks standing off of it, and it has good fishing for grouper, barracuda and -yellowtail. The area near these rocks and just to the west of them are also where ladyfish like to hang out.

A large underwater reef of rock and sand slowly -descends irregularly from the north end of Isla San Marcos in a northwestern direction, reaching about 200 feet deep three-quarters of a mile offshore.

Here, a deep underwater canyon cuts off the last half mile of the reef, isolating a seamount 200 feet deep, one-and-a-half miles offshore. This seamount descends into water over 1,000 feet deep.

If you don't have a fathometer, you can still find the "yellowtail spot" by looking for the pangas out of Santa Rosalia. You will see clusters of them drifting over the -seamount and dropping cut bait to the bottom with handlines. Mingle right in and join the action.

The seamount here is home for year-round yellowtail, deep in summer and near the surface in winter. Goldspotted bass and cabrilla also lurk here as do giant grouper that sometimes grab a hooked yellowtail, giving the angler a thrill he didn't expect. Yo-yoing "iron" is the preferred technique here. On the surface, this area produces dorado, yellowfin tuna and black skipjack.

We stroke-troll skirted-squids for these fish, making mile-long, north-south runs from the lighthouse at the northeast tip of the island, and east-west runs past the lighthouse on the northwest tip of the island.

When the yellowtail are suspended between the -surface and the bottom, a deadly technique is to slow troll a big, very deep-diving lure, such as a Bagley DB-8 (green -mackerel) on a long, long line. Troll very slowly, so the boat is just making a wake, in giant figure-eights over the entire area, zigzagging between the other boats (not too close).

The Offshore Grounds

For skipjack, yellowfin tuna, sailfish, and especially for dorado in July, the water off the north end of Isla San Marcos is as good as any you will ever find anywhere. To fish this area, we start trolling our skirted-squids from the mouth of the cove right up the middle of the channel until we are opposite the north end of the island.

Then, we troll toward the north tip of the island, which is now about three miles away. Once you're there, troll -outwards again and again, making a fan shaped pattern all around the tip of the island, going out maybe a mile-and-a-half and heading back in.

In decent conditions, you may see a current slick coming north from Punta Chivato, passing just outside the north tip of the island, and heading up toward Santa Rosalia. This rip marks the edge of the coastal shelf, where the bottom drops from about 200 feet to 1,000 feet. Troll both the inside and outside edges of this slick.

When you find the fish, circle and pound 'em. Often, it isn't possible to identify the "hot zone." There are fish -everywhere. When it's really "on" here, the dorado will chase you all the way back to the mouth of the cove. We've never actually caught one inside the mouth, but you never know.

Over many years, this area consistently has given us the most reliable offshore fishing action we have ever had anywhere, especially on dorado. This is the one and only place where we have actually thrown in the towel and run away from a wild, ongoing dorado bite.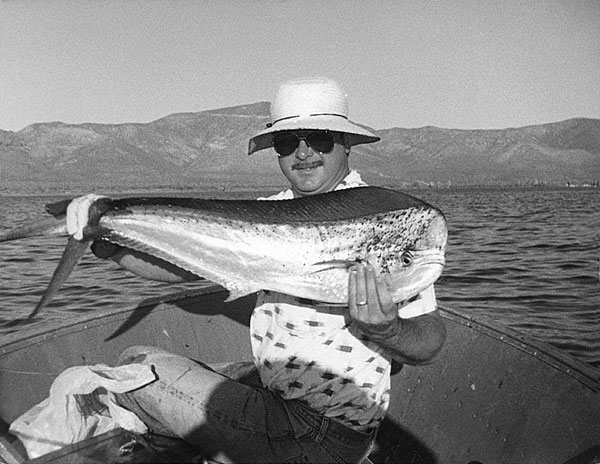 Gary Hensen in Neil's boat with a pretty nice San Lucas Cove dorado.
The Expected Catch

Shallow Water:

1st, Spotted Bay Bass. They are thick here, but this area is the southern limit of their range in the Sea of Cortez. Between this cove and Punta Chivato to the south, a -distance of only 17 miles, the spotted bay bass disappears and the leopard grouper replaces it as the dominant reef fish.

2nd, Barracuda. Almost a pest here, as many anglers pick up and run when they hit a large school of these lure grabbers. Usually caught off the "Haystack" and the north and south ends of Isla San Marcos.

3rd, Sierra. A school migrator that stays here most of the year, usually a quarter-mile or more offshore.

4th, Leopard Grouper. Caught over rocky reefs both north and south of the cove. Big ones spawn in the weed beds growing along shore south of the cove during May.

5th, Triggerfish. Resident over rocks and reefs.

6th, Yellowtail. Usually around except during summer. Hard strike and good runs when hooked on the surface near "Haystack," but runs for the rocks when hooked 60 to 90 feet deep off the north end of Isla San Marcos. Also caught deep over seamounts off north end of Isla San Marcos.

7th, Lizardfish. A really nasty looking resident around sand bottoms. From one to two feet. Up to five pounds. Pest all year.

8th, Cabrilla.

9th, Ladyfish. Especially around the lights at the north end of Isla San Marcos.

Deep Water:

1st, Black Skipjack. A migrating tuna that spends much of the year in the channel here.

2nd, Dorado. They come into the channel in good numbers to feast on the abundant bait during the summer months. They sometimes feed in very shallow water here, coming in so close that you may catch them in 30 feet of water. In this area they run from two-and-a-half to four feet long, and from eight to over 30 pounds.

3rd, Yellowfin Tuna.

4th, Sailfish. Varies widely from year to year, from almost none to thick as fleas.

Note: You can expect to catch at least 10 or 12 species of fish here on each trip. At different times of the year, you'll hook into gulf grouper, bonito, pufferfish, pompano, barred pargo, halibut, roosterfish, amberjack, jack -crevalle, giant needlefish and snapper.

Corvina, formerly caught second only to spotted bay bass in this area, have been greatly reduced due to -commercial gill netting. They are now rare.

Constraints To Fishing

The depletion of bait fish in these superb breeding ground waters is ominous. The commercial fishing -industry down there may have found the way to kill the "golden goose."

Otherwise, constraints to fishing here are few. Tidal -action is three to five feet, so that's no problem, except that the flats just in front of camp go dry at extreme low tide. If it looks like that is going to happen, you can anchor your boat a hundred yards out, or so, to be sure of getting under way first thing in the morning. Winters are balmy, and summers are not too hot. Occasionally, strong winds do blow in -winter, and occasionally a summer chubasco will spin off from a hurricane and bring strong wind and heavy rain showers.

No-see-'ums and mosquitos are a pest at times.

Access & Accommodations

Getting here is no problem. The cove lies 590 miles south of the border, at the end of a short access road that leaves Mex 1 about ten miles south of Santa Rosalia. Look for the sign "San Lucas RV Park" just as you reach the lower part of a down slope approaching the village of San Lucas. (Note: For some reason, we often get to daydreaming along this stretch of Mex 1, and we miss this well-marked turnoff.)

The campground has gone through several changes in management over the past few years, but as of this writing appears to be in excellent shape, maybe the best ever. This place is close to ideal for campers with small boats.

The RV Park has plenty of large, level, hard ground sites. Lot selection is on a serve yourself, first come, first served basis. There are about 20 beach front sites, some of which have either palapas or date palms. These sites go quickly. Behind the beach under shade trees, sites are unmarked, and there is enough room to park countless vehicles on hard level ground.

There is a sand shoal in front of camp that requires -dragging your boat out to deep water at low tide. Transom-mounted launching wheels make this easy (almost). The south end of the campground beach is deepest, and this is where trailer launching is done. An alternate launching area into fairly deep water is into a small inlet at the north end of the campground.

Small boats can be beached at the campsite or they can be anchored in three or four feet of water, 100 feet or so off the beach. Larger boats anchor out a little farther. As a reference to boat size, 22-foot pangas are anchored along shore just west of camp, but at low tide the pangueros have to walk out 50 yards too.

There is a bano building divided into men and women's sections, each having a flush toilet and a shower. An RV dump station is nearby, but there are no hookups.

Numerous trash cans are sprinkled around the campground.

Some people have complained to us about recommending this campground (too crowded, too many bugs). Well, we thought it was one of the better ones down there! Guess we just never learned any better.

Full supplies and services are easily available either in Santa Rosalia to the north or in Mulege to the south. Santa Rosalia is closer, and has its great bakery. Mulege has the best ice, and there is a nice new gas station south of town.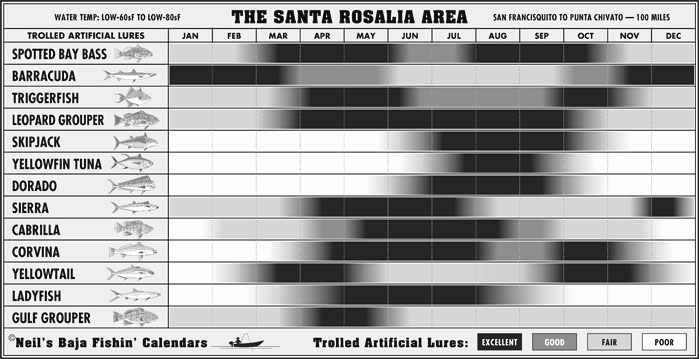 Annual fishing seasons for San Lucas Cove and the Santa Rosalia Area. This is one of 14 regional fishing calendars in The Baja Catch.
Reprinted from The Baja Catch: A Fishing, Travel & Remote Camping Manual for Baja California (Mexico), 3rd Edition. May not be copied or reproduced without written permission. Important warning, notice, and disclaimer about the information contained in The Baja Catch.